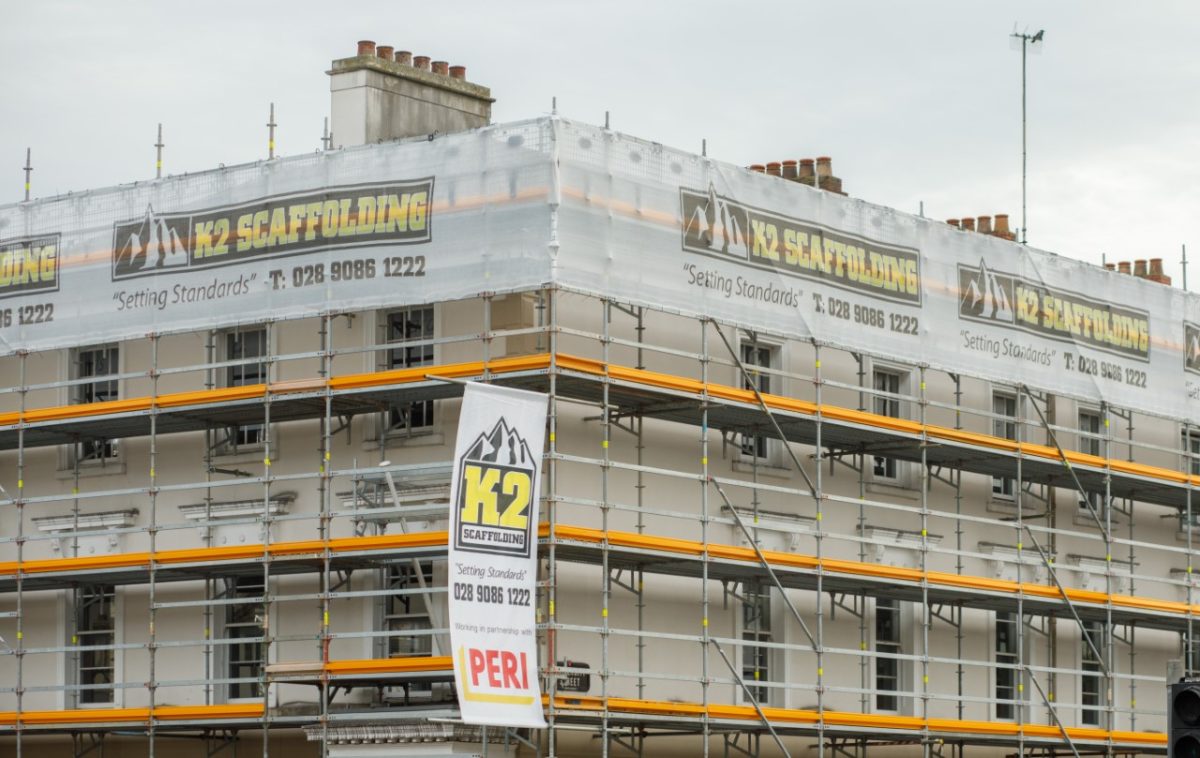 PERI UP scaffolding has been used for the first time in Northern Ireland after contractor K2 Scaffolding teamed up with PERI to deliver access requirements for a refurbishment scheme in Belfast.
The project has marked the start of a long-term partnership between the two companies following K2 Scaffolding's investment in £400,000 worth of PERI UP scaffolding.
Located on the outskirts of Belfast city centre, The Seamus Heaney Centre at Queen's University is recognised as 'an international centre of creative and research excellence in the field of literature'.
Given its historic listed status, PERI explained that restoration work was crucial to preserve various parts of the building. To facilitate roof works and window replacement, K2 scaffolding were tasked with installing perimeter access to all floors.
One of the main challenges concerned protecting as much of the façade as possible, including bay windows, which would determine how and where the scaffolding would be tied into the structure.
PERI said its scaffolding design team proposed a tie layout that reduced the number of ties required, protecting the façade where possible. Cantilever brackets were incorporated to accommodate the bay windows and support the scaffolding deck spanning above. Brackets were also used externally to increase the width of the working platform and provide safer and seamless access to the on-site cabin.
"By working closely with K2 Scaffolding on the design and delivery of the access solution, we were able to identify any issues early on in the process and respond to any changes in the requirement promptly," explained scaffolding project delivery manager, Dion Penman. "It was great to see the team from K2 Scaffolding adapt to the system so quickly, and I think a part of that is due to how intuitive the PERI UP system is. We are looking forward to collaborating with K2 Scaffolding on future projects."
The metric grid dimensions of the PERI UP system helped to make it more practical for workers to access the chimney structure. With 25cm increments between the length of the scaffolding decks, scaffolders were able to adapt the arrangement to ensure working platforms were as close to the chimney walls as possible.
The use of PERI UP UHA spigots allowed flexible ledger to ledger connections which accommodated the chimney's geometry with no additional fittings required.
The entire build of the scaffolding solution was completed in just five days with 42 tonnes of PERI UP Flex erected over the course of the project.
Cathal Abram, contracts manager for K2 Scaffolding, added, "On finishing the Queens University project with the PERI UP system, I can see all the benefits this system brings, including the timed saved on the job and reduced material requirements. We had an awkward chimney scaffold to erect, and the adjustable spigots made this challenge easier to overcome.
"The locking and ladder decks are a great advantage for both time and safety. It saved a significant amount of time as the self-locking feature meant the team didn't need to tie the decks down during windy weather. These components played a big part in the speed of the project, reducing the predicted project time by 50%. I'm looking forward to working with PERI on our next project and I'm sure the PERI UP scaffolding system will continue to impress."