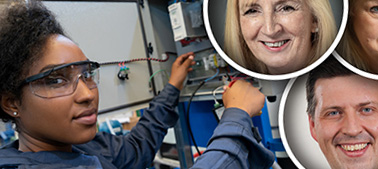 SCOTLAND'S training providers have backed a call by Scottish Government minister Jamie Hepburn to unlock the potential of the nation's young people and create a highly-skilled workforce to help in the transition to net zero.
The Scottish Joint Industry Board (SJIB) and Scottish Electrical Charitable Training Trust (SECTT) both welcomed the minister's enthusiasm for more youngsters to become apprentices in the construction industry.
Mr Hepburn, the minister for higher education and further education, youth employment and training, said it was fitting that this year's Scottish Apprenticeship Week (SAW) had the theme of 'Unlocking Potential'.
He said, "The construction industry is upskilling its workforce to deliver a decarbonised built environment, making it a critical sector as we move towards our net zero ambitions. We therefore need enthusiastic and passionate young people to take opportunities, and consider construction as a career path."
Anne Galbraith, chief executive of SECTT, which manages training on behalf of the SJIB, added, "Having come through the trials of the pandemic period in much better shape than could have been expected, it is appropriate to celebrate the contribution that apprentices make. Recent research shows that Scotland can expect to generate 100,000 green jobs as it transitions to a carbon-free environment, and the message has been sent and received that the country and the industry needs more apprentices and full-blown tradesmen and women.
"In the electrotechnical sector alone, numbers of young people embarking on their new careers have increased year on year since the height of the pandemic – there were 800 in 2021 and nearly 1,000 last year – and employers deserve substantial credit for supporting them so wholeheartedly."
Fiona Harper, the secretary of the SJIB, commented, "Unlocking Potential is the perfect theme for this year's SAW, since the skills, dedication and commitment of our young people will be crucial as the built environment and the wider world moves away from its dependence on fossil fuels. From heat pumps for our homes to electric vehicles and green energy sources, the world is rapidly changing, and it is our young people who will not only install the necessary infrastructure but will maintain it over the years and pass on their knowledge to succeeding generations.
"Mr Hepburn is to be applauded for recognising that it makes sense for apprentices to seek a solid and rewarding career in an industry which will be so important to all of us in the coming years."
A host of events will run during SAW, which runs from 6-10 March. Backed by Skills Development Scotland, it highlights how apprentices and employers benefit from schemes and how learning providers support young people's achievements.
The SAW Unlocking Potential digital toolkit can be downloaded here.