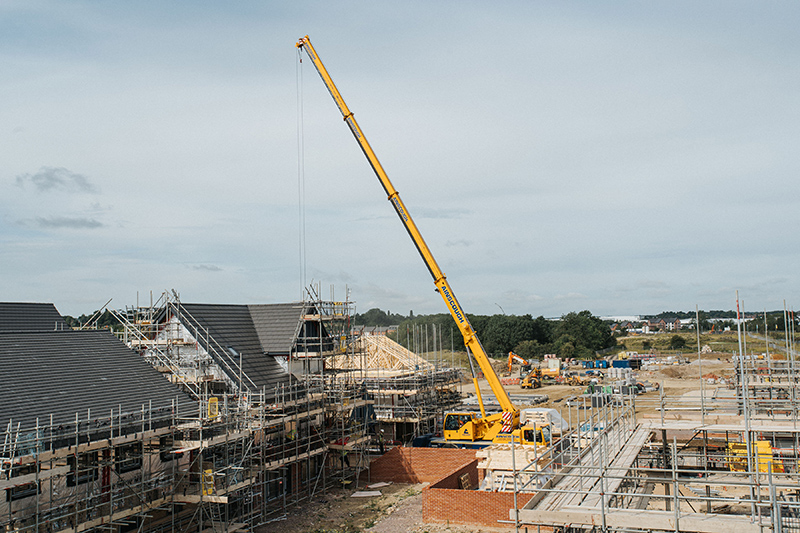 DONALDSON Timber Systems (DTS) has announced it has become the first timber frame manufacturer to offer a verified Pre-Manufactured Value (PMV) score of 55% or more.
Following a six-month material and labour cost analysis completed by Cast Consultancy, the DTS Sigma II build system has been verified to achieve a minimum of 55% PMV, increasing to 58% for a detached home.
In conjunction with the Stewart Milne Group, the DTS timber system was tested on a live project on a range of building typologies, including a 2-bed mid terrace, a 3-bed end-terrace and a 4-bed detached home. In these tests, the DTS Sigma II build system achieved a verified PMV of 55.7%, 55.8% and 58.4% respectively.
PMV is a way of calculating the proportion of a building's construction that takes place offsite or near-site using Modern Methods of Construction (MMC).
DTS explained that the PMV value of Sigma II is achieved by a combination of offsite elements of the build, including: traditional strip footings and in-situ suspended floor slabs; conventional brickwork external cladding; external doors installed on site; conventional felt, batten and tiled roof installed on site; services and internal linings to walls and ceilings installed on site; sanitary ware and kitchens installed on site; and pre-fabricated doorsets and stair flight, with handrail components installed on site.
The Affordable Homes Programme from Homes England, launched in 2021, requires all projects it funds to have at least 25% of the units delivered through MMC and a calculated PMV of 55%.
John Smith, technical director at Donaldson Timber Systems, said, "We were confident that our Sigma II Build System would deliver the required level of PMV, but it's fantastic to be able to prove it. This is of particular interest to our clients who are building affordable homes, as this certification will make their lives easier when applying for funding through the Affordable Homes Programme because the use of Sigma II alone achieves the minimum target required to unlock funding and secure land from Homes England.
"We have long championed the use of offsite timber frame construction as the best way to achieve efficiencies and sustainable building practices, and we have developed our timber systems to ensure they are market-leading in every way. Our award-winning, third party certified Sigma II Build System is a robust and effective solution to achieving high levels of fabric performance."