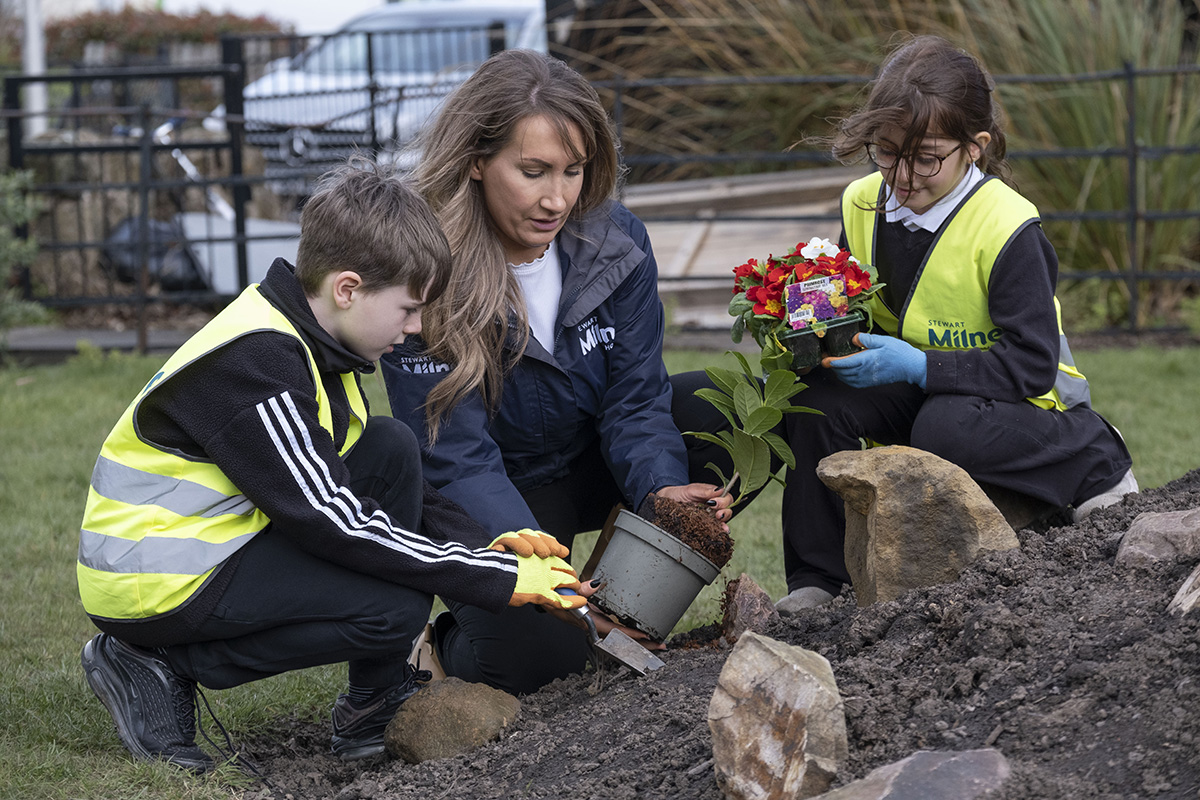 DANDERHALL and District Guerrilla Gardeners have welcomed £1,000 of funding from Stewart Milne Homes as the group gets underway with the creation of a new community garden.
With support from pupils at Danderhall Primary, the local gardening club has helped create attractive spaces for the community to enjoy since being founded in 2020. The group has formed a partnership with the school to help encourage the next generation of keen gardeners.
Danderhall and District Guerrilla Gardeners currently take a group of local children out of class for one hour per week to learn more about nature and teach them practical gardening skills, such as potting plants and growing vegetables.
Last year, Stewart Milne Homes helped the group with a donation towards starter gardening packs for pupils including gardening gloves, trowels and forks, pots, hyacinth bulbs and compost, craft materials and litter grabbers. The funding also went towards the purchase of wildlife habitats including hedgehog homes and bird boxes and high-vis jackets for the pupils to wear.
The housebuilder has now donated a further £1,000, which will be used to establish a community garden just yards away from the local Co-Op.  Specifically, the funding has been used to purchase hedgerow to help create a private space and new seasonal plants that the children have started to pot.
Helen Dougan, member of Danderhall & District Guerrilla Gardeners, said, "We are very proud to have fostered a strong relationship with the local primary school and we are grateful to the staff who encourage pupils to get outdoors alongside us to help make meaningful impact within the community. It makes it all worthwhile when we see the eagerness from the kids to get outdoors, enjoy the fresh air and learn new skills that we hope they will use throughout their lifetime.
"The funding from Stewart Milne Homes is a great help to accelerate our new community garden that will be a welcome addition to local residents, providing a new space for people to get outdoors, relax and take time for themselves."
Laura Tough, marketing manager for Stewart Milne Homes, added, "It was fantastic to visit Danderhall to meet with the group and pupils who are helping to enhance the already vibrant village. Helping to support an initiative that puts wellbeing and skills development at its heart is incredibly rewarding and I am proud to see how our contribution is helping the group continue its mission.
"At Stewart Milne Homes, our ethos is rooted in creating people shaped places that uphold the very best of flexible and modern-day living. Our nearby development, Shawfair, has been designed with a people-first approach with plentiful pockets of green space and active travel links woven into the design, complementing the efforts of the Danderhall & District Guerrilla Gardeners to create an attractive place to call home."
The efforts of Danderhall & District Guerrilla Gardeners have also attracted the attention of the Royal Caledonian Horticultural Society (RCHS). The group meets with a RCHS education officer twice a month, who advises on plans for the club and provides activities for the children should weather prevent going outdoors.