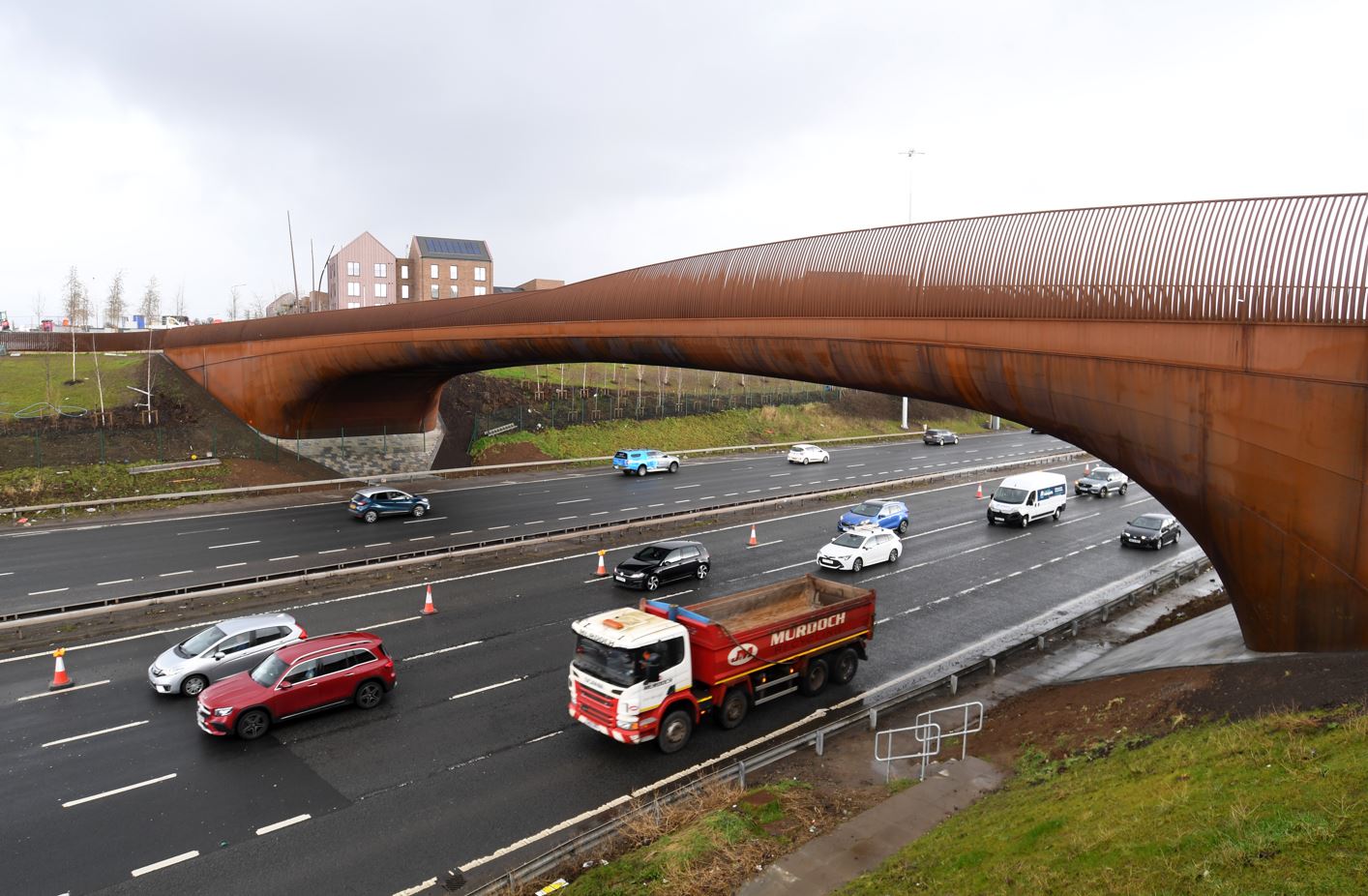 THE Sighthill Bridge over the M8 will soon open to the public, Glasgow City Council has confirmed.
The cyclist, pedestrian and wheeler bridge, delivered by BAM, is part of a wider active travel network connecting Sighthill, the city centre and neighbouring communities in north Glasgow. The project is a key feature of the £250 million regeneration of Sighthill.
The main span of the bridge's structure is made of Cor-Ten Steel, which is tipped to deliver lower maintenance costs and reflect the area's industrial heritage and the front of the local St Martin's Primary School campus.
Weighing 1,000 tonnes and 74.24 metres across, with a narrowest width of 7.5 metres, the bridge deck is part of a 'striking' structure, the local authority explained, with 800 trees, 10,000 plants and an approach ramp of 210 metres featuring in the bridge's landscaping.
The bridge was funded through the Glasgow City Region City Deal, with additional funding from Sustrans.
Councillor Susan Aitken, leader of Glasgow City Council and chair of the Glasgow City Region City Deal, said, "The ongoing regeneration of Sighthill is one of the biggest projects of its kind on these islands – and the completion of this remarkable bridge is a real landmark in that journey."
Scottish Government business minister Ivan McKee commented, "Opening of this new bridge over the M8 represents another milestone in the delivery of the Sighthill regeneration project as part of the Scottish Government-funded Glasgow City Region City Deal."
UK Government minister for Scotland Malcolm Offord added, "It's fantastic news that Sighthill Bridge – a key part of one of the biggest regenerations seen anywhere in the UK – has opened."
Karen McGregor, Scotland director at Sustrans, said, "This new link is an important achievement for Sighthill, allowing many more people in the area to leave the car at home when making their everyday journeys."