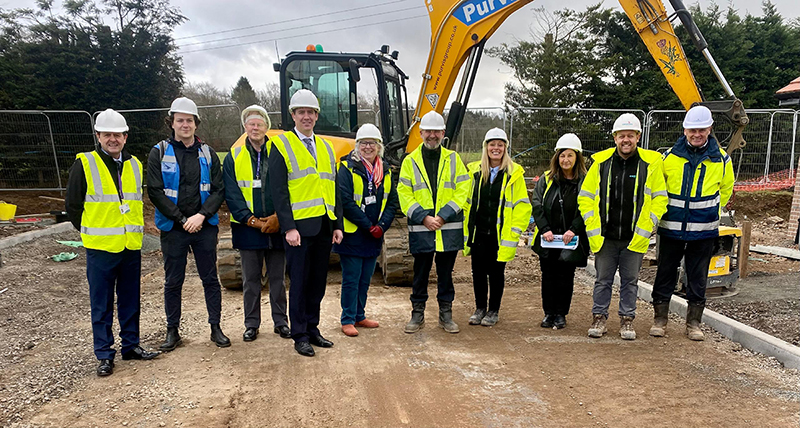 FIFE-based Kingdom Housing Association recently welcomed Scottish Labour spokesperson on housing & local government, Mark Griffin MSP, representatives from the Scottish Federation of Housing Associations (SFHA), and Kingdom Housing Association board members to its largest sustainable housing development.
The £6.9 million project at Balgove Road in Gauldry will provide 30 affordable homes for social rent. The properties are all being built to Passivhaus and net zero carbon standards.
The site features a diverse housing mix including family homes, cottage flats and amenity bungalows. Solar panels, superfast broadband, and public electric vehicle charging points will be provided.
Kingdom revealed that a range of community benefits will be delivered throughout the construction phase including training opportunities and job creation.
The total project cost is £6.9 million with funding of £3.9 million provided by the Scottish Government and a contribution of £74,726 provided by Scottish Water.
Mark Griffin, MSP for central Scotland, said, "Kingdom is making fantastic progress at Balgove Road to deliver Passivhaus homes for rent to social tenants, and shows the excellent work the association is delivering for Fife. Warmer, airtight homes that cost less to heat are vital to tackle Scotland's fuel poverty crisis and our climate emergency so this is exactly the innovation we need to see in the years ahead."
Bill Banks, outgoing group chief executive at Kingdom, added, "I am very impressed by the specification of the new homes being built by Campion Homes for Kingdom in Gauldry. In 2010 Kingdom was the first housing association in the UK to achieve Passivhaus accreditation with a property for social rent and now work is well underway on our most environmentally friendly development to date."
Corrie Innes, public affairs and policy coordinator at the SFHA, commented, "It's great to see the progress Kingdom is making in providing these much-needed, high quality affordable homes in Fife. Housing associations build the best quality homes for affordable rent in Scotland, maintain them to an excellent standard and contribute to their local communities all while striving to achieve net zero."