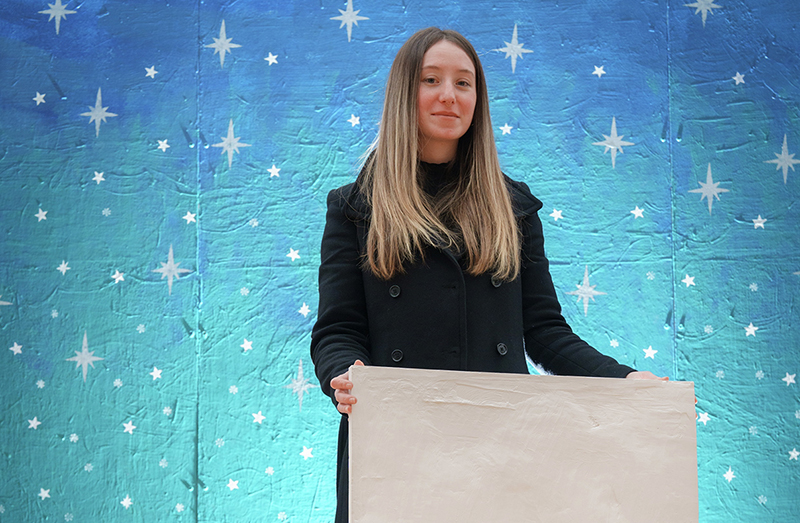 HOUSEBUILDER Cala Homes (East) has gifted charity Sight Scotland a piece of commemorative art created by Edinburgh College of Art (ECA) student, Kristel Bodensiek, following a gallery art exhibition at its Newington Residences development.
The artwork was created as part of a project with Cala Homes and ECA, which saw students tasked with creating contemporary artwork inspired the historic Clocktower apartments building at Newington Residences, the former home of The Royal Blind School.
Bodensiek's piece, entitled 'Elegant Touch', was chosen as the winning entry from 22 submissions and was donated to The Royal Blind School's new Morningside campus for permanent display as an artistic link back to its own history and former site.
The work invites audiences to experience it by touch, reflecting the historical importance of The Royal Blind School.
Phillip Hogg, sales and marketing director for Cala Homes (East), said, "Supporting the communities in which we build is hugely important for us and it's been an honour to help share the work of talented young artists such as Kristel, with a wider audience.
"The calibre of the artwork produced by the students at Edinburgh College of Art was phenomenal but Kristel's artwork was a real stand-out submission. It was fantastic to see how Kristel chose to focus her artwork on other senses such as touch, interpreting our brief with her own creative flair.
"We are absolutely delighted to have handed over the artwork to Sight Scotland for their students and staff to enjoy."
Davina Shiell, communications director at Sight Scotland, added, "We have a long history and many fond memories from our time at our original historic site which is now under the guardianship of Cala Homes and named Newington Residences. Kristel's artwork is very special and we are delighted to accept it as a gift for The Royal Blind School at its campus in Morningside."
The refurbishment includes 21 apartments situated within the 1800s school building itself complemented by a mix of new three, four and five-bedroom new-build townhouses.