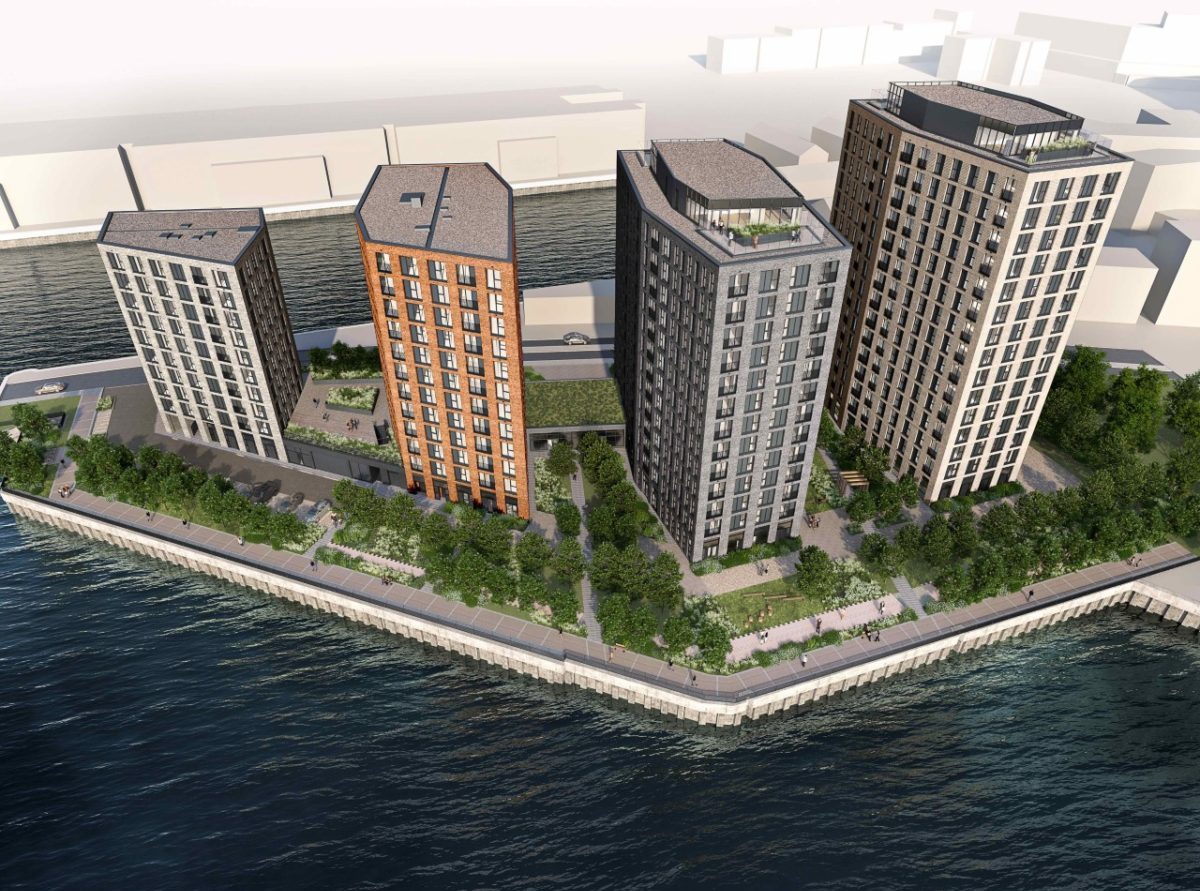 GOODSTONE Living has appointed McAleer & Rushe to build at least 338 homes for its next generation build-to-rent residential scheme in Leith.
The waterfront project, branded as 'Dockside' and designed by 3DReid Architects, will have panoramic views and resident amenity space including rooftop lounge and dining, co-working areas, and a fitness centre. 
The homes will be spread across four apartment blocks on a 2.5-acre site and there will be 1.3 acres of new public realm space. This includes pocket parks and a publicly accessible boardwalk created to connect the Albert Docks with Ocean Terminal, a shopping, dining and leisure hub located adjacent to the development. 
Goodstone's development team has re-engineered the project that was acquired last year to fully electrify the scheme with an air source heat pump in each apartment. Plans are also in place to enable community groups and enterprises to use some of the available commercial space, with other benefits including access to learning, work experience and training opportunities.
McAleer & Rushe, through its Community and Skills Action Plan, will complement the delivery of Goodstone's social value strategy.
Lee Hawkins, construction director, Goodstone Living, said, "Once completed, Dockside will help address the severe shortage of high-quality rental housing in Edinburgh sustainably, and deliver £2 million worth of social value to the local economy, including 60 local jobs, during construction. We have focused on local sourcing of materials and alternatives to cement to achieve at least a 30% reduction in embodied carbon.
"A full redesign of the scheme, which will be fully electrified once operational, will enable us to cut operational carbon by more than 50%, meaning Dockside will be one of Scotland's most sustainable residential developments.
"Construction starting at Dockside is also a milestone moment for Goodstone Living as it marks the start of delivery of our planned portfolio of rental communities across the UK. All of these schemes will have ESG, technical excellence and operational management at their core to create both long-term value for our capital partners and next generation rental communities for our residents."
Shane McCullagh, contracts director at McAleer & Rushe, added, "Goodstone and McAleer & Rushe share a commitment to making a positive impact in the communities we operate and Dockside is clear evidence of that in action. There is synergy between our community and skills approach and Goodstone's social value strategy, both of which are grounded in principles of socio-economic elevation, environmental protection and sustainability.
"We will be delivering the project in a way that has long-lasting benefits for residents and local people and we look forward to getting on site."