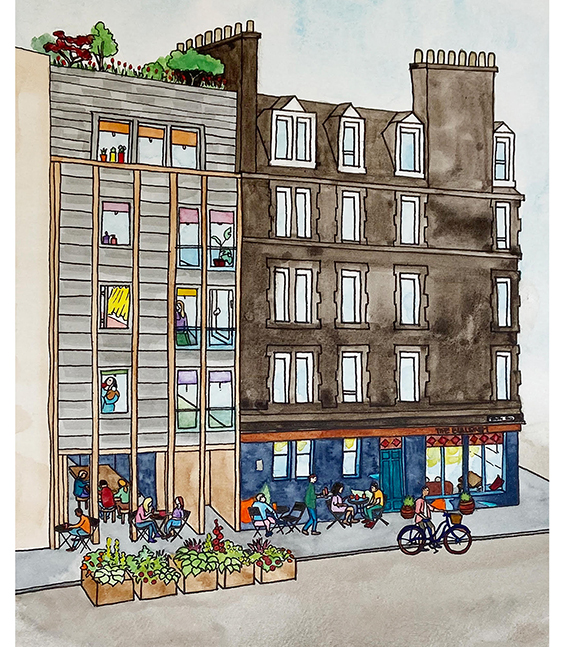 AN Edinburgh-based organisation is giving people the opportunity to design and build their own homes in the capital after taking inspiration from practices in Germany.
With one development in the city already under its belt, Cohere was founded in 2018 by award-winning architect John Kinsley, and founder of Ethical Property Australia, Pete Allen, to put property building in the hands of future residents.
Known as collective custom builds – or 'Baugruppen' in Germany, which translates to 'building group' – the practice allows for communities to cut out developer fees by coming together to design apartment buildings, before later appointing contractors.
Heralded as often allowing for a higher standard of build than traditional developments due to there being no need for profits, a report by David Thorpe, director of the Association of Self-Build Architects (ASBA), estimates that up to 30% can be saved through there being no developer profits or marketing costs.
The success of the model resulted in over 1,800 Baugruppen properties built in Germany from 2010 to 2020, with Hamburg setting aside a quarter of the city's land for such projects.
In many German cities, communities are empowered to purchase land when it becomes available, with time being given to mobilise themselves to submit a bid and demonstrate the social impact of any proposed scheme.
This is one of the reasons John believes collective custom builds haven't taken off in Scotland, with many pieces of land – particularly in cities – being snapped up by developers within a matter of weeks of going to market, allowing little time for community groups to mobilise.
However, Cohere is looking to change that with plans now submitted for Edinburgh's second collective custom builds in Leith. It follows the 2018 build of a Passivhaus tenement block on Bath Street in Portobello, which was completely designed and procured by the residents under the guidance of Cohere, which also offers co-financing through its relationship with social finance providers.
The proposed development on Salamander Street will create sustainable homes for three families to individually own in a modern tenement setting with a roof garden and space for a locally-owned pub on the ground floor.
"Most people love watching Grand Designs and everybody wants to design their own home," John said. "However, it's out of reach for almost everyone – and certainly those living in the city centres of Glasgow, Edinburgh, Dundee. The idea of finding a site where you can build your house independently by yourself is nigh on impossible."
Although Cohere's solution and Germany's Baugruppen isn't strictly building a house by oneself, John said that a 'problem shared is a problem halved' and noted that the support of having other future residents around each other means that inevitable problems are solved through collaborative work.
With Covid resulting in fewer people working in offices, John believes individuals are becoming more ingrained in their local communities.
"Certainly, from what I see here in Portobello and across Edinburgh, it feels like communities are starting to get more engaged and joined up than they perhaps were prior to Covid," he added. "The idea of using that as a way of taking back control – as is a popular phrase with our politicians – and being able to shape the environment and communities we live in has got to be a good thing, hasn't it?"
Cohere's work in Portobello was described as potentially being the 'future of Scottish housebuilding', with John saying that word is getting out in Edinburgh about the organisation's offering.
With both founders living in the capital, he explained that there's a little bit of centre of gravity with that, but they hope to extend the work to other cities – with Glasgow being a particular target.
"The tenemental model we have in Portobello and soon in Leith could translate really well into Glasgow," he continued. "Glasgow has such a rich history of tenemental life and culture of community-led projects."
Much of the organisation's decision to lead tenement-style builds is inspired by Lesley Riddoch's book, Blossom, which describes the communities found within tenements – neighbours babysitting, watching pets, picking up shopping for each other, and generally just watching out for one another.
"It's a very unique and Scottish thing," John added. "It doesn't happen down south. 'Tenement' is a bit of a pejorative term in England or in America – it's something that you wouldn't want to live in. But in Scotland it's a successful model and has been for well over 100 years. It's something that we should be proud of."