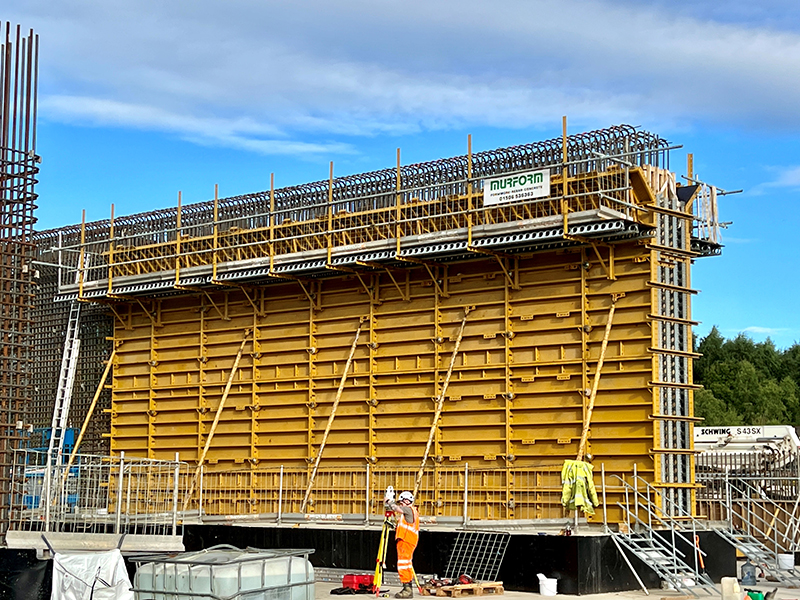 THE £16.9 million project being delivered through an agreement between North Lanarkshire Council and Network Rail, to construct a new bridge under the West Coast Main Line at Ravenscraig in North Lanarkshire, is progressing well — with a key part of the scheme delivered ahead of time by Murform.
The 6,000-tonne bridge is being built in a compound next to the West Coast Main Line by Network Rail and its main contractor, Story Contracting in preparation for it to be transported under the track in the spring of this year. The main portal structure is a staggering 30m x 31m x 10m high and will be transported by a series of SPMT (Self-propelled modular transporters). This operation is being described as the heaviest concrete bridge lift to ever be undertaken in Europe, in this manner.
Concrete formwork specialist Murform, which has a base in Livingston, was contracted by Story to deliver the bridge and 18 precast wing walls under the strict agreement that they'd be completed by the tight deadline set out by the client in advance of moving the bridge into place  – meaning there is little to no wiggle room in terms of extending the works. Murform commenced mid-July and achieved the final deck pour on the 19th November, beating the original programme by nearly 14 weeks.
"We just threw absolutely everything at it," Kevin Keenan, contracts manager at Murform, told Project Scotland. "We were very impressed working with Story; they are very professional. We got involved with Story's designers at an early stage where we were allowed to bring lessons learnt from a previous project at Lynebeg bridge in Moy as part of the early A9 dualling works. This allowed us to change a lot of the rebar detailing which helped us to carry out the works more efficiently and also improved interfaces with cranage and formwork."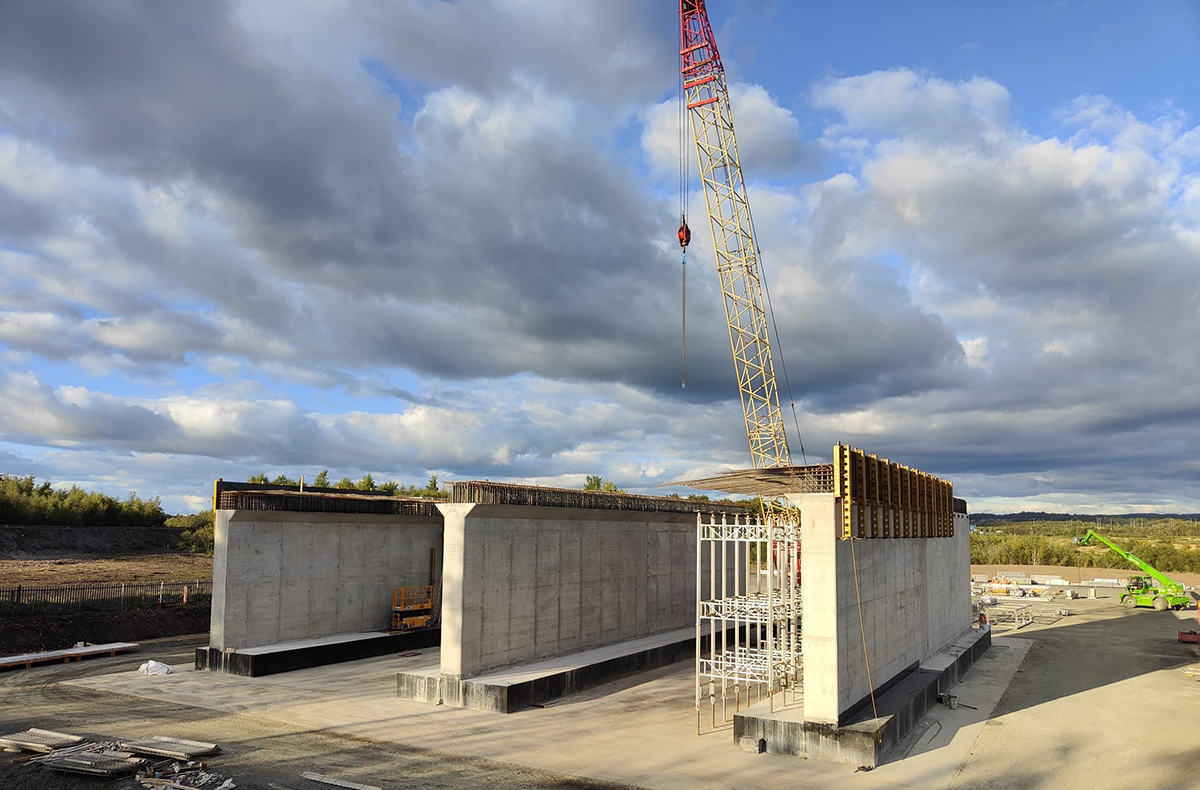 Kevin explained that most other road or rail bridges that Murform have carried out have had a lot more interfaces due to working around the likes of earthworks, live traffic, excavations, and surfacing.  At Ravenscraig, the firm had an ideal blank canvas of a casting yard to allow its teams full control to construct the structures.
"The bridge is more heavily engineered than most, due to the stresses involved while it is being transported, which required an 840m3 deck, 1m-wide walls with corbels at the top," he added, when asked how the project compares to other Murform bridge works. "It's quite refreshing to have the ability to showcase our expertise on such a central location to our office and our workforce.
"Our early engagement was also very much appreciated, and it's a testament to wider project team on site for providing such a cooperative environment, which is a key factor to the success of the project for us all."
Murform engaged one of its specialist formwork suppliers, EFCO formwork, who were selected due to having some of the 'most efficient and sturdiest formwork panels on the market'. During a detailed design period, where the foremen and joiners had direct involvement with the EFCO engineers and technical staff, they developed a detailed formwork design for each element of the works, with Kevin revealing that it played a 'big part' in being able to deliver the works ahead of schedule.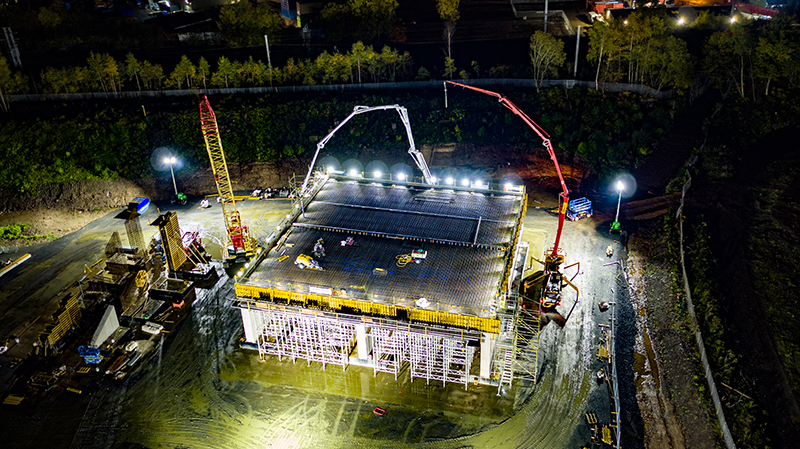 "We managed to group lift a 15-tonne shutter that was 15m x 8m high shutter, which also had a corbel on top, and turn it around for a pour in three days."
Once the main bridge structure was underway, Murform also had to concentrate on the 18 wingwall units situated on both sides of the railway line. These units are over 9m in height and weighing up to 70-tonnes, which had to be situated strategically close to the final location to allow them to be lifted with 300t+ crawler cranes, with Kevin describing this as a 'sizeable' project in its own right.
Once the structure is in its final position, it will allow trains to cross over a new road being created between Ravenscraig and Motherwell. Deputy leader of North Lanarkshire Council, Paul Kelly, said in 2022 that the new road will open up more opportunities for investment and regeneration at Ravenscraig, whilst the rail crossing represents a 'key' element in achieving the ambitions of the overall site.
The strong working relationship developed in the Ravenscraig project between Murform and Story has led to the two partnering again for an energy from waste project in Irvine and also on a bridge structure on the HS2, which is managed from Murform's English office. Kevin said the firm is keen to continue working with Story due to its professional nature and ambitions to continue branching out into new markets, as well as delivering similar bridge structures in the near future.
"We're looking to further develop our teams and expertise on similar projects in Scotland," he added. "We are also currently investing in our new office and warehouse in Livingston. We employ a lot of local people and are trying to bring younger people into the team, especially with local projects."