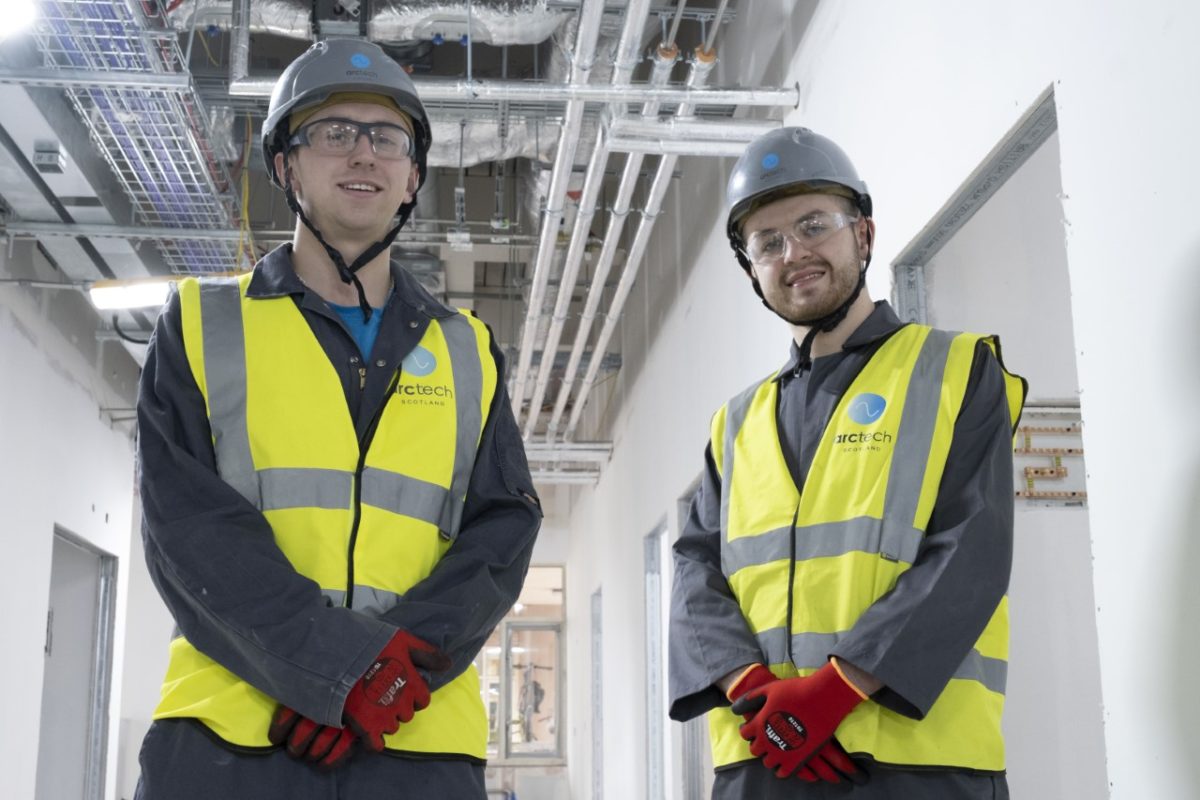 BUILDING services contractor Arc-Tech (Scotland) has confirmed an intake of three new trade apprentices in 2023.
The company was formed in 2016 and has since grown to employ over 150 personnel.
A total of 28 apprenticeships and a variety of traineeships have been delivered in the past seven years, with all graduates retained as full-time employees.
Arc-Tech's new recruits will join the business in August when they start a four-year programme to become qualified heating engineers, plumbers and electricians. Their experience will involve a mix of applied theory at college as well as working on-site with the latter providing the means to earn while learning.
To celebrate the announcement, John Gallacher and Alan Rogers, Arc-Tech (Scotland) MD and contracts director respectively, met up with some of the businesses' existing apprentices – Kier McKechnie (20) and Finn McCarte (22) – in Clydebank where the firm is currently supporting Kier Construction with the multi-million-pound refurbishment of the Golden Jubilee Hospital.
John said, "It gives me great pleasure to announce our seventh annual apprentice intake at the very place I began my own apprenticeship. Alan and I know the value of an apprenticeship and we hope that by standing here, alongside Kier and Finn, we have motivated more young people to choose a career in the Scottish construction industry.
"Our business is built on strong foundations because of our commitment to youth employment and we look forward to welcoming our new recruits this coming August."
Alan added, "Arc-Tech will always look to invest in young people as it is an incredibly fulfilling and rewarding aspect to our business. In doing so, we are not only helping them learn valuable skills, we are also ensuring that our key business objectives continue to be met as we know that our employee's contribution is integral to our long-term growth and providing the best level service for our clients."