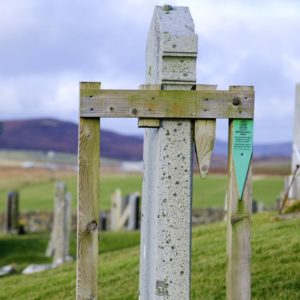 A training course is set to take place in April on undertaking memorial works to an industry standard within burial grounds in Shetland.
The three-day course will teach participants how to prepare and construct new foundations with concrete, as well as dismantling unsafe memorials and how to prepare and re-erect them.
Shetland Islands Council said the course is looking to increase the number of local memorial masons to install new memorials and carry out repairs to existing memorials in Shetland.
The course costs £499 per person and leads to the SQA Award Fix and Secure Memorial Masonry which the local authority said would then allow individuals to apply to Shetland Islands Council to undertake memorial works in burial grounds in Shetland.
The course will take place from Tuesday 4th to Thursday 6th April 2023, based at Islesburgh Community Centre and the Knab Cemetery in Lerwick.
Carl Symons, executive manager of environment and estate services at Shetland Islands Council, said, "This is an opportunity for anyone with some experience to learn skills and gain a qualification as a memorial mason. This would increase the number of memorial masons locally and help to maintain the memorials in Shetland's burial grounds in future."