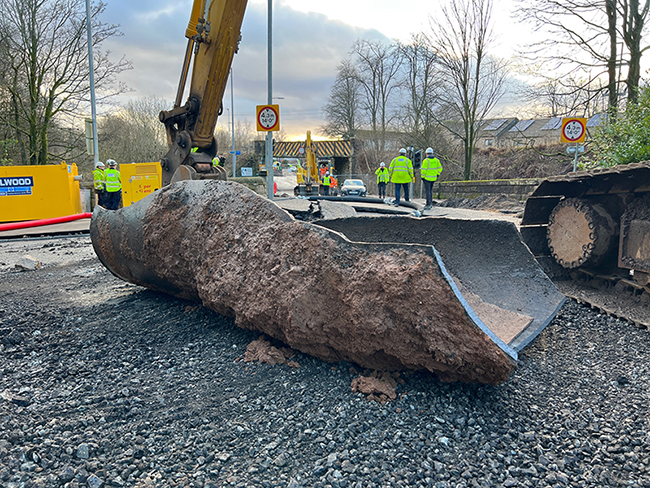 SCOTTISH Water's customer service general manager has heaped praise on his colleagues for their response to the recent burst of a Victorian water main in Milngavie.
The incident almost led to the nearby water treatment works – which is the primary source of water for Glasgow and Greater Glasgow – having to utilise an emergency generator.
Speaking to Project Scotland, Kevin Roy told of his pride in the organisation's quick response to the burst, which came with such force that it caused part of Auchenhowie Road to split – leaving the area flooded, around 100,000 properties without water, and an eye witness likening it all to the force of an earthquake.
"With trunk main systems of the nature of the Glasgow and Greater Glasgow system, it's fortunate that there's a lot of connectivity built-in which means we can isolate the burst pipe relatively quickly," Kevin explained, before telling how water can then be brought in from other areas – which in this case, allowed services to be restored within five hours of the burst.
However, 'substantial' clean up and reinstatement works are set to be carried out over the coming weeks due to the damage caused by the incident. Kevin explained this will need to be done in a 'careful' way that doesn't create secondary issues – with the area of the burst containing a raft of other utilities and infrastructure, including arterial feeds into Glasgow from various energy companies, as well as gas, power, and telecoms lines.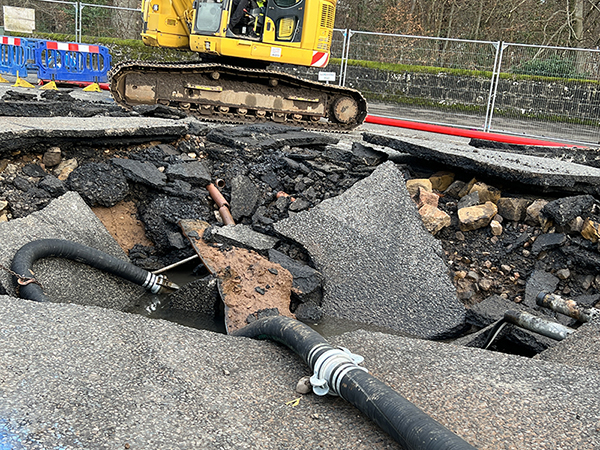 "With these types of complex works, there's always challenges and the team has done really well to work around that," he explained. "The first one was high voltage power cables that run through the excavation – the pipe had been split in half, so we had to isolate the power cables in order to remove the pipework and effect the repair safely. Those power cables serve Milngavie treatment works, so we actually had to consider shifting the site to temporary generation, so there was a lot of planning… prior to actually doing the civil repair that was needed."
The team brought on board a vacuum excavator which allowed workers to get through the significant amounts of water on site and also allow for suction to be used in place of digging, meaning utilities in close proximity to the two water mains could be manoeuvred around.
"It's a nice tool to take away the material in between our two water mains in a really safe way," Kevin added. He revealed that two 20-tonne track diggers, a road planer machine, Hiab plant, and a paver have either been used or will be utilised in the coming weeks.
Despite the burst of the pipe dating back to 1859, Kevin said he not only has faith in Victorian infrastructure but actually views it as an 'inspiration' when it comes to the quality of engineering and longevity.
"In terms of age, condition, and quality of resilience these trunk main systems that were built in Victorian times are in really good shape," he added. "They're a pleasure to work with. When you've got hydraulic pressures in networks and the weather like we've had, you're always going to get the odd burst here and there – we don't know the root cause of it at the moment.
"We get trunk main bursts from time to time – not as much as distribution bursts – but we do get them," he stated, explaining that it's often when there are variabilities in weather – be it heat in the summer and subsequent ground movement, or pipes contracting and expanding in the cold winter months.
"With the effects we've witnessed from climate change it's likely going to be amplified to a certain extent, so is there a risk of a trunk main burst happening in Glasgow? Yes, but we've got a significant investment programme focused on that. If we're worried about anything that might drive bursts – whether it be age or some materials used that aren't fit for purpose now – we're driving that risk out as much as possible through our investment programme."