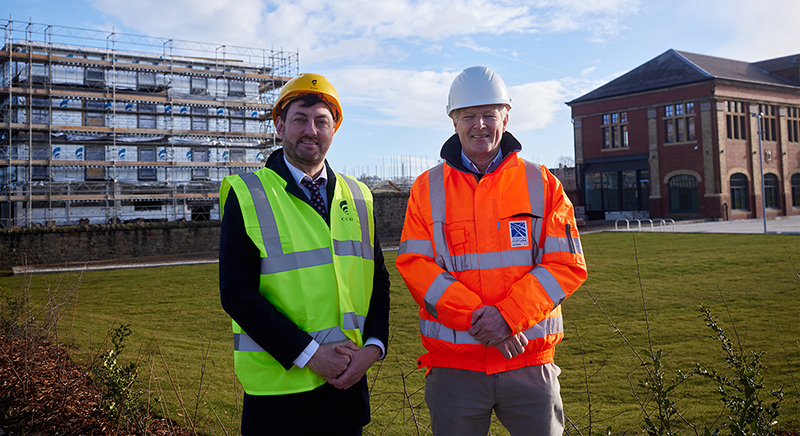 THE first homes are now under construction on a 'flagship' net zero carbon housing development in Edinburgh.
Located on Waterfront Avenue in Granton, Plot D1 will comprise over 70 one, two, and three-bedroom apartments alongside commercial units. The apartments will be rented as social housing owned and managed by The City of Edinburgh Council or to households on low to middle incomes at a mid-market rate.
The development forms part of the £1.3 billion regeneration of Granton's waterfront and will set a roadmap for the future of net zero carbon housing delivery in Scotland.
This is the first of three confirmed pilot projects being delivered by The Edinburgh Home Demonstrator (EHD) – a programme providing a new approach to building affordable net zero carbon homes at scale.
The Scottish Government-backed programme has engaged a community of research and development experts to show how affordable net zero carbon homes can be created at scale across the six local authorities within the Edinburgh and Southeast City Deal Region.
Contractor and manufacturer CCG (Scotland) is leading construction of the Plot D1 site on behalf of The City of Edinburgh Council. The firm is using the Modern Methods of Construction (MMC) concept of offsite manufacturing. Standardised panels have been manufactured in CCG's factory, transported to site, and positioned with the use of two cranes.
This has resulted in a quicker build, with one-storey a week being completed on the Granton site.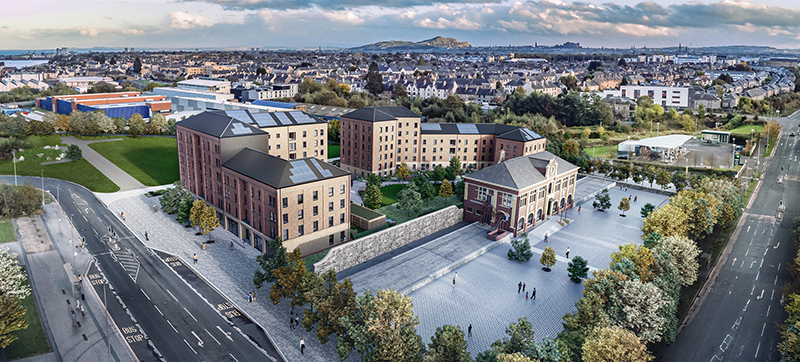 This combination of techniques will be evaluated by the EHD programme and help to inform the development of a blueprint for procurement, quality standards, and cost that can be used across the sector to create affordable net zero communities.
The homes are designed to reach as close to net zero carbon as possible, with the aim of lowering energy demands, eliminating carbon emissions, and improving the living environment. Renewable technologies such as a communal air source heat pump system and solar PV panels will combine with the home's enhanced building fabric.
Cammy Day, City of Edinburgh Council leader, said, "The future of housebuilding is happening here in Edinburgh, where we are proud to lead the biggest and most innovative net zero carbon development in the country. The pilot itself is helping to create and support jobs in green industries like offsite sustainable manufacturing. This is exciting to see and something our wider regeneration of Granton will build on.
"What we are doing with our partners at the Granton Waterfront is truly trailblazing and will see the community become a test bed for future innovation, skills development and much needed employment opportunities – all while pioneering 75 new net zero carbon affordable homes."
Calum Murray, CCG director and EHD board member, added, "CCG are pioneers for offsite manufacturing in Scotland. We operate from one of the UK's most advanced facilities and use technological procedures to create homes in a controlled setting that are inherently designed to deliver an enhanced quality standard and minimise heat loss.
"For Granton D1, we will then integrate our entirely renewable energy system onsite. This uses several measures developed in partnership with Carbon Futures that combine with this improved standard of build to achieve our net zero target.
"The EHD programme is key to helping us to reach that target and this milestone at Granton D1 will be one of many along the way. It will be an exciting journey and one in which we are delighted to be playing our part alongside the council and our trusted partners."
Ainslie McLaughlin, chair of the Edinburgh Home Demonstrator programme project board, commented, "The homes are quickly taking shape thanks to the offsite manufacture of key components. The productivity gains and speed of construction delivered by offsite MMC make it an important solution in the delivery of net zero carbon homes, especially to meet the demand for affordable housing. Scotland has both the capability and resources to scale this up, there is real opportunity here."
The programme is delivered by multiple stakeholders including partners from The City of Edinburgh Council, Offsite Solutions Scotland, Edinburgh Napier University, the University of Edinburgh, Scottish Futures Trust, and Built Environment – Smarter Transformation (BE-ST) and is funded by the Scottish Government's Affordable Housing Supply Programme and The City of Edinburgh Council.