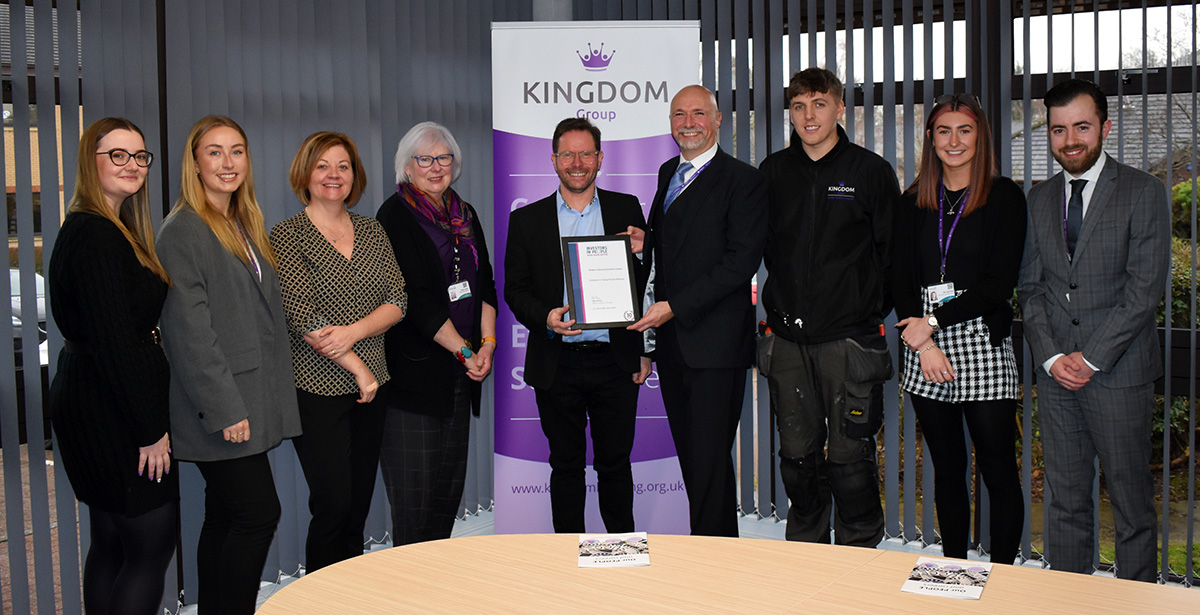 KINGDOM Housing Association has revealed it has become the first housing association in the UK to achieve the Investors in Young People (IiYP) platinum accreditation.
The Glenrothes-headquartered outfit is one of only ten organisations in the country to achieve the top level of accreditation.
Investors in Young People is a framework designed to support employers in the development of youth employment practices to attract, recruit, develop and retain young people. Accreditation can be achieved at four levels: standard, silver, gold and platinum.
Kingdom said it has a successful track record of developing young people including an award-winning trainee programme, a trades apprenticeship scheme, partnering with a variety of further and higher education providers, engaging in Developing Young Workforce (DYW) activities with local schools, supporting 12 Career Ready mentoring relationships and internships, and creating internal communication structures that give a voice to young people in the workforce.
Bill Banks, Kingdom group chief executive, said, "I am absolutely thrilled we have achieved Platinum IiYP accreditation. We put a lot of effort into making Kingdom a great place to work for everyone and we recognise the part we can play both as an employer and an organisation in providing opportunities and careers for young people.
"I am particularly proud of the trainee programme we have operated for over six years which has provided a full range of professional career opportunities for young people. The work we have done has only been possible with the commitment and enthusiasm of people across the whole organisation."
Andrew Latto, HR director at Kingdom, added, "At Kingdom, we work hard to provide great opportunities for young people so it's fantastic to see that recognised. The young people we employ deserve equal credit though as it's them who really take advantage of those opportunities.
"That's why we have had such high numbers of our trainees going on to positive destinations, most of them staying with us and, in recent years, having two of our former trainees named Apprentice of the Year and another named Young Achiever of the Year in the CIH Scotland awards."
Kirsty Stott, senior technical services officer, joined Kingdom at the age of 19 as a trainee technical services officer. She said, "In the five years since I have completed an HNC in quantity surveying, had brilliant on-the-job training and support from colleagues, been appointed to a permanent asset officer role within the technical services team, undertaken a graduate apprenticeship attending Heriot Watt University to complete a degree in construction and the built environment and, in the last year, have been promoted to senior technical services officer.
"I have also been fortunate enough to take on the role of mentoring a student placement from Edinburgh Napier University. Not only have I had a great start to my career, I'm supported to continue my development and have had the opportunity to support another young person with their own learning."
Paul Devoy, IiP chief executive, commented, "Congratulations to KHA for their platinum accreditation for IIYP.  It signifies their long-standing and exceptional commitment to investing in young people."