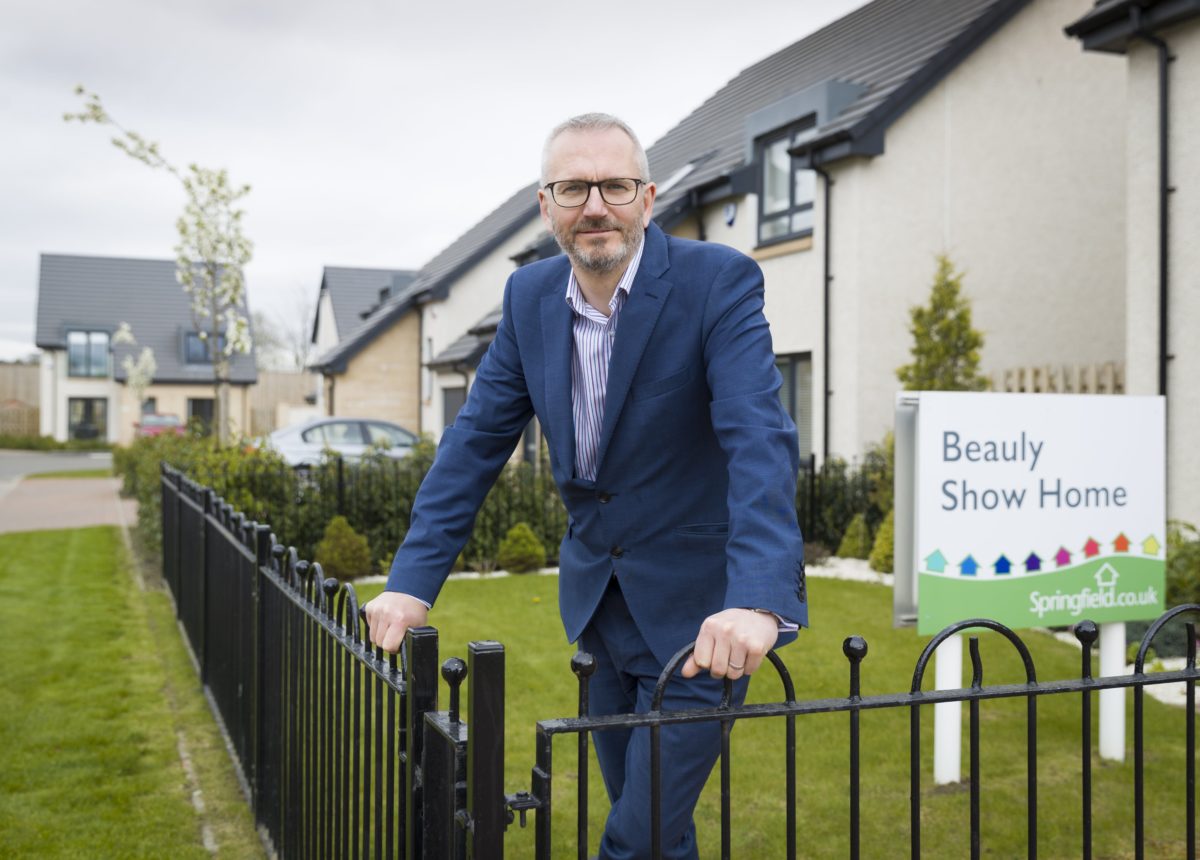 SPRINGFIELD Properties has reported an 85% increase in revenue to £161.9 million for the six-months ending November 2022, compared with the same period 12 months earlier.
The housebuilder has released its interim results, which also revealed a 151% increase in private housing revenue to £118.6 million, and a 41% increase in contract housing revenue to £10.6 million.
Affordable housing revenue has dipped 12% to £27.9 million compared with the half-year results a year earlier.
Pre-tax profit stands at £5.9 million – down 5% on the £6.2 million figure from a year ago.
Springfield pointed to 'strong growth' in private housing, reflected by the acquisitions of Tulloch Homes and Mactaggart & Mickel Homes, but highlighted the 'significant impact' from build cost inflation, particularly on fixed-price contracts in affordable housing.
429 private homes were completed during the six months compared to 197 a year earlier.
Springfield added that sales for this current financial year are 'largely protected' by the Scottish missive system with approximately 94% of market forecast private housing revenue for 2023 secured, however reduced homebuyer confidence has impacted private housing reservations.
Innes Smith, CEO of Springfield Properties, said, "This has been a challenging period for the housebuilding industry with significant headwinds having a combined effect, which largely offset the excellent growth that we achieved in private housing. The UK Government's mini-budget in September reduced the confidence of homebuyers and the cost of mortgages increased significantly.
"Our affordable housing business was greatly impacted by build cost inflation and, with the Scottish Government still to review its affordable housing investment benchmark, it is not currently possible to continue building affordable homes at the same pace as we have in the past. Our plans to deliver additional homes for families through PRS were unfortunately withdrawn as a result of the Scottish Government's intervention in rent control. Plus, while one land sale to a housebuilder was achieved, the industry-wide stalling of land purchases meant that we could not secure acceptable value for additional sales.
"We have taken decisive action in response to these conditions. We've paused entering new long-term affordable housing contracts and reduced our fixed cost base. We've made a strategic land sale on good terms; reduced land buying activity; and are approaching new site openings with caution. We are also encouraged by the signs that market conditions are improving.  While it is too early to call a recovery, the green shoots we are experiencing and which are being seen across the industry, through increased reservations and visitor levels, are encouraging.
"The foundations of Springfield remain strong. We offer high quality, energy efficient homes in popular locations across Scotland and have a large land bank, over half of which has planning. This, combined with the actions we are taking as we focus on reducing our net debt position, provides an excellent platform from which we can take advantage as the markets continue to improve and we remain confident in our future prospects and ability to generate shareholder value."