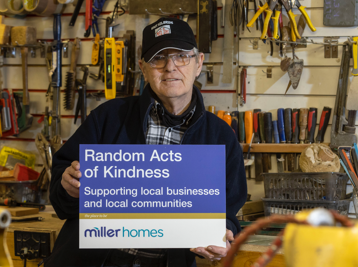 MILLER Homes is marking Random Acts of Kindness Week (14-20 February) by visiting local businesses with pay-it-forward donations across the west of Scotland.
Recognising the importance these services play in supporting their communities, the housebuilder's Scotland West team visited a range of businesses with £200 donations.
East Kilbride community organisation Men's Shed is purchasing additional materials; CocoChinos Coffee House in Baillieston and Rendezvous coffee shop in Kilmaurs, and The Hungry Gannet in Hamilton are offering free coffee and cake for customers. At the same time, Sight Scotland Veterans will be able to purchase equipment for their Hawkhead Centre in Paisley.
Louise Caldwell, sales director for Miller Homes Scotland West, said, "We wanted to share some positivity within our communities, and what better way to do this than during Random Acts of Kindness Week. Our neighbourhoods wouldn't be the same without these fantastic local businesses, and it has been a pleasure to support them with our pay-it-forward donations."