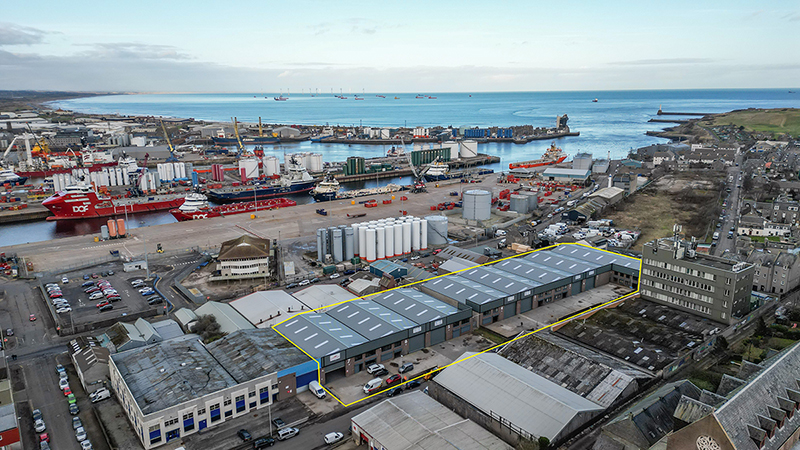 CHARTERED surveyors DM Hall, together with property agents Ryden LLP, have secured the first tenant for one of the seven recently refurbished industrial units at 1-7 Crombie Road, Aberdeen.
In-site Property Solutions Ltd, a family business with over 40 years of industrial property ownership and management experience, purchased the development in January 2022.
Shortly afterwards, Burns Construction of Aberdeen undertook a £1.4 million programme of refurbishment of the premises on behalf of In-site, which included replacement of all roof coverings and external cladding, replacement of all vehicle access doors, renewal of all external doors and windows, internal redecoration of workshop flooring, walls and structural steelwork and refurbishment of internal offices/staff amenity blocks.
Alex Boyle, MD of In-site, said, "Our intention was to restore and upgrade the entire development to give prospective tenants a first class, high-quality base of operations. I believe we have succeeded in that aim and we are grateful to our contractors for ably fulfilling the brief we provided."
In-site has agreed a new 10-year lease to Belron UK Ltd t/a Autoglass in December 2022. Belron currently operates in 37 countries, with Autoglass, the vehicle glass repair and replacement company in the UK, now establishing Unit 7 as its primary Aberdeen branch.
Stuart Johnston of DM Hall said, "This is the first of what we believe will be a steady stream of established businesses recognising an unmissable opportunity to place themselves at the centre of north east Scotland's commercial activity by availing themselves of premises appropriate to their ambitions."
Scott Harper of Alps Group Ltd, who acted on behalf of Belron UK, added, "Our client is pleased that such a proven business as In-site Property Solutions has led the way in undertaking the successful refurbishment of the Crombie Road site and we, collectively, wish it many years of successful trading."