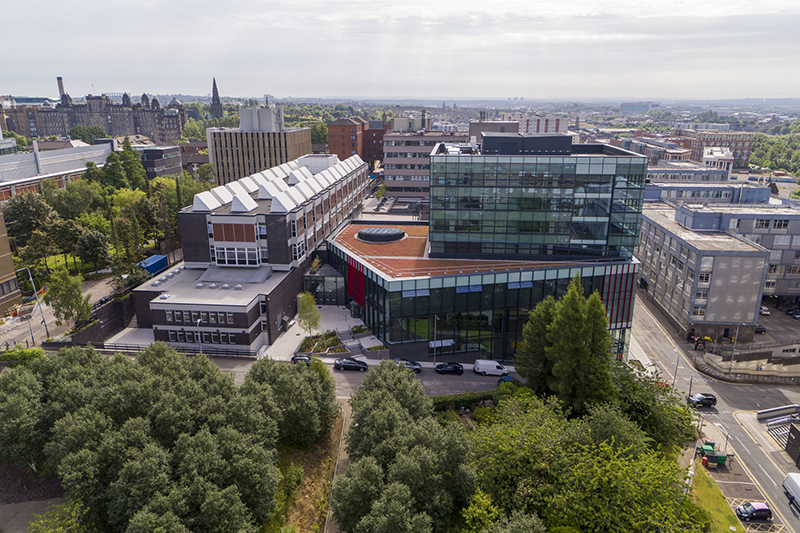 By Martin Jarvie, architect associate with BDP (Building Design Partnership)
WE are in the middle of a renaissance for Scotland's post-war buildings. As designers, we recognise that we can do more to mitigate the impact of our structures on the environment and help prevent further urban sprawl of our cities and towns. But we also have an opportunity to preserve the history of older buildings while creating a new sense of place within the communities in which they reside.
BDP's creative vision for two education buildings in Glasgow has delivered a new Learning and Teaching Building for the University of Strathclyde, solving the complex challenge of delivering a sustainable development on a congested urban campus with an engaging teaching and social environment.
When we were invited by the university to develop a solution to meet its need for high-capacity teaching spaces and a home for Student Services, we explored multiple options, including the construction of a new facility on the edge of the central Glasgow campus. The university required spaces that would accommodate more than just formal teaching; it also needed social spaces where students would feel comfortable relaxing between lectures, and that would facilitate casual, peer-to-peer knowledge sharing.
New teaching spaces were urgently needed as the university was having to make use of off-site cinemas to create lecture spaces. There was an immediate requirement to generate much more capacity and to build a hub to encourage students to remain after lectures, strengthen campus culture and build a vibrant student community.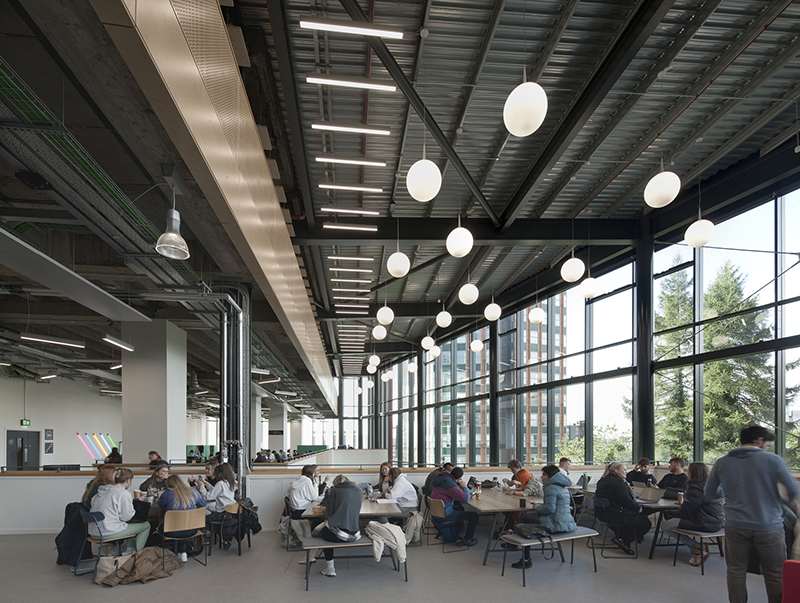 The solution we explored and then delivered was to use two empty buildings that stood at the very heart of the campus – the 1960s Colville Building, previously home to the engineering department; and its neighbour, the category B-listed Architecture Building that overlooked Rottenrow Gardens. Both buildings were functionally redundant, but their location was ideal for the creation of learning spaces and a central meeting place.
Through close consultation with stakeholders, we were able to demonstrate that reusing these existing structures would dramatically reduce embodied carbon. Using life cycle assessment software, our team was able to demonstrate that, compared to a notional new-build equivalent, reuse would save 67% CO2e, proving the adage that 'the greenest building is one that already exists.'
To put this in perspective, the embodied carbon saving is equivalent to the carbon dioxide emitted by 3,350 Scottish homes annually. In addition, 97% of construction waste was recycled resulting in 6,810 tonnes being diverted from landfill.
So, whilst the environmental argument for repurposing the original structures made sense, that left the challenge of unifying two different buildings to form a cohesive 20,000 sqm building for multiple uses providing breakout spaces, a 400-seat lecture theatre, a home for Student Support Services and a place for the Students' Union to reside.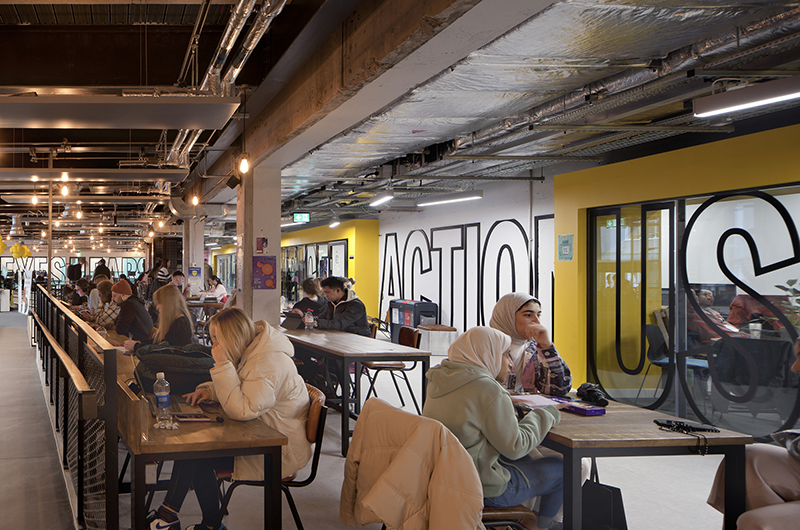 Our solution was to unite them whilst amplifying their different qualities. The Colville Building, which had been a warren of internal corridors with no links between the interior and its surroundings, was stripped back to its structural frame. Large volume spaces were created, and the raw structure exposed and celebrated; whilst the Architecture Building underwent a sympathetic upgrade, retaining the original character of the listed building. A new central glass hub fills the void between them providing views over Rottenrow Gardens. Covered by a green roof, the open expression of this link reinforces its welcoming character.
With only the structural frame remaining,  the Colville Building was wrapped in energy-efficient rainscreen cladding and high efficiency curtain walling, improving the building's fabric to exceed statutory thermal and air tightness standards, whilst natural ventilation was introduced where appropriate within the Architecture Building, windows were upgraded and thermal insulation introduced during the replacement of aged copper cladding.
Prior to refurbishment, the Colville and Architecture Buildings combined, had an estimated BER of 64.55 kg.CO2/m2.annum – whilst for the Learning and Teaching Building that estimate is reduced by more than two-thirds to 20.41 kg.CO2/m2.annum. Such a significant reduction in emissions has made a substantial contribution to the university's target of reaching net zero by 2040.
Since its completion, staff and students have enthusiastically embraced the Learning and Teaching Building. Providing more than just lecture space, it has become the social heart of the university, dramatically increasing footfall through the Students' Union.
Ultimately, adaptations like this should become more and more common. With a supportive and inventive education sector behind them, the result is a simple, creative and highly-sustainable end product. The Learning and Teaching Building at The University of Strathclyde is a true exemplar and shows that we can achieve a more efficient, engaging, and sustainable future for Scotland's post-war building stock.