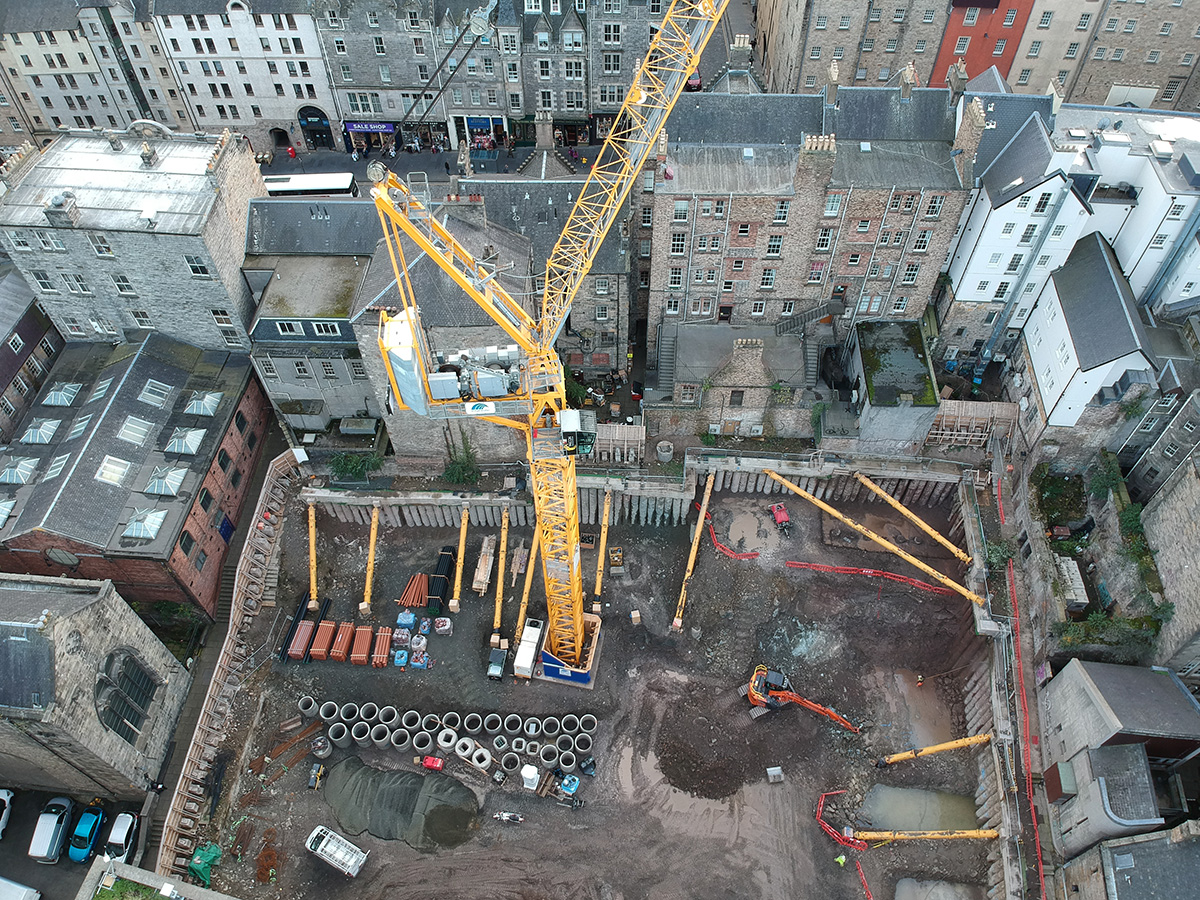 IN the heart of Edinburgh city centre, a complex and historically sensitive construction project is currently paving the way for a new mixed-use scheme, which will include the introduction of a new boutique hotel and extension to the formerly named Jurys Inn on Jeffrey Street, residential blocks, retails units, and the creation of public space.
The site is steeply sloping from the Royal Mile down to Jeffrey Street and surrounded on all sides by listed buildings of historical significance – including listed churches.
Paddy McNicholl, contracts director at Edgewater Contracts & Specialist Joinery, explained that, given the contours of the site, a problem arose when trying to find a suitable method of retaining the surrounding buildings as they were being undermined by a depth of up to nine metres on the south side of the site towards the Royal Mile.
A series of tests were carried out before it could be established if the vision for the site was even possible. After a GI report failed to provide what Edgewater considered to be adequate information to start development, several additional checks were undertaken to assist with research and design, including: load take downs of all surrounding buildings; slip circle analysis; ground movement assessment; and continuous robotic monitoring of surrounding properties.
Once this info was collated, Edgewater began looking at the different methods of retention available, which the firm knew was going to involve piling. To minimise noise and vibration, the options were narrowed down to either secant or contiguous.
Paddy said, "This process was further complicated by the fact that we were providing basement accommodation in the proposed buildings, hence we had to consider which piling technique was best suited to a bespoke waterproofing technique. Through a series of design workshops and the modelling of proposed layouts, we established that contiguous piling suited the site parameters best."
Once the piling solution was confirmed, there was a need to come up with an appropriate temporary propping solution. Therefore, equipment from Groundforce Shorco in the form of MP150 props is currently installed around the site. The kit is expected to be in situ for almost a year.
Adam Fletcher, major projects manager at Groundforce Shorco, told Project Scotland that the high-profile site has provided a showcase for all of the firm's different connection options and propping solutions in one.
"What we've been tasked with doing is to hold back or retain the surrounding area," he explained. "Before, the site was totally built up and was just a giant slope.
"The excavation area is roughly 50 metres across by 50 metres back. It's an L-shape of contiguous piled wall solutions with a capping beam on top. The capping beam undulates up and down around the perimeter, which from our point of view has been quite a challenge. It's not only going up and down; it's also raking left to right to allow construction of the structure internally. So, it's not a straightforward design; it incorporates quite a lot of different connection details."
The city centre location has provided a number of challenges, the first of which is access to the actual site itself. Deliveries have had to be carefully timed to avoid rush hour traffic and Mark Whitmore, business development manager at Groundforce, smiled as he recalled that the first instruction back from site was to make sure to send a good driver!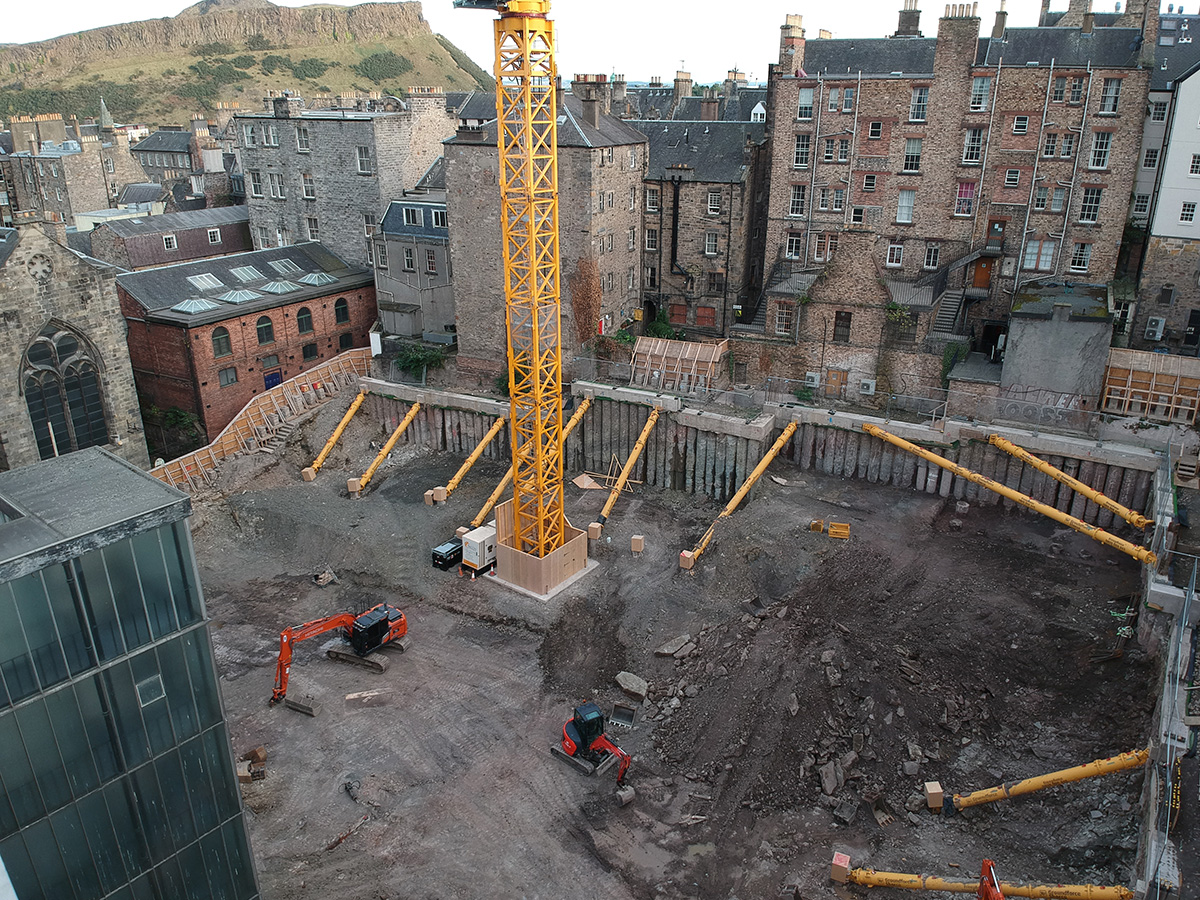 With so many buildings being up shored by the Groundforce props, it's absolutely paramount that nothing moves. Adam and Mark highlighted the benefit of early engagement on projects such as this, which they explained can result in logistical, environmental, and cost benefits.
"We had early involvement with Quinn Piling and Edgewater on this job," Adam added. "We had to achieve a specific stiffness criteria. The position of the props was almost dictated to us by the permanent structure itself. We've set all the props out to avoid the permanent structure as well; they've got to be constructed around it and still removed from in between and out of them."
Mark added, "Early engagement with permanent works and temporary works engineers is always the best option, then talk to the suppliers. We're involved with the Temporary Works Forum (TWF), which is a key body in the UK trying to promote early engagement with the temporary works industry.
"The starting point is to get the permanent works engineers designing the structure to be conscious of the temporary works issues, which is why we invest time talking to consultants and offering presentations to inform and alert them to the typical issues that we see. It's absolutely key."
Adam added, "We've had that early engagement, which has been good on this job. Early involvement also links in with sustainability and cost. If you get in there early, you can lean out a job and fine tune (certain aspects). By working together, you can achieve a more cost-effective solution, and by default, less material is used so there are environmental savings as well."
Sustainability is a major focus now for Groundforce, with the business committed to a 2050 net zero roadmap, and in the short term, immediate measures to tangibly reduce its carbon footprint.
Adam highlighted that the props used are typically kept for around ten years with no wastage or scrap when compared to traditional use of structural steel. He added that renting equipment, in itself, is a tick in the sustainability box whilst the company maximises loads on wagons to minimise movements.
Mark said, "There are specific actions we go through at the business. We've recently been awarded a first-place framework agreement by Scottish Water for the hire of trenching and shoring for all 'core' equipment. Securing the contract involved being able to demonstrate and evidence our environmental commitment. We're on that journey. We have a published net zero carbon plan with key actions each year."
Turning attention back to the Edinburgh project, pre-cast concrete construction was chosen for this scheme from both a logistical and speed perspective. Paddy McNicholl said that when Edgewater started to develop the design for it, the firm realised that pre-cast construction on its own would not be suitable.
Part of the development includes basement construction. From basement level to the fourth floor, the pre-cast units would not be able to withstand the load take downs from the surrounding buildings. Sizing the units to factor in these loads would have changed the internal layout of the hotel, while there was also an issue of waterproofing the pre-cast cladding panels.
The answer was the development of a hybrid structure, consisting of in situ concrete frame to the fourth floor, with pre-cast panels above.
"This dealt with all the loading issues because the concrete frame could be designed in such a way as the loads could be transferred across the frame, this enabling the layout to be retained, whilst allowing the speed of erection that pre-cast offered," Paddy added. "We could see this as a way forward, but we were still left with the issue of jointing the pre-cast to the in situ and waterproofing the building to level four.
"There followed a series of workshops including the shuttering subcontractor, the pre-cast frame subcontractor, waterproofing subcontractor, architect, structural engineer, client, and ourselves. As well as identifying methodology, we had to identify details that would work and address the buildability of any proposed details.
"After a series of these workshops, designs were agreed, modelled and samples built on site to see how it would all tie together, from an integrity and buildability point of view.
"Basically, we had taken the client's initial proposed scheme and preferred method of construction and developed the construction methodology more or less in its entirety to deliver this scheme on a complex site."