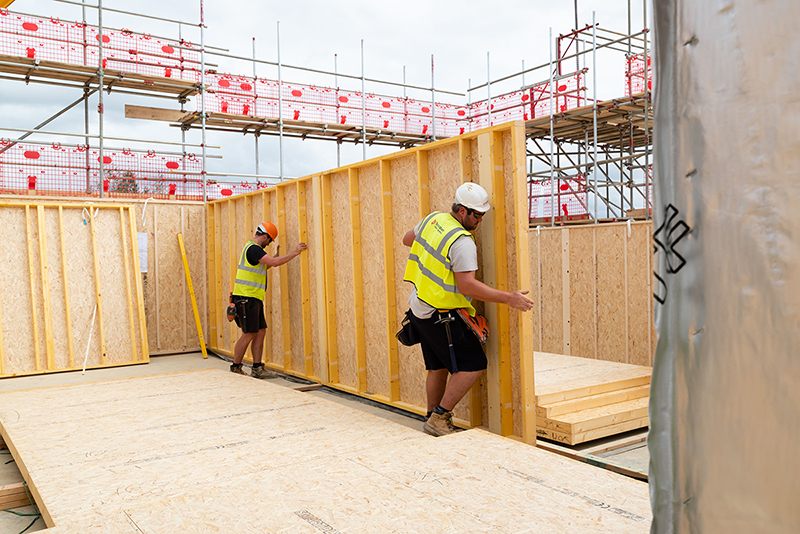 DONALDSON Timber Systems (DTS) has announced it has secured a position on the Off-Site Homes Alliance (OSHA) national construction framework for volumetric (CAT 1) and panelised (CAT 2) Modern Methods of Construction (MMC).
The framework is valued at £2 billion. DTS will deliver offsite timber panelised system build for Category 2 housing over four years.
Working with 23 local authorities and housing associations, DTS explained the firm will design, manufacture and install timber frame wall panel building systems that meet 'build speed, fabric performance, building design and cost requirements'.
Earlier this year, DTS achieved Buildoffsite Property Assurance Scheme Plus (BOPAS Plus) in recognition of the 'quality and durability' of its offsite build systems. With DTS' open and closed panelised systems – Alpha, Delta or Sigma ll – the business added that works can still be carried out on site, ensuring social value potential is reached within communities.
Mike Perry, business development director, Donaldson Timber Systems, said, "By securing a position on the OSHA MMC Cat 1 and Cat 2 Framework, we can build upon our strong relationship with affordable housing providers nationally and bring them along on DTS' timber frame, fabric-first journey. We look forward to facilitating greater efficiency and value for clients who procure via this framework, and supporting OSHA's mission to deliver 20,000 homes with MMC technology."
Matthew Harrison, chief executive of OSHA member Great Places Housing Group, added, "We're delighted to be working with Donaldson Timber Systems on the new OSHA framework. We're confident they will be able to work with us and the OSHA clients in delivering the sector's extensive development ambitions."