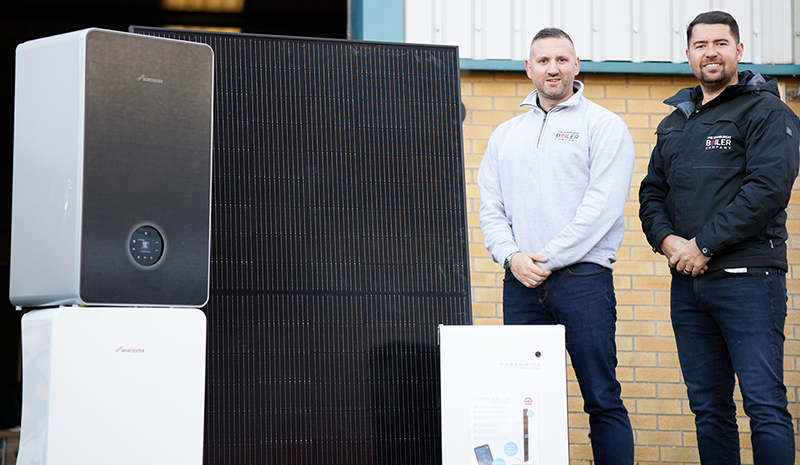 THE Edinburgh Boiler Company (EBC) has announced plans to double its workforce with a £2 million investment in a new renewables division.
Staff numbers will rise to more than 70 over the next year as the business transitions into low-carbon heating alternatives.
Established in 2015, EBC is an installer of boilers in Scotland and will now also focus on heat pumps and solar panels.
The firm explained that the investment into renewables will include the creation of a dedicated department of industry experts, up-skilling of all members of staff, and upgrading its fleet of vans to electric vehicles.
EBC became the first member of STV's Green Fund nearly two years ago and plants a tree for every boiler installed. That total currently stands at over 1,300.
MD Mark Glasgow said, "The way the industry is going, this is a natural progression for the business and our aim is to become market leaders in the field. It's been a busy period for us and this is another exciting development for the business.
"We are a leading installer of boilers in Scotland and our aim is to retain that position as they will remain the primary heating source for a number of years. However, as the industry and technology changes, we also have to move with the times and we have a responsibility to off-set carbon as much as possible. I want us to have the reputation of a local, reliable business who are experts in renewables.
"We will be recruiting the best of talent in the renewable sector and our current workforce will be up-skilled. Additionally, there is a lot of good government support out there in terms of grants and loans and I want us to be a trusted advisor in this area to make sure our customers are looked after and are accessing all the help they can to make switching to low-carbon heating alternatives affordable and easy.
"This expansion will create better jobs for people, give opportunities for more young people to get into employment and help us to continue to improve our carbon footprint in line with the government's net zero target by 2050."