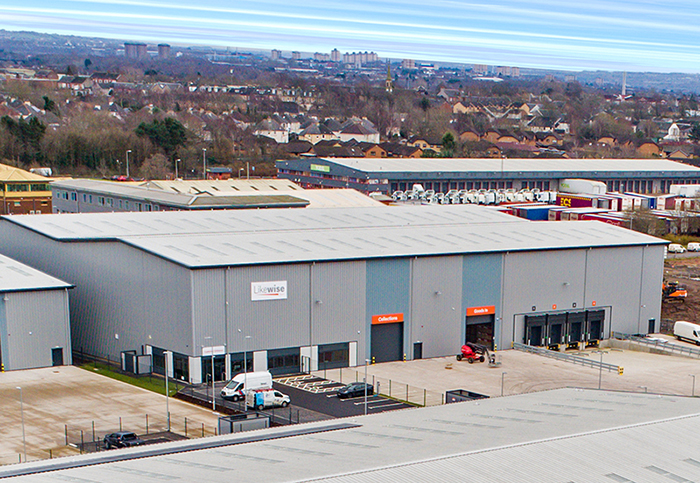 KNIGHT Property Group has announced it has concluded a 50,000 sq ft deal at the first phase of Belgrave Logistics Park in Bellshill.
The new £55 million speculative development on the site of the former Devro manufacturing facility is being developed over three phases. It will eventually offer 261,193 sq ft over five buildings. The first two phases were completed in November, with the final phase scheduled for completion in September this year.
Likewise Group Plc, a distributor of floor coverings and matting, has agreed a 20-year lease on Unit D, which extends to over 50,000 sq ft. The group is relocating its Scottish distribution centre from Motherwell.
Tony Brewer, chief executive of Likewise Group Plc, said, "We have made significant progress on expanding our sales teams and point of sale displays to expand and create a much greater market presence. We remain focused on accelerating growth and delivering a return on this investment. We are very pleased with our new facility at Belgrave which provides high-quality space in an excellent accessible location."
Howard Crawshaw, MD of Knight Property Group, added, "We firmly believed Belgrave Logistics Park would be a success and would attract strong interest and quality tenants from the outset and this deal reinforces our strategy of developing high quality speculative products in prime locations. Occupier interest has been excellent for the remaining units, with several discussions ongoing and we have now commenced the final phase, a 126,960 sq ft unit, which will be completed in September this year."
Each building at Belgrave is all-electric and has an EPC rating of 'A +' and a BREEAM 'excellent rating'.
Alan Gilkison, managing partner of Ryden, commented, "This is a bold and ambitious project from Knight, who have gained the reputation for investing and delivering quality speculative developments in key geographical areas. This project has already secured quality occupiers and is generating significant interest for the remaining space. It will provide Knight with the results they deserve."
Ryden and JLL are agents for Knight Property Group.
The project architect was SPACE Solutions', with the developers being Muir Construction (for Phases 1 & 2) and Clark Contracts (for Phase 3).