AHEAD of National Apprenticeship Week, Indeglas has provided details of the work the business is doing to champion careers in the built environment.
The firm is involved in local authority initiatives and has a long-standing relationship with the CITB. However, in common with many other companies, Indeglas explained it has had to become a lot more 'proactive and adaptable' to create more meaningful pathways for new talent to come into the construction industry.
Director Iain McAlpine said, "We realise that there are particularly complex issues in matching the rapidly evolving needs of our industry and identifying people who will flourish in a construction-related career. As we look to grow our business and strengthen our already established installation teams we have really started to benefit from tapping into the individuality and exceptional breadth of talent within our country's young workforce."
This, Iain added, has been 'pivotal' in opening Indeglas up to wider partnerships with community benefit providers, schools, colleges, and trade bodies.
Indeglas MD Jeanette MacIntyre noted, "In the last year we have continued to recruit trainees, provide work experience and develop the skills of our existing workforce but we are more enthusiastic than ever about the results we are seeing."
One Indeglas joinery apprentice, Ewen MacIntyre, was a runner up in the Finishes & Interiors Sector Apprentice of the Year at its National Training Awards in November. As part of his role as a contracts manager, Stuart McLeod is responsible for co-ordinating training. He said, "This is a phenomenal achievement for someone who is still a teenager but Ewen's real success is that he shows up to work every day with a strong work ethic, a team orientated, positive outlook and a desire to make the most of the opportunities that a career in the built environment can offer."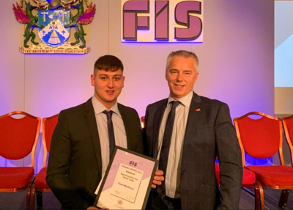 Indeglas said it's been apparent for a while now that as roles on site become more specialist, the challenge is that although they are often higher skilled, they are perhaps narrower in scope. One of the struggles facing existing apprenticeship frameworks is keeping pace with the changing nature of the industry and the needs of employers and operative. To that end, Indeglas revealed it has worked with The Glass & Glazing Federation (GGF) to offer their two newest apprentices, Kieran Russell and Jack Tough, a year-long training scheme designed to develop the required skills and expertise.
Indeglas director Derek Johnston recognises the importance of creating a route to allow new recruits to progress. He explained, "Kieran and Jack will receive the GGF training alongside the CITB Carpentry & Joinery Course and if they keep progressing as we expect we look forward to seeing them develop into excellent, well rounded team members."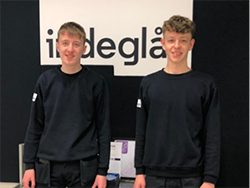 As Indeglas remains involved in some major projects, the business is keen to take part in initiatives that maximise social, economic, and environmental benefits to local communities. This has included prioritising the use of local suppliers, participating in a tree planting mission with Multiplex and their partners The Green Team, and working in partnership with the DWP to recruit new operatives from the local area.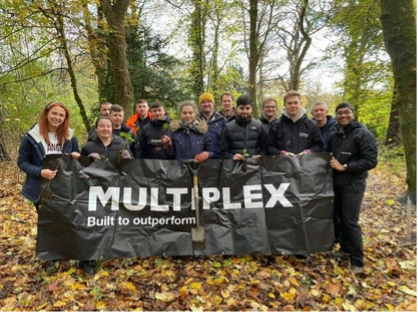 Ronnie McIntyre joined Indeglas two years ago via a community benefits programme and has become an established member of the team. Meanwhile, Keir McDonald recently joined via a very similar route. Since joining Indeglas, Keir has passed a slinger/signaller course to add to the training previously provided by the DWP.
Both are working on Indeglas' latest project at the University of Glasgow. Project manager Tom Ryan said, "This has been a massive success for us as we are able to recruit people who are already properly trained but want to further develop their existing skills so they can secure long-term employment and become part of a team."
Indeglas added that the introduction of Foundation Apprenticeships and a greater emphasis on engaging with young people as early as possible has provided an 'excellent opportunity' for construction firms to attract the right people into the industry. The business recently welcomed Olivia Ryan into the company as she considers her next steps after school.
Jeanette MacIntyre commented, "Work experience offers young people the opportunity to use their skills in a positive manner and we hope that we've been able to match Olivia's enthusiasm and let her see openly and honestly what a career in the built environment offers. We are delighted that Olivia has decided to pursue a career in quantity surveying and has already received an offer from Glasgow Caledonian University's for their BSc (Hons) course."