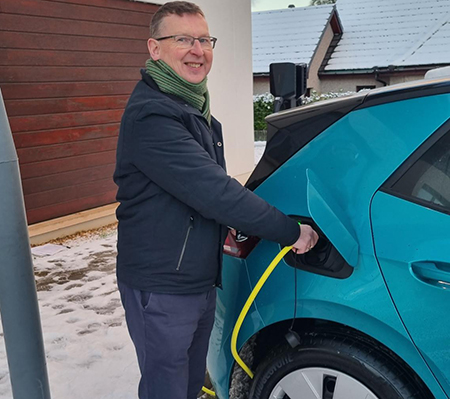 SPRINGFIELD Properties is marking a milestone in the firm's sustainability journey with the handover of the 100th fully electric company car.
Kevin McLennan, project surveyor for Springfield's affordable business, has become the 100th employee to receive a zero-emissions company vehicle.
Kevin, from Forres, is among the 240 employees eligible for an electric company car. Nearly 60% of staff have signed up to the scheme since it launched in September 2021.
He said, "With such a focus on sustainable living, I was keen to explore ways I could reduce my personal carbon footprint and an electric car is a good way to do this. It's great to work for a forward-thinking company like Springfield that cares about the environment and their employees."
The housebuilder has been working with EV technology since 2019, starting with a commitment to customers to make it easier for them to switch to electric cars. All homes with a driveway include cabling for an electric car charging point.
Earlier this year, the Springfield Group, made up of Springfield Properties, Springfield Partnerships, Dawn Homes, Walker Group, Tulloch Homes, Mactaggart & Mickel Homes and Glassgreen Hire, published its first Environmental, Social, Governance (ESG) strategy with a focus on people and the environment.
Innes Smith, Springfield chief executive, added, "Across the Springfield Group, we are committed to operating more sustainably, which means looking carefully at how we work and in the way we build our homes to ensure our customers benefit. With developments across Scotland, our employees are regularly travelling to our sites, so making the switch to electric company cars is a great step towards reducing our carbon emissions."
Arranged by Glassgreen Hire, the plant company within the Springfield Group, the scheme was introduced as part of a wider strategy for the group to reduce its carbon footprint.
Innes Smith added, "We're really pleased to have had such a positive uptake from staff and, just over a year on, with 100 employees driving a more sustainable vehicle, we hope that our success can show the appetite for EVs and help set a positive example at a pivotal time for sustainability in the construction industry.
"We're equally delighted to hear that our customers are benefiting from our investment in EV infrastructure, with a third of customers telling us they have either already bought, or intend to buy, an electric car in the next year."