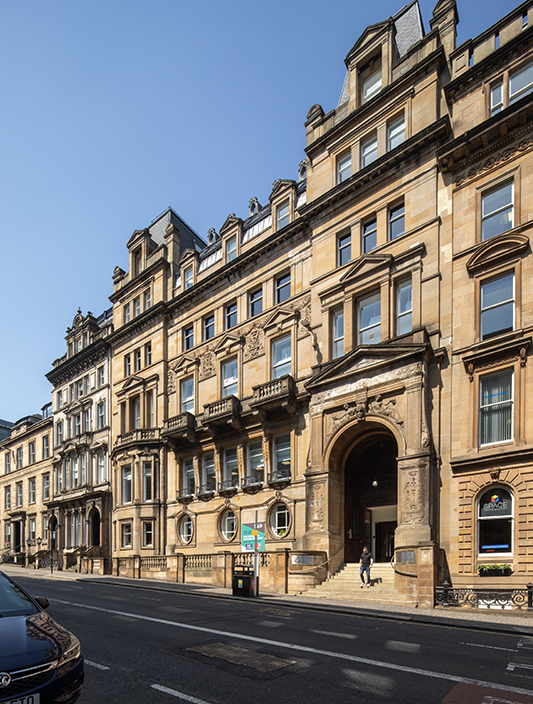 AVISON Young has highlighted the continuing trend for high-quality refurbishment of city centre office spaces in Glasgow after completing two deals within a fortnight at Topland's 144 West George Street.
The real estate specialist said that behind the heritage façade lies 'premium' specification, open-plan office space with a key focus on sustainability.
New eco boilers have been fitted with heat exchangers with the aim of improving efficiency, reducing gas usage, and saving on running costs, with 'green contracts' on all common parts electricity. Facilities include bike storage and communal showers.
The first lease is the second-floor suite to environmental consultancy firm Environmental Resources Management (ERM). The business is an existing tenant within the building, which is expanding following a recent merger and will take occupation on a new seven-year lease in the first quarter of 2023.
The fourth floor has also been let following completion of a refurbishment project. Glasgow-based architectural practice, Convery Prenty Shields, has taken the space on a 10-year lease. Stuart Prenty of Convery Prenty Shields, said, "We needed a larger office to suit our increasing head count and expanding order book. Ideally a modern, flexible, environmentally-friendly space with excellent daylight."
Avison Young said the double letting is testament to the quality of the refurbishment carried out by Topland, with an additional bonus of third-floor tenant, Tony Gee and Partners, foregoing its break option and remaining within the building for another five years.
Topland is currently planning another refurbishment designed by GFiveThree Architecture on the seventh floor which will provide 3,040 sq ft, ready for the second quarter of 2023. Topland is advised on the building by joint agents Avison Young and Knight Frank.
Michael Facenna, associate director, Glasgow, at Avison Young, said, "In common with many successful city centre lettings, high quality refurbishment and the provision of additional facilities, such as showers and dedicated cycle storage, has proved attractive to companies looking for modern, practical office space.
"The majority of deals in the city in 2022 have been in the sub-5,000 sq ft size bracket and demand from occupiers continues to be strong for buildings where landlords are proactively refurbishing and offering energy efficient space that already benefits from fit-out. Topland have therefore been rewarded for the progressive refurbishment programme they have carried out at 144 West George Street."
Steve Pope, group director of property/asset management at Topland, added, "Despite the ongoing challenges the market is facing, we're excited to retain and grow ERM/Arcus within 144 and to welcome CPS to our strong roster of occupiers here, as well as restructuring with long term occupier Tony Gee. These transactions reflect the exciting and high-quality space we have delivered and the excellent end of journey facilities created.
"While many investors were quick to pause activity in the commercial market during the pandemic, we remained proactive in securing high quality assets like 144 which have become increasingly popular as businesses return to urban centres. As the cycle of investment enters a more challenging phase, we're continuing to keep our loan and development books open as we look to capitalise on key growth sectors in 2023."
ERM was represented by Cushman & Wakefield and landlord Topland was advised by Avison Young in both lettings.