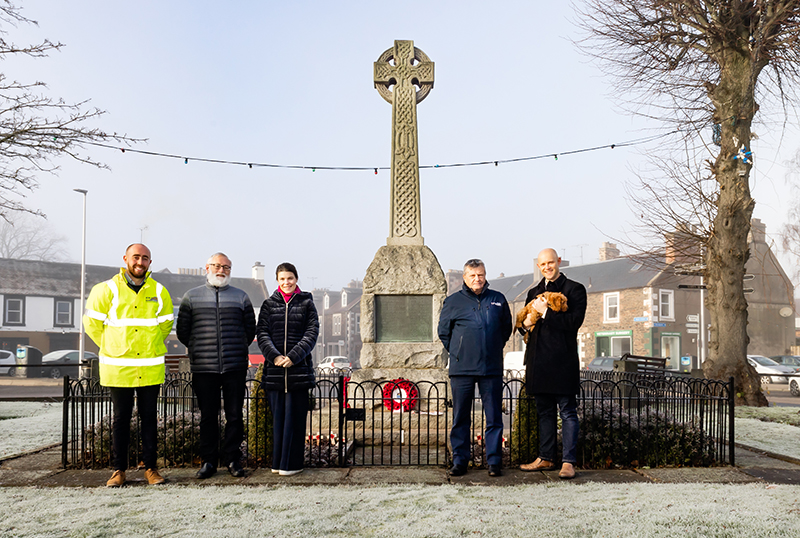 CRUDEN Building Scotland has announced the firm has offered its support to the local community in Earlston, Scottish Borders, by rejuvenating a town centre war memorial.
Working with Eildon Housing Association and Earlston Community Council, Cruden revealed it has refurbished the metal railings surrounding the structure. The memorial was unveiled in 1921 and now commemorates 55 Earlston residents who lost their lives, or went missing, during World War I and World War II.
The gesture was carried out by Cruden to give back to the residents of Earlston, where the firm is currently building 64 new affordable homes on behalf of Eildon Housing. The Cruden community benefits team worked with the local community council to identify areas in which it could offer expertise to bring a positive light to the town.
Earlston War Memorial was identified as a key project of focus. Works were carried out by Kelso-based W R Patterson Decorator on behalf of the Cruden Building Scotland team.
Sheila Gibb, Earlston Community Council chair, said, "We'd like to thank Cruden for painting Earlston's War Memorial railings and appreciate this work was completed before Remembrance Sunday, always an important event in the village calendar. The community council submitted a list of potential community benefits for Earlston and this is the first joint success. We are very much looking forward to working with Eildon Housing and Cruden on many others in the future."
Nile Istephan, CEO of Eildon Housing Association, added, "Part of Eildon's strategy is to invest £137m in new homes in the Borders. This is an area which is so badly needed as demand far outstrips supply. However, as part of each new development, we also are keen to work with our contractors on wider benefits which will have a lasting impact in areas that have been highlighted by the community. This work was particularly important to residents as Remembrance Sunday approached. We're looking forward to working with Cruden on more benefits as this new development progresses."
Michael Palethorpe, community benefit manager at Cruden Building Scotland, said: "At Cruden, we feel passionately about doing our utmost to fully support the communities that we serve. It's been highly rewarding to be able to bring heart-warming benefits to the local people of Earlston with the help of the Community Council and Eildon Housing Association. We're delighted that we've shared our positive impact on the area by helping to restore the Earlston War Memorial, which means so much to so many people."