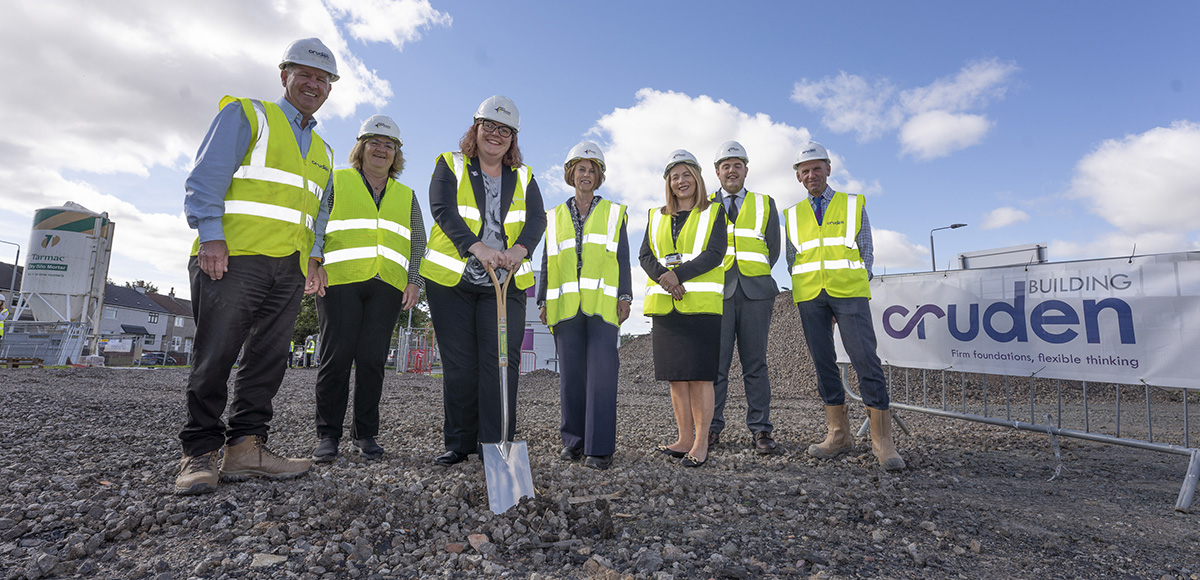 A £4.1 million new build council housing development is now onsite in Coatbridge, which will deliver 19 affordable homes built by Cruden Building.
The Berwick Street project forms part of North Lanarkshire Council's new supply programme, which aims to deliver 5,000 new homes by 2035. So far, 970 new build homes have been delivered across the local authority region and construction is underway on nine sites.
A sod cutting ceremony has marked the Coatbridge site, with housing convener, councillor Heather Brannan-McVey, cutting the first sod. She was joined by local councillors Geraldine Woods and Andrew Bustard and officers and representatives from Cruden Building and North Lanarkshire Council.
Councillor Brannan-Mcvey said, "I'm delighted to be marking another sod cutting in the delivery of our new council house building programme. We're making real progress and are working towards the significant milestone of our 1,000th new home.
"Our new homes are designed and built to the highest standards and are highly energy efficient as we're embracing renewable technologies and building greener. They're designed for varying needs, meaning they adapt over time to suit tenants' needs and are secure by design."
Gordon Lee, partnering and procurement director of Cruden Building, added, "We are absolutely delighted to be partnering with North Lanarkshire Council in the delivery of these high-quality affordable homes in Coatbridge. It is a pleasure to be helping to fill the gap in the affordable housing sector through the generation of these exemplar house types.
"At Cruden, we feel it is vitally important that we give back something to the communities that we work in and this development will not only provide homes for individuals and families to enjoy, but it will also bring a number of benefits to the local economy through the creation of job opportunities, an apprenticeship, work placement opportunities and career events."
The project is being delivered by Cruden Building and is supported by a contribution from the Scottish Government.