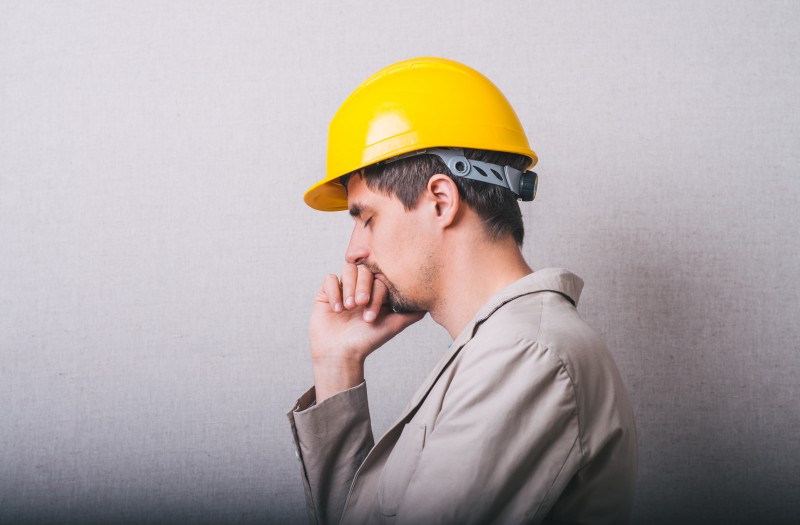 A new poll has claimed that construction employers are offering 'some of the lowest' levels of mental health and wellbeing support to staff across the economy.
A YouGov survey of 3,000 British companies and employees has revealed that despite there being a high demand for support amid the cost-of-living crisis and for issues such as stress and anxiety, people working in construction appear to be among the 'poorest served' by bosses.
37% of construction businesses said they regarded improving staff morale as their responsibility, while most saw attracting and retaining talent and improving productivity as their main priority.
The online poll, commissioned by welltech company Frog Systems, also revealed that one in 10 construction businesses said they spent nothing at all on mental health and wellness support for their workforces, with a further 18% spending £100 or less per-employee-per-year.
Findings revealed that only 19% of employees said they had access to an employee assistance programme (EAP), compared with 42% of staff in IT and telecoms and 52% in finance and accounting.
Just 2% of construction workers said they felt confident about approaching their boss if they had a problem in their personal life or with their finances, while only 1% would talk to a work colleague. More people said they would search the Internet before going to their line manager with an issue.
Marcus Herbert, head of wellbeing at the British Safety Council, said, "Employers who don't invest in employee wellbeing may be missing out on the productivity benefits it can provide. SMEs are more likely to suffer if an employee, who is crucial to their operation, has to take time off work to deal with stress or because they have a repetitive strain injury."
Mental health adviser and former CBI deputy director general, Henrietta Jowitt, added, "Wellbeing is an output – it is the result of a whole range of inputs that support your people. It is not a package, off the shelf. If you don't understand your colleagues' needs and look after their wellbeing, so that they feel they are safe, belong and are supported in a way that works for them, they will neither stay nor produce their best work."
The poll showed that while demand for mental health and wellbeing services among construction workers was high, a 'significant' number said they received little or no support from bosses.
While 28% of businesses said they ran wellbeing workshops, those were used by just 4% of staff. 34% of businesses said they offered support from a mental health first aid trainer, but this was taken up by just 3% of employees.
Phil Worms, CEO of Frog Systems, said, "Whilst many employers seem to understand the emotional and physical challenges being faced by their employees, they don't appear to be able to provide the right wellbeing tools and information to support them. Solutions which are reactive, standalone, 'tick box,' not trusted, or do not provide sufficient insight will not enable the deployment of early intervention and support strategies.
"By listening to, and understanding what employees need, companies can start to build stronger, more empathetic and productive work environments. Access to wellbeing support should not be a lottery or a privilege."