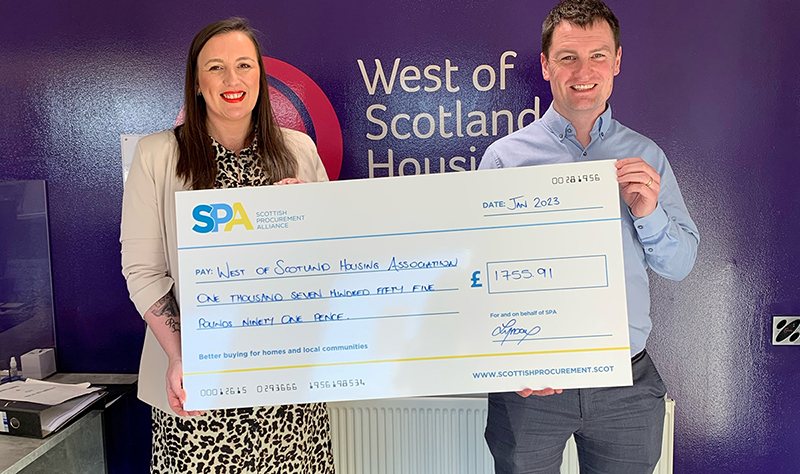 SCOTTISH Procurement Alliance (SPA) has announced it has distributed rebates totalling  over £290,000 to 28 of its public sector partner organisations comprising local authorities, housing associations, and co-operatives.
The framework provider explained the purpose of the rebate programme is to give back surplus funds, providing further opportunities for these organisations to support local projects and progress investment in communities across Scotland.
Open to all partner organisations, the programme provides the opportunity to receive additional funds generated by partner organisations procuring projects using SPA frameworks and the dynamic purchasing system (DPS).
As a not-for-profit organisation, SPA said it retains its running costs and any operating surplus is directed back into developing local communities through the partner rebate programme and the Community Benefit Fund.
The largest rebate presented to an individual partner for 2021-2022 was £137,899.78 which was accrued from four projects utilising its frameworks including Whole House Refurbishment (WH2), Energy Efficiency Measures (N8), Kitchen & Bathroom Replacements (DPS), Windows & Doors (WD2) and Roofing Works (RS4).
Lesley Anderson, interim regional director at Scottish Procurement Alliance, said, "The rebates offer an opportunity for all partners to achieve funds from their projects procured using our procurement solutions. We actively encourage partners to use their rebate to invest in additional improvements within their local communities.
"Providing an opportunity to accelerate the improvement of communities using funds that have been generated from individual projects is an ambition that is intrinsic to the SPA values. I'm positive that these funds will support some great projects and initiatives and drive towards building stronger and happier communities."