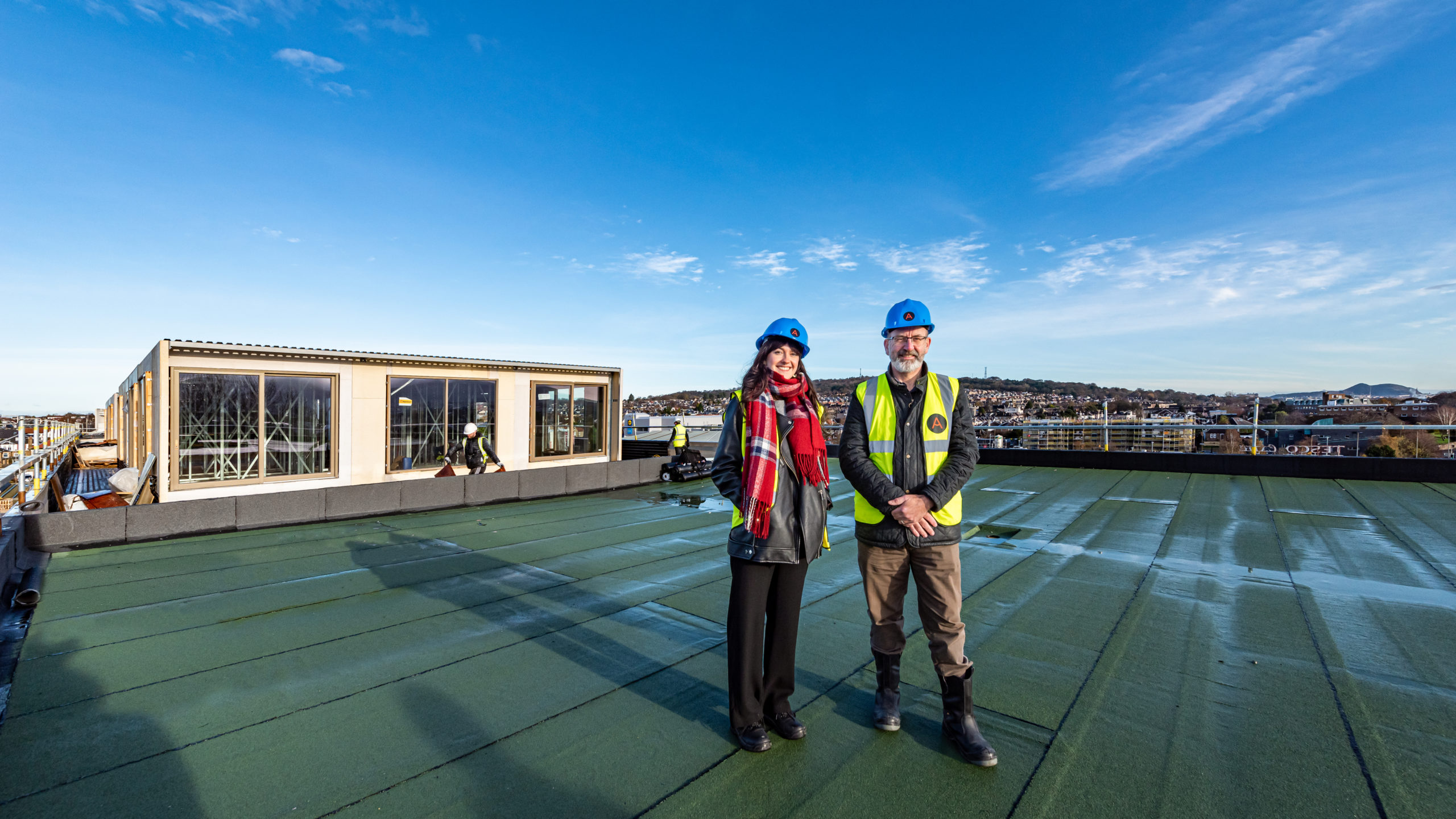 A landmark has been reached in the build of a new housing development at Rowanbank Gardens in the Corstorphine area of Edinburgh.
Structural building work on the final phase of Artisan Real Estate's 126-apartment development – described as a 'spectacular blueprint for low carbon living' – has now been completed.
The low carbon home development is on track for completion in 2023 and will deliver 93 apartments for private sale, set around a large garden space filled with fruit trees and communal planting beds.
Cruden began construction work began in summer 2021, with the first move-ins expected in spring next year.  Welcoming the topping out of Rowanbank Gardens, David Westwater, Artisan's development director for Scotland, said, "We have now reached a significant milestone in the development process. The size, shape and scale of Rowanbank Gardens can now be realised, with its highest point encompassing a large 'green' turfed roof area next to two penthouse apartments commanding breathtaking views of the iconic Edinburgh skyline and beyond to the Pentland Hills.
"For the first time, we can see how the design and materials used in the construction process are contributing to Rowanbank Gardens' superb sustainability credentials which, as well as offering a superb environment in which to live, can also provide significant financial benefit for potential homeowners feeling the pinch of soaring energy bills and the rising cost of living."
Latest research on the fossil-fuel free homes shows that average annual hot water and heating costs for a two-bedroom apartment at the energy efficient development could be as low as £775 per year or less than £65 per month, Artisan Developments said.
It added that it is one of the first large developments in Scotland to employ individual low-carbon air source heat pumps (ASHPs) providing both heat and domestic hot water – moving away from large, complex fossil-fuel heat sources. With additional insulation, larger windows and improved air circulation, the ASHP system allows internal heat to be recovered through the ventilation system, forming a closed energy loop with almost all useful heat being retained within the apartments, to provide heating and hot water.
Artisan has also championed the use of green roofs at Rowanbank Gardens, which it said are natural insulators being cool in the summer and warm in the winter. They also provide a natural drainage facility with rainwater evaporating in sunlight, providing the simplest form of a short-term carbon cycle and reducing the impact on the existing drainage system.
Artisan's new homes sales advisor, Izzy Bastiani, said, "This is a fantastic development in a fantastic area. With the structure of the building now complete, it really brings to life what it will be like to live here. Visitors can see, at first hand, just how well-connected and vibrant Corstorphine is, with everything you need on your doorstep.
"Rowanbank Gardens has been designed to meet the needs of the modern buyer, making it ideal for the first-time buyer and downsizer market. At its heart is a sustainable design which reflects the demands of modern life, with buildings designed to minimise carbon footprint and maximise daylight.
"Significant emphasis is placed on the quality of internal space and light to create enjoyable home-working environments, whilst accessible gardens and landscaping promote health and well-being by making nature and well-designed outdoor space integral to the day-to-day living experience."