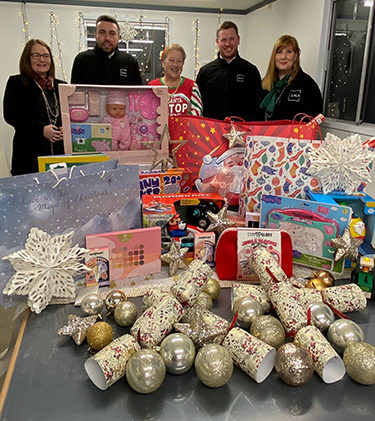 BIG-hearted Cala Homes (East) employees have donated toys and Christmas stocking fillers to families in South Queensferry facing financial struggles this festive season.
The donations were made to 'Ferry Elves', a local group which helps support families and individuals in need within the community.
Cala Homes (East), which recently launched its Queensferry Heights development in South Queensferry, has also provided an additional cash donation to help Ferry Elves purchase warm jackets and boots.
Phillip Hogg, sales and marketing director for Cala Homes (East), said, "Supporting the communities in which we build is hugely important to us at Cala Homes. Christmas is a special time of year, it's a time to celebrate with family and friends but it is also a time for reflection and of charitable activities.
"As a team we felt passionately about giving something back to local people in South Queensferry facing challenges over Christmas. Ferry Elves do so much to help within the community, so we were thrilled to be able to assist in some way."
Anne Mitchell, chief elf at Ferry Elves, added, "Christmas is always an expensive time of year, but this year is unlike any other in terms of the financial pressures that local families are facing. The generous donation from Cala Homes (East) is hugely appreciated and will make a positive difference for many families in South Queensferry over Christmas and the winter months."
Cala Homes (East) has supported a number of projects throughout the town including a donation to Christmas in Queensferry, which went towards Christmas decorations and lights for the town.