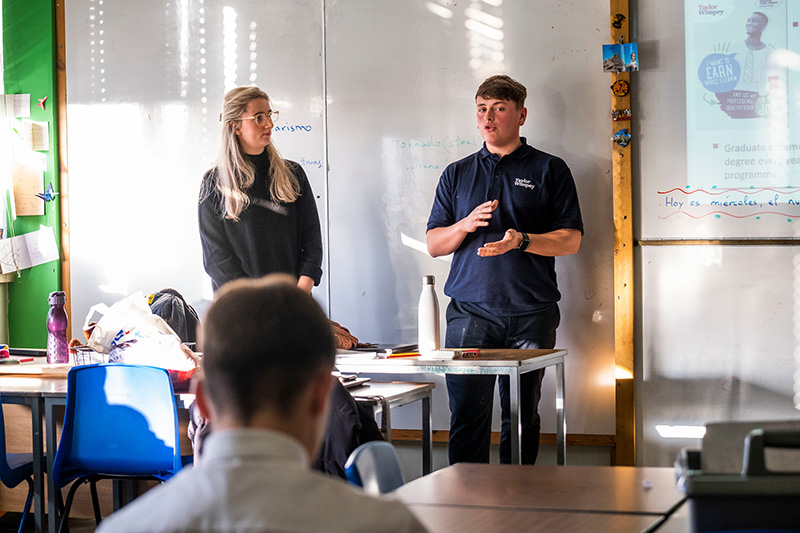 MEMBERS of Taylor Wimpey East Scotland's Young Persons' Forum recently visited Inverkeithing High School as part of Scottish Careers Week.
The housebuilder said the event formed part of its commitment to future-proofing the workforce and marked the rollout of its new secondary school resources.
Rebecca Horn, supported learning provision teacher and Developing the Young Workforce co-ordinator at Inverkeithing High School, said, "Having the opportunity to work directly with Taylor Wimpey, who have their regional office and developments near our school, has created a great partnership and one which we hope to develop as we explore how to connect our students to the various pathways they can consider after school.
"The team from Taylor Wimpey delivered an insight into the career opportunities of the housebuilding industry, which I think surprised our students with the range of careers that are available which are not just the typical trade roles you perhaps consider when you think of construction Importantly, the team took the opportunity to explain their routes into employment with the company, which I think our students found incredibly helpful."
Ellen Clark, assistant land manager at Taylor Wimpey East Scotland, added, "We enjoyed having the opportunity to be part of Inverkeithing High School's focus on Scottish Careers Week. We hope that our sessions have helped students to understand more about the career options that are available in the housebuilding industry, and how they could play a future role within it.
"Future-proofing and attracting fresh talent into the wide range of roles that our industry offers has never been as important as it is now, and we hope that we have inspired some of the young people that we've met to find out more about how they can be part of creating great communities where people want to live."