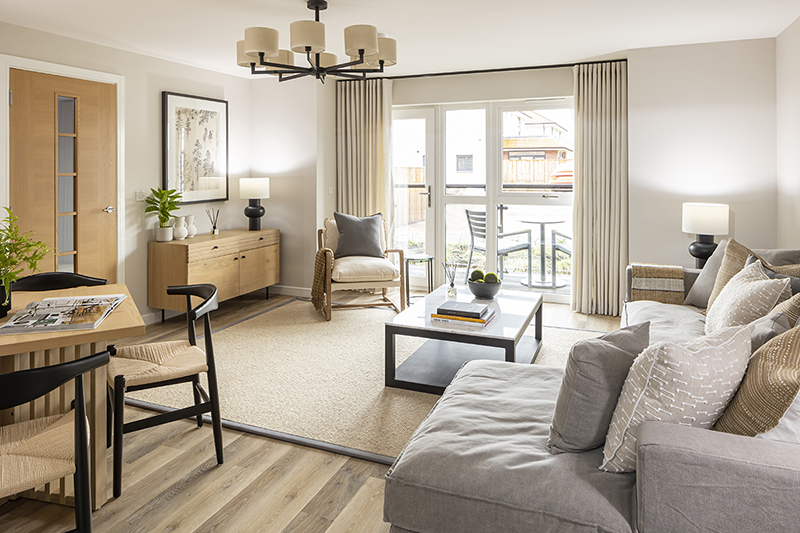 MACTAGGART & Mickel Homes has a new 'eco-conscious' showhome apartment at the Stewart Gardens development in Newton Mearns.
Styled by Mason & Miles, the two-bedroom property boasts fixtures, fittings and furnishings sourced from around Scotland, including carpet manufacturer Cormar Carpets and bedding from the Earthkind range by Slumberdown.
Using eco-friendly materials wherever possible, vegan, 99% solvent-free and fully recycled plastic containers of Crown paint have decorated the walls, described as limiting exposure to airborne triggers of asthma and allergy. The apartment's Karndean Flooring has a plant-based coating, which is also non-toxic.
Jonathan Clark-Frost, director of Mason & Miles, led the design vision. He said, "Sustainability is about much more than recycling and upcycling. When bringing a design to life, I look to consider sustainability at every level of the journey and that's exactly what we've done at Stewart Gardens.
"When selecting everything from lighting, carpets, furniture and bedding, we used local Scottish suppliers and ordered flat-packed furniture with minimal packaging wherever possible. By doing so, we're significantly reducing the carbon footprint of each product as they take minimal transport and space.
"We also carefully selected materials and sustainable suppliers meaning we were able to exemplify home living in a way that's more safe, clean, energy efficient and kind to the environment."
The living room has a wool pebble style rug from Alternative Flooring made using ethically-sourced natural fibres. During the design, five samples of rugs were sent for consideration and for every one, Alternative Flooring planted a tree to offset carbon emissions.
All curtains and headboards were manufactured by Alloa company Rags & Tails. The curtains are made from a bamboo/viscose blend, said to require significantly lower levels of chemicals to produce than cotton. The material is also self-deoderising, hypoallergenic and fully lined to keep in heat. In the en-suite, Kirkby by Romo Group blinds hang, made from 52 recycled plastic bottles.
The first bedroom features a headboard made with recycled fibres.The manufacturer has a partnership with Trees for Life. The purchase of the second headboard, made entirely from recycled bottles, contributes to the Marine Conservation Society.
The upper floor of each duplex apartment includes Velux Cabrio windows. With laminated inner panes and triple glazed units, the windows are described as providing enhanced energy efficiency and temperature control.
Joanne Casey, director at Mactaggart & Mickel Homes, added, "We're conscious that when designing a showhome, time is often of the essence and it may be easier to create the desired look by ordering from global manufacturers. Mason & Miles have proved that a luxurious and appealing home can be created while making eco-conscious decisions. Stewart Gardens is already an extremely desirable development and we expect that with a stunning and exemplary eco-friendly showhome, interest in the apartments will soar."