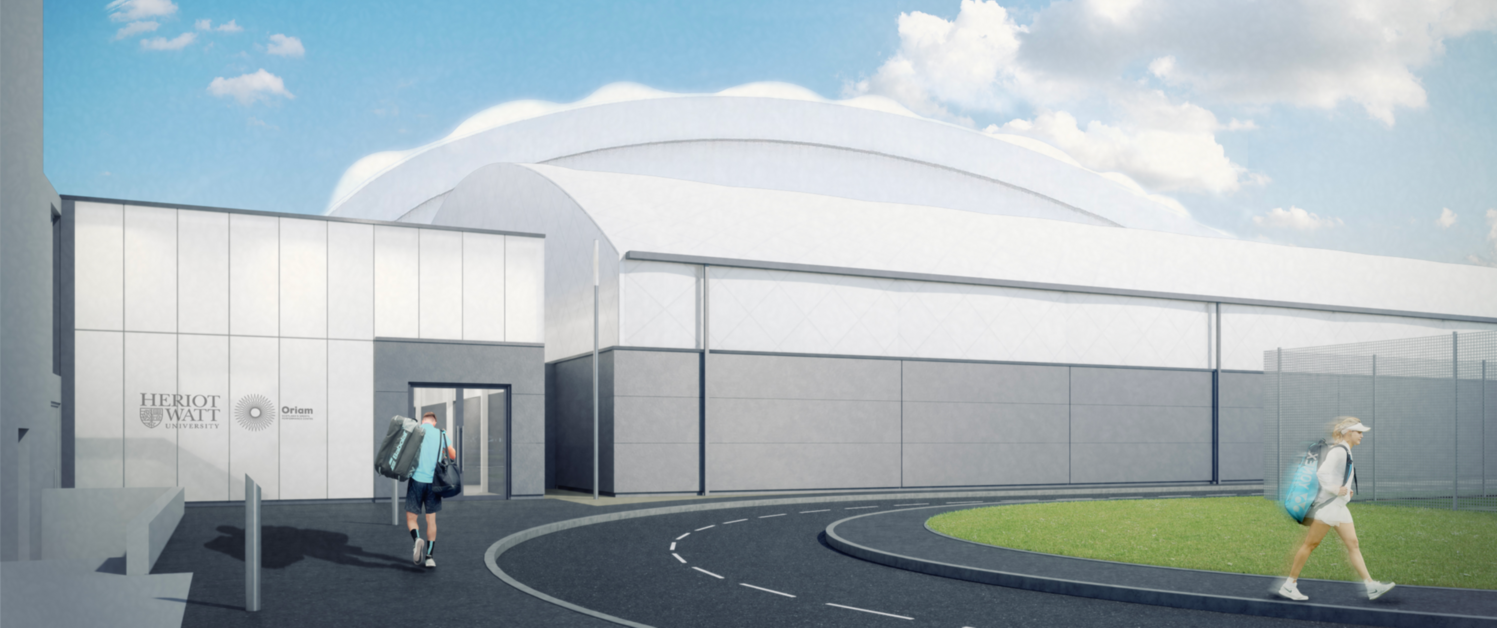 THOMAS & Adamson (T&A) has been appointed cost managers for the new £4.5 million Oriam Tennis Centre at Heriot-Watt University's Edinburgh campus.
The indoor tennis training centre is due to complete in August 2023. It will provide facilities for tennis players and clubs at both local and national level. The centre will feature six new indoor courts with vertical semi-translucent cladding and a PVC roof to maximise daylight,  with a covered building linking to the existing Oriam changing rooms and main street corridor.  
The construction of the Oriam, Scotland's Sport Performance Centre which opened in August 2016, was also project managed by T&A.
This appointment adds to the firm's sports and leisure portfolio and follows the opening of the Meadowbank Sports Centre.
Zander Muego, partner at Thomas & Adamson, said, "Thomas & Adamson is immensely proud of the role we play in bringing together an inspiring network to build a solid sporting infrastructure across the country that will deliver the best cutting-edge facilities for generations to come. We know there is a strong link between exercise and positive physical and mental health, which drives our commitment to these projects.
"Communities benefit greatly from having inspiring and accessible fitness venues on their doorsteps and it is brilliant to see these levels of investment in the future of elite sport from the grassroots up."
In addition to its work at Meadowbank and Heriot-Watt, T&A has also been involved in several sporting projects across Scotland. The consultancy led on the refurbishment of the A-listed Royal Commonwealth Pool. Further north, T&A has been providing consultancy services to Perth & Kinross council and Live Active Leisure on PH20 Perth & Kinross, a £90 million major new leisure venue due to complete in 2027/28.
The company has also been involved in wellbeing projects in the west of Scotland, providing cost management services on Govanhill Baths. And in Alloa, Clackmannanshire Council has appointed T&A as project managers on a new wellbeing hub, set to replace the former leisure centre with an upgraded facility designed to extend the services on offer to the local community. 
Zander Muego added, "The facilities support the provision of world leading programmes that bring communities together and provide lasting legacies. The new ORIAM Tennis Centre will build on the impressive list of elite training facilities already based at the Heriot Watt site and we are all excited to see the busy bustling sporting settings we have created, inspiring future generations of great athletes."