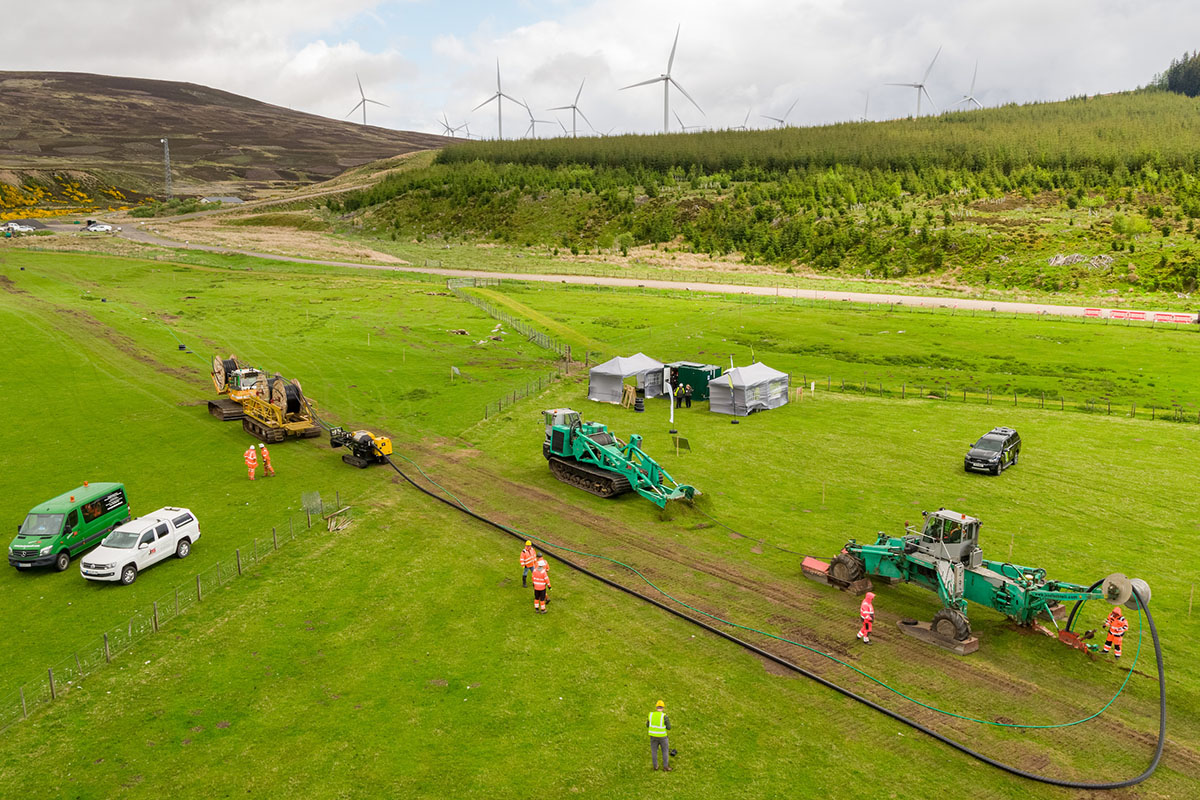 MCGOWAN Environmental Engineering has delivered the largest project in the firm's history at Moy Wind Farm, south of Inverness.
The Aviemore-based civil and environmental engineering contractor has completed the installation of over 60km of 33kV high voltage underground cable consisting of three circuits in trefoil for Scottish and Southern Electricity Networks (SSEN) Distribution at Moy.
Utilising cable ploughing, open cut methods and horizontal directional drilling, McGowans explained that a 'huge multi-department team effort' over the last year recently culminated with the circuits being connected to the national grid.
The firm was awarded the Moy cabling contract by SSEN in October 2021 as part a £7.2 million project to deliver a total of 81km of cabling across Inverness and Caithness. The projects involved the installation of new 33kV single-circuit and triple-circuit underground cabling, fibre-optic cable, cross-bonding and intermediate earthing across rural and urban areas.
Darren Hendry, MD of McGowan Environmental Engineering, said, "We are all delighted at Mcgowan Environmental Engineering to have recently completed the combined Moy and Burn of Whilk cable installation projects. This marks a great milestone for our team within the industry as we look to grow organically within the energy sector through our innovative and people-focused approach."
Donald L. MacKinnon, head of large capital delivery (SHEPD) at Scottish and Southern Electricity Networks, added, "Both Moy and Burn of Whilk projects ran very smoothly considering the distances, terrain and number of landowners involved – this is testament to the hard work and professionalism shown by both the project teams at McGowans and SSEN."
Douglas Munro, senior project manager at McGowan Environmental Engineering, commented, "The projects have been a huge success thanks to the combined effort of all parties involved: SSEN, landowners, our supply chain, and the local communities who have been impacted by the works. We are appreciative of our highly skilled site delivery team at McGowans, delivering these projects safely and to the highest standard in some very challenging conditions."
McGowan project manager, Steven Mitchell, added, "Vital to the timely and cost-effective delivery of the project at Moy – with minimal impact on the sensitive landscape – was the deployment of McGowan's proprietary new cable wrapping technology, Eco Cable Protect. The innovative cable protection, provided both projects with an efficient and effective installation solution, which is set to revolutionise the rural cabling sector."