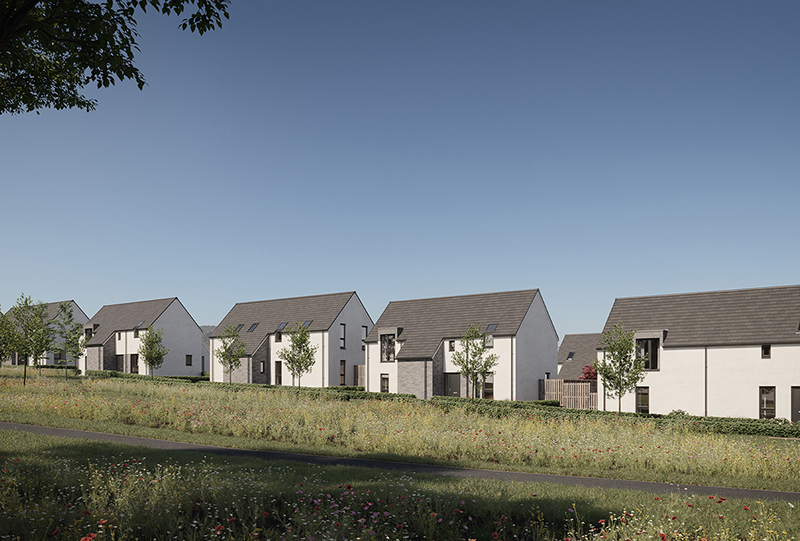 A Scotia Homes development in Angus featuring properties heated from non-fossil fuel sources has been recognised as one of the most sustainable in the UK.
The Aberdeenshire-based firm is the first housebuilder in the UK to receive a Gold Award from the NextGeneration Initiative – launched by Lloyds Banking Group – for its Brechin West site.
The benchmarking platform was expanded this year to assess the sustainability of individual developments and Scotia was commended for helping to meet low carbon targets.
All 152 houses are fitted with air source heat pumps. Additionally, the development exceeded expectations to enhance biodiversity by more than 20% – with an overall net gain of more than 40% through the implementation of a biodiversity action plan. This was achieved by enhancing the existing woodland, increasing the native hedging and adding orchards, allotments and more useable green spaces.
Scotia Homes was also recognised for its commitment to inclusive economic development, providing more than the Real Living Wage for all site employees. The company recruited 10% of its workforce as apprentices or graduates.
Joe Boyle, Scotia Homes' projects director, said, "We recognise the contribution we need to make to create a more sustainable housing market, now more than ever. Ensuring we go above and beyond to deliver developments with sustainability at their heart has benefits for all, not least for our customers who benefit from reduced energy costs.
"This closely aligns with our vision to become the developer of choice for all, whether that's our customers, employees or stakeholders and we believe this accolade demonstrates our commitment to that vision. Being the first housing developer in the UK to be awarded the NextGeneration Project Gold is a source of immense pride for all at Scotia.
"We look forward to entering more of our developments for assessment over the coming months."
Scored independently by Jones Lang Lasalle (JLL) and launched in 2006, the NextGeneration Initiative recognises the UK's most sustainable housebuilders. Previously reserved for the top 25 housebuilders, the benchmarking system was expanded this year to allow small to mid-size firms to measure their sustainability and that of individual developments.