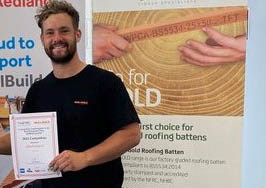 THE winners of the SkillBuild National Finals 2022 have been announced, after almost 80 construction trainees competed over three days at the 'skills Olympics'.
Delivered by the Construction Industry Training Board (CITB) in partnership with WorldSkills UK, the event offers a chance for trainees the chance to be be crowned winner of their chosen trade.
Following the regional qualifiers earlier this year, the National Finals took place at Edinburgh College. The event attracted around 1,000 school visitors from across Edinburgh and the Lothians, exhibiting the variety of career opportunities available within the industry.
Tim Balcon, CITB chief executive, said, "I'm delighted to have been able to attend yet another year of SkillBuild, my favourite day in the calendar. It's fantastic to meet all the talented individuals and hear about their career aspirations. It's so important that we support this next generation of talent coming through to industry, encouraging them to pursue their passions and reach their full potential.
"It's initiatives like SkillBuild that really make a huge difference and I'd like to thank everyone involved in making this year's competition possible. Many congratulations to all the winners and everyone who competed, you should all be incredibly proud of yourselves."
Ben Blackledge, deputy chief executive, WorldSkills UK, added, "Congratulations to all the medal winners. It is a fantastic achievement, and we hope their success will inspire more people to consider an apprenticeship and technical training as a route to great career success. Using insights gained from our competition-based programmes, we work with our partners to raise standards in training, helping to drive economic growth across the UK."
Jordan Maley, an apprentice at South Lanarkshire College, was awarded the gold medal in the Roof Slating and Tiling category. A total of seven slating and tiling apprentices competed this year and the win follows Jordan's success a year ago at the inaugural Great British Slate Off.
Judges said his SkillBuild victory reflected 'his accuracy and natural ability', reporting that the competitors were given a 'testing design within the slating task which Jordan took on extremely well', producing an impressive and well-finished project.
The Roof Slating and Tiling competition was delivered by NFRC. Materials were contributed by BMI, CUPA PIZARRAS, Hambleside Danelaw, Proctor Roofshield, Midland Lead, SR Timber and SIG Roofing.
The full list of SkillBuild winners are as follows:
Bricklaying
Gold – Jago Gamblin
Silver – James T-Coleman
Bronze – Shaun Baker
Carpentry
Gold – Andrew Elam
Silver – Ben Price
Bronze – Robin Luscombe
Highly Commended – Eliot Duff
Highly Commended – Osian James
Foundation Skills: Woodworking
Gold – Sam Johnson
Silver – Oliver Sayers
Bronze – Dantina Gillett
Highly Commended – Adam Szewc
Highly Commended – Matthew McCarthy
Furniture and Cabinet Making
Gold – Isaac Bingham
Silver – Conor Ellis
Joint Bronze – Ciaran Baggot & Thomas Knowles
Joinery
Gold – Harry Scolding
Silver – Jack Corner
Bronze – Dion Evans
Painting and Decorating
Gold – Jade Oakes
Silver – Hattie Parnham
Bronze – Jacqui Hawthorne
Highly Commended – Joshua Thompson
Highly Commended – Paul Mason
Plastering
Gold – Jordan McQuillan
Silver – Thomas Devine
Bronze – Joshua Woosnam
Highly Commended – Kieran Rowarth
Plastering and Drywall Systems
Gold – Zara Dupont
Silver – Hugh Treanor
Bronze – Prince Senyah
Highly Commended – Ben Henry
Highly Commended – Ashley Carragher
Roof Slating and Tiling
Gold – Jordan Maley
Silver – Jacob Blight
Bronze – Kyron Sharlotte
Highly Commended – Aeron Murray
Stonemasonry
Gold – Luke Maher
Silver – Douglas Stevens
Bronze – Marlene Lagnado
Highly Commended – James Lewis
Wall and Floor Tiling
Gold – Conor Nugent
Silver – Morgan Nutt
Bronze – Aaron Brady