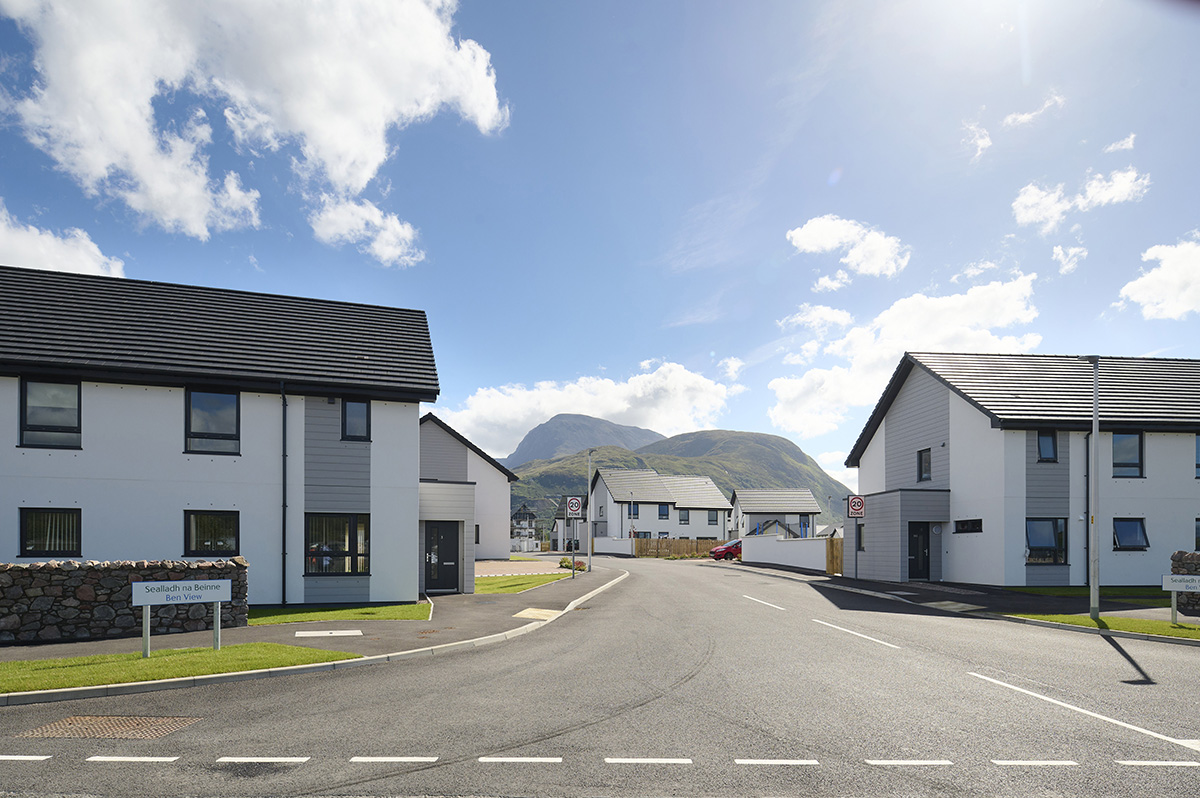 A milestone has been marked at the Blar Mor development in Fort William as residents move into their new homes.
The Highland Council, which acquired the eight-acre site in 2015, has delivered the project in partnership with Scottish Government, City Region Deal and HHA. The wider Blar Mor development will deliver 117 homes of mixed tenures and sizes, helping to address demand for homes in the area.
The Highland Council will create 87 homes for social rent, whilst 10 homes will be available for sale as shared equity under the Scottish Government's Low-cost Initiative for First Time Buyers (LIFT) scheme.
The scheme is the largest affordable housing development in the Highlands since the 1980s. With a range of one-to-four-bedroom homes available, it is expected the development will be attractive to a wide demographic.
Local firm TSL Contractors is delivering all on-site works, in a contract worth approximately £20 million.
HHA has delivered its first phase of mid-market-rent (MMR) homes, which offer tenants rates that are typically lower than the private market, but higher than in the social housing sector. The first four tenants have now moved into their new HHA homes.
In total, HHA will deliver 20 two and three-bedroom villas, which comprise of 'spacious' living spaces and double bedrooms, as well as private garden space.
Councillor Glynis Sinclair, The Highland Council – housing and property committee chair, said, "FW2040 ambitions take a step closer with the first phase of the Blar Mor, Fort William development welcoming new tenants. The Highland Council housing priority is to offer affordable, sustainable and energy efficient housing that enables people to stay within rural communities, allowing them to prosper and grow and in turn support wider economic growth.
"Working in partnership with HHA is key to enabling housing priorities of this scale to be met and we look forward to continuing that journey as further phases at Blar Mor develop."
Gail Matheson, CEO at HHA, added, "Blar Mor is a flagship development that will help to future-proof housing stock in Fort William as the housing crisis continues to impact Highland communities. Working with The Highland Council and Scottish Government, we are incredibly proud for the development to now reach a point that benefits the lives and wellbeing of local people, as they start to enjoy their new homes.
"HHA received an incredible level of interest for the first homes available, which reinforces why we must prioritise the delivery of high-quality, yet well-priced, homes to overcome the obvious demand that is outstripping supply."
The Scottish Government is helping boost the delivery of Blar Mor with a £10.9 million grant, through its Low Carbon Infrastructure Transition Programme. This is earmarked for air source heat pumps and solar panels.