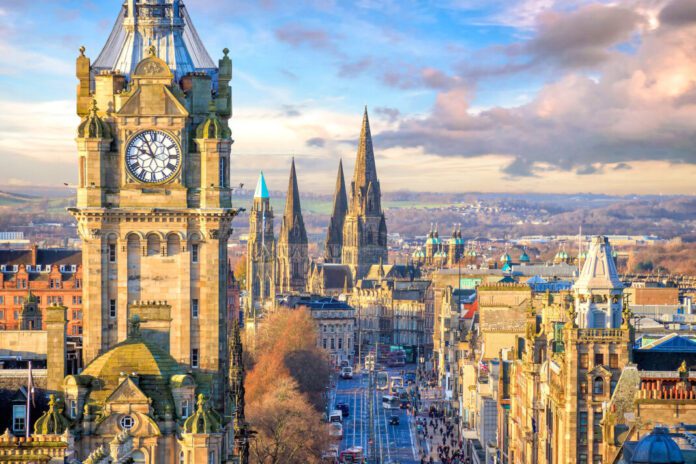 EDINBURGH'S 20-minute neighbourhoods strategy is to move forward with a focus on local town centres and high streets in the city.
The City of Edinburgh Council is working to develop a network of 'healthier, greener, and thriving' neighbourhoods where everyone can access key services and amenities by a short walk, wheel, cycle, or trip on public transport.
A key part of delivering the 20-minute neighbourhoods strategy is improving local town centres and high streets which provide many of the essential facilities and services that people need easy access to.
The council's city mobility plan identifies a need for Edinburgh's town centres to be more liveable places with reduced car dependency, improved active travel connections, and quality public spaces for everyone.
Gorgie Dalry town centre is set to be the latest area to progress within the plan. An initial engagement to prepare a plan for it has been designed to roll out alongside planned road renewal projects to minimise potential disruption, with it beginning by focussing on Dalry and local schools, before looking at Gorgie in more detail in the future.
Local residents are being invited to share their thoughts on how the area around Dalry Road could be improved. Participants have the option of sharing their views either online or in person at a series of local events.
An online survey is available until 15 January, 2023, where residents can feed back on specific parts of Dalry and the area around Tynecastle High School. They can also share their views on how they currently experience the area, what they think is good and what could be better.
Work is underway on progressing the town centre and high street strategy elsewhere across the city, including in Leith, Craigmillar, Muirhouse, and Queensferry. Plans for future improvements to Portobello, Corstorphine, Stockbridge and Bruntsfield, and Morningside town centres, will be progressed to take account of the Our Future Streets framework and associated action plans once they have been agreed.
Councillor Scott Arthur, transport and environment convener at the City of Edinburgh Council, said, "20-minute neighbourhoods are a new way of thinking for Edinburgh and our local town centres and high streets are at the very heart of many people's local lives, so they are a natural starting point for this exciting strategy. It is clear that these spaces could be much better at serving the daily needs of residents, businesses and other organisations, particularly by being easier for everyone to move around. They should also have identity and purpose, supporting local employment opportunities and providing an inclusive economy.
"Each neighbourhood in the city is different, with its own unique set of requirements. That's why it's so important that local communities participate in this process to help us understand everyone's needs and make sure their views shape the neighbourhood approach.
"I hope we hear from as many people as possible on how their town centre could be better for them. This is a fantastic opportunity for local people to help set a new direction for these areas so that they are more welcoming and benefit the health, wellbeing and pockets of people across the city. Ultimately, this strategy is aiming to deliver more sustainable, inclusive places, improve access to quality services and empower local communities across Edinburgh."