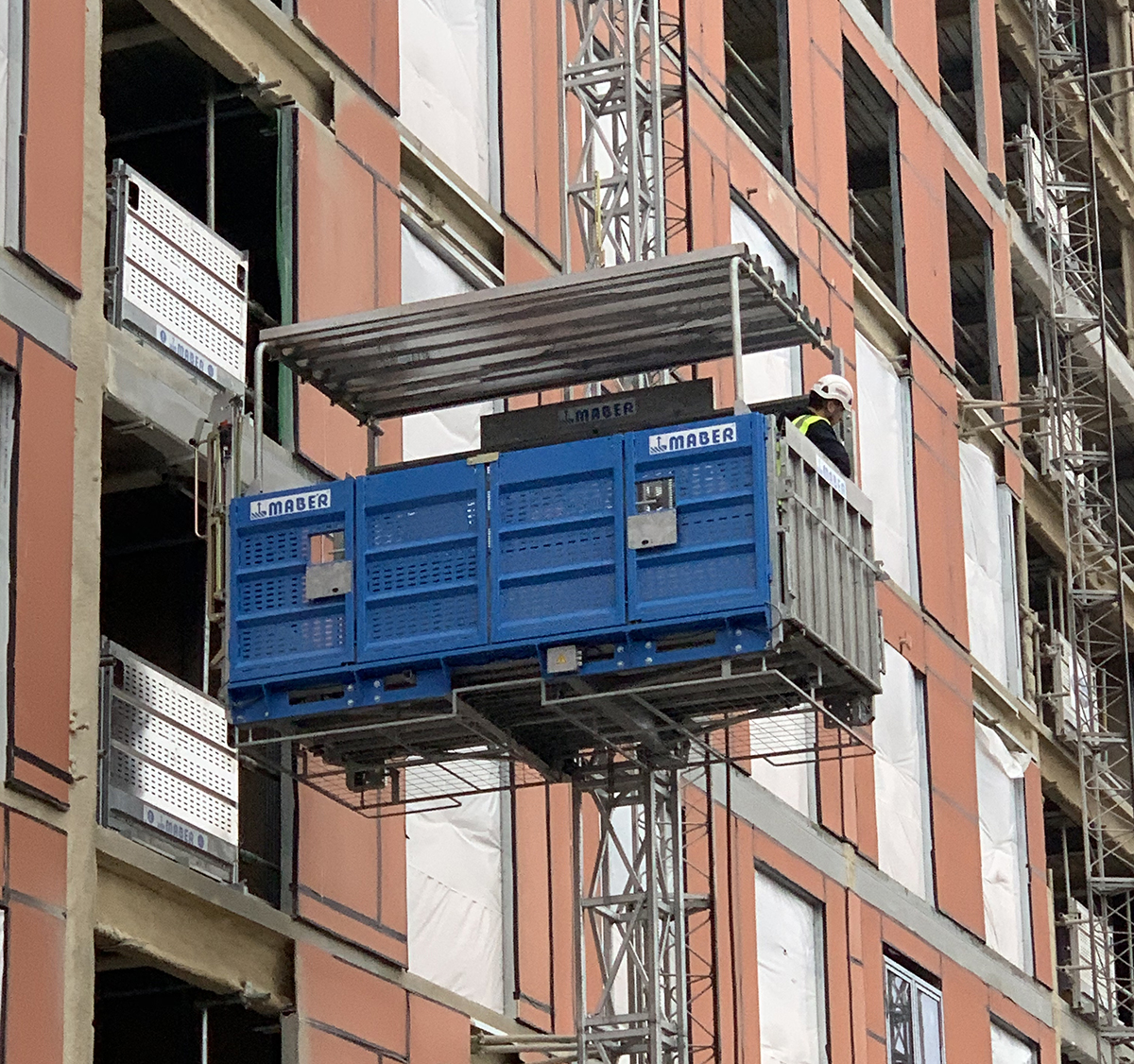 ADVERTORIAL
Scot Hoist Ltd has been one of Scotland's premier hoist specialists for over 18 years, working with an extensive client list comprising everyone from small roofing contractors through to Tier One construction companies.
Over the past two years, the family-run business has made major inroads into new markets and embarked on a major investment programme to upgrade their hire fleet, adding over £500,000 of new machines, and refurbish its Glasgow HQ. During that time, the company has also achieved Constructionline Gold and Safe Contractor accreditation, emphasising its commitment to health and safety as well as continual workforce development.
Scot Hoist directly employs 12 people – all of whom, with the exception of trainees, have been with the business for a minimum of ten years.
Having an experienced, dedicated, and committed workforce is not only reassuring for customers; it also brings continuity at a time when many firms involved in the construction industry are grappling with skills shortages in a challenging labour market.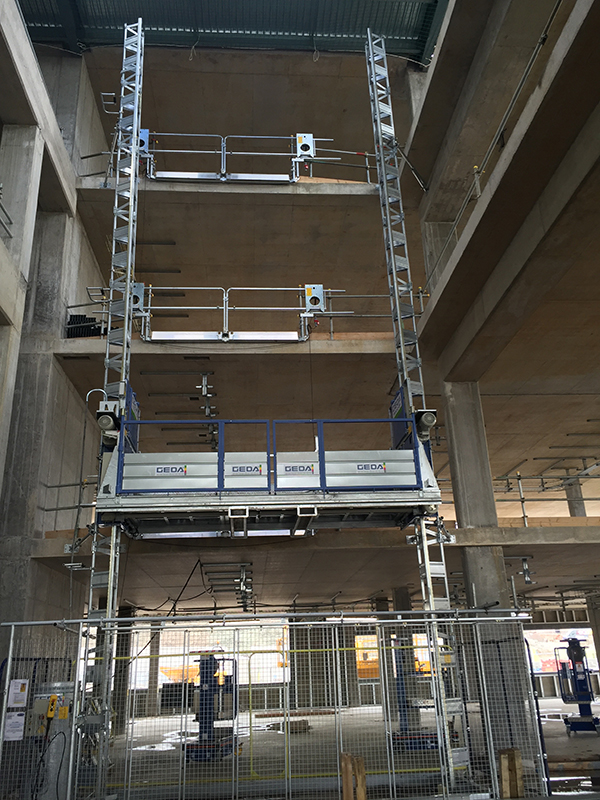 MD Robert Steele, who has been with the company since the beginning, credits much of Scot Hoist's success to their 'open door' policy.
"We are open, forward thinking, and approachable," he explained. "It's all about working together, and striving to do the best for our employees at all times. If we look after our employees, they will look after our clients," Robert said.
"We have some very experienced people and they are the front line of the company, the face of Scot Hoist. They've got a great attitude towards their work and make sure the job is done properly. That comes from our 'we're all in it together' culture."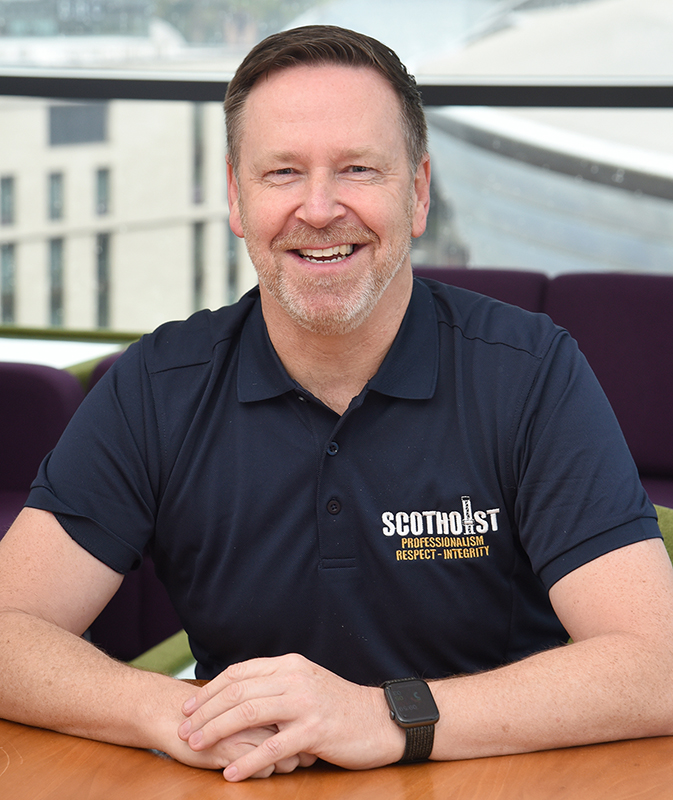 That philosophy is highlighted by the fact Robert himself surveys most of the projects the company is involved in and works closely with the installer and engineer teams on site. When asked about growth ambitions, he readily admits he has no aspiration for 'corporate offices or ivory towers'. Instead, the focus is on maintaining the company's current healthy status as one of Scotland's most trusted hoist providers.
"We only do one thing," Robert added. "We specialise in the hire, inspection, maintenance, and servicing of vertical access equipment. All we do is hoists."
Scot Hoist boasts a comprehensive portfolio of construction hoists and transport platforms. The company chooses to only use equipment from two manufacturers – Maber and GEDA – selected for their reliability and safety in the industry.
"When clients hire from us they're not just hiring a hoist, they're hiring our 18 years of experience, reliability, and absolute commitment to safety," Robert said.
"We take care of every aspect of the project, from initial survey, to technical design, installation, commissioning, inspections, training and maintenance. Everything is handled by our very experienced office and site team."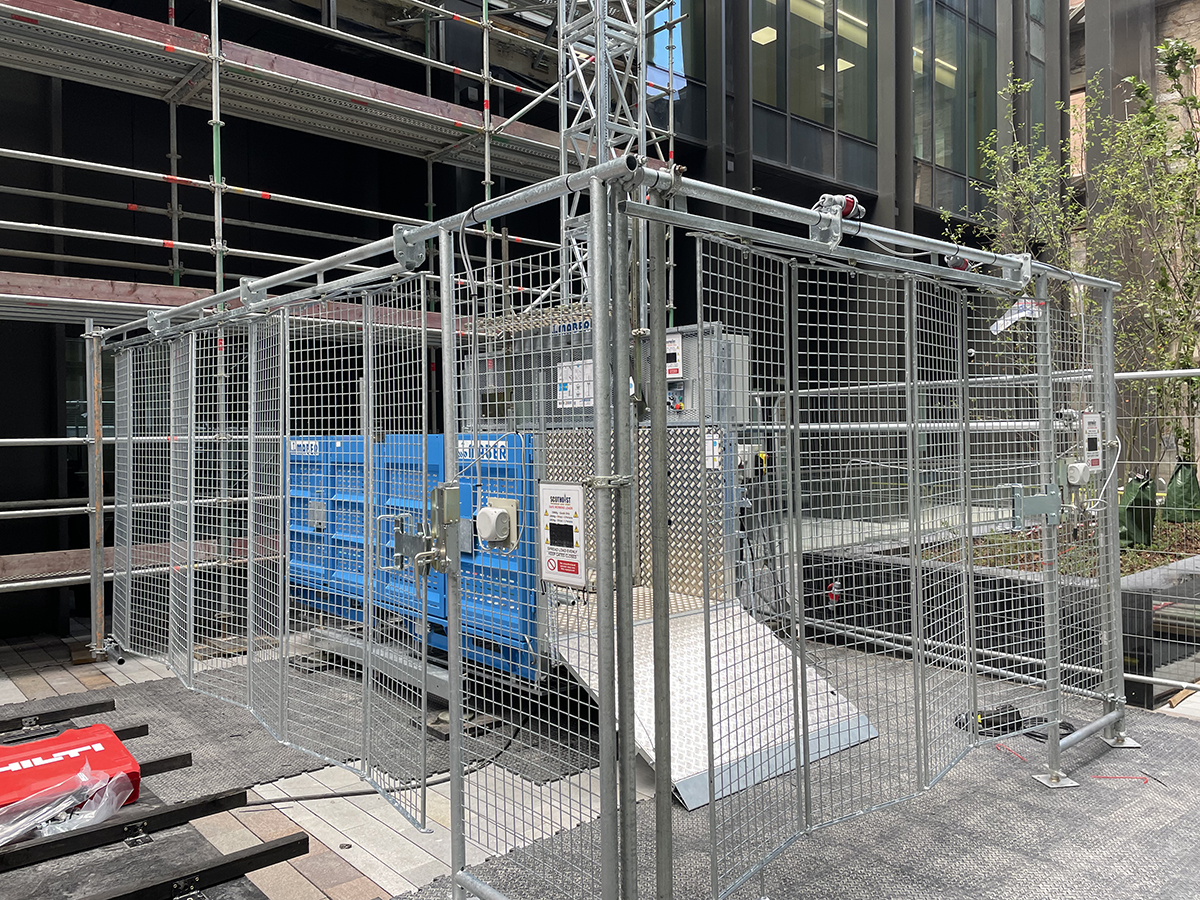 Scot Hoist also takes seriously its responsibility to help set and improve standards in the industry. The company is a member of CHIG (Construction Hoist Interest Group), which brings together all the major hoisting companies throughout the UK to discuss issues and find solutions and improvements in areas including health and safety, training, and regulations.
In terms of geographical reach, the majority of Scot Hoist's projects are in Scotland, though the business has taken on projects throughout England. One recent high profile contract win was for an MOD project in the south of England.
At the time of interview, the business was nearing the end of a three-year stint at the landmark Quartermile mixed-use development in Edinburgh. Working closely with Balfour Beatty, Scot Hoist has been the sole hoist supplier and at one point had nine separate units engaged on the project – from small scaffold hoists to two-tonne goods hoists and transport platforms.
The company is also working extensively throughout the UK petrochemical industry, providing access solutions to assist with shutdowns and refurbishments. Robert described working in the petrochemical industry as a 'big step up' for the firm, and one that has seen them become a specialist in this sector.
Around 70% of Scot Hoist's work comes from repeat business, highlighting the importance of successful and long-lasting relationships with their clients.
Robert stated that he is a big believer in partnerships citing as one example the impact that a positive alliance with French Duncan (HSE/HR/accountants specialists) has had in allowing the company to develop in ways that perhaps wouldn't normally have been considered.
Partnerships with other construction-related businesses have also been pivotal in Scot Hoist's growth, and although their specialist market is the provision of hoists, their relationships over the years with scaffold contractors, plant hire companies, and specialists trades has helped them provide their clients with valuable contacts that make working with Scot Hoist all that more streamlined.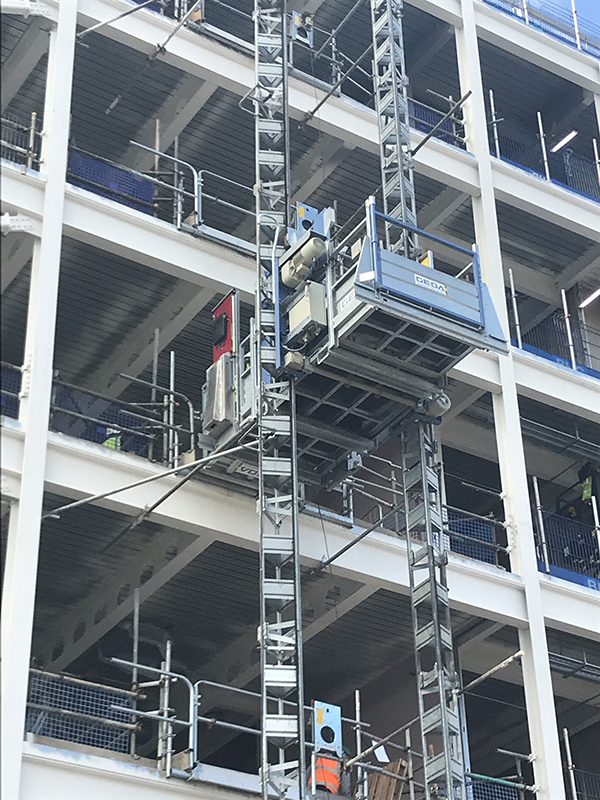 Operating in a highly competitive market featuring some major players in the hire industry, Scot Hoist stands out by deploying a hands-on approach and encouraging an open dialogue with their clients and industry partners.
One of the benefits of being a tight-knit family business is that clients have direct and immediate access to the people operating at the very heart of the company.
"The feedback we get from our customers is that it's good they can speak to the right people at the right time," Robert added. "We have a way of working with our client which has allowed us to develop to where we are now, making sure we approach everything with professionalism, respect, and integrity."