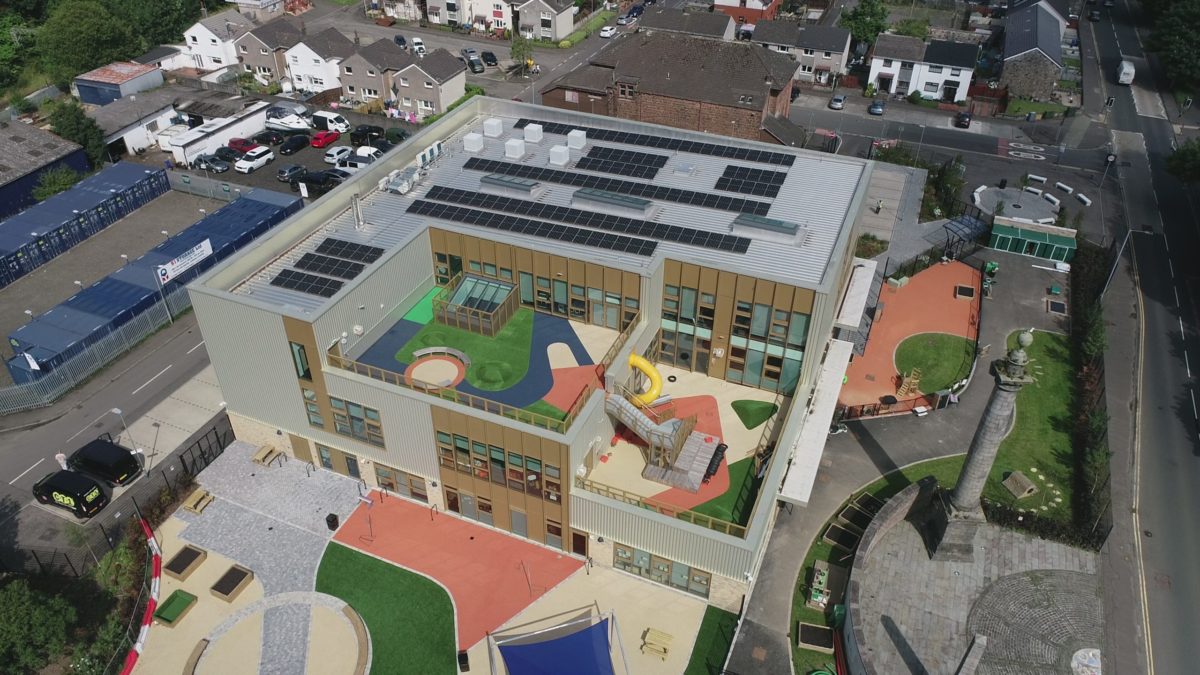 OUTDOOR learning has been a growing area of development within Scottish education facilities in recent times.
Long before the pandemic accelerated the need to find new and inventive ways to teach youngsters, experts have extolled the physical and mental benefits of learning outside of traditional settings.
As well as relieving children of some typical classroom pressures, common sense dictates that piquing their curiosity and understanding of the natural world can only bring positive outcomes.
Architects and construction businesses across the country have been involved in designing and building a host of vibrant, engaging, and high-quality spaces at new and existing educational facilities to support a vision where outdoor learning is a fundamental part of the learning experience.
One example is Morgan Sindall's work to deliver a rooftop play area for Renton Primary School in West Dunbartonshire. Working closely with Holmes Miller and Oobe, John Paterson, senior design manager at Morgan Sindall Construction, told Project Scotland how a 'shared belief' that children benefit from high-quality outdoor learning experiences impacts the design of the development to create an area which improves physical and mental health.
"We have seen a huge shift in the design of outdoor education environments in recent years," he said. "Previous projects were a sea of black hardtop, but now we are seeing a softer approach with more variety as we realise spaces which can be used for play or learning are beneficial.
"A strong relationship between architecture and landscape design benefits the overall project and user experience. We use the design of external and internal surfaces to help create a connection and transition between inside and out. As a result, our projects create a strong connection and harmonious flow between internal teaching environments and outdoor spaces which enhances user learning, experience and wellbeing."
John added that a 'free-flow' approach in early years settings allows children to connect with nature throughout the day. At Renton Primary, roof terraces provide direct external environments from every teaching level.
"The slide, play mounds and amphitheatre seating give a real variety of spaces to learn and play outdoors without a long arduous journey to the playground," John stated. "A range of external features have been installed that encourages physical activity, develops physical skills and boosts creative thinking through child led activities which lead to free play. This includes climbing frames, trim trails, sandpits and play mounds.
"Allotments and habitat areas also give children a great opportunity to learn about nature and growing. This is particularly important in areas where children do not get these experiences in their personal life.
"The school's outdoor environment aims to improve behaviour and social skills which equip children with the tools to negotiate, compromise, lead, resolve conflict and collaborate, and supports positive emotional wellbeing through access to space that offers multiple possibilities for play – from large groups to quiet and calm spaces and growing areas."
Older children, in particular, can be reluctant to use outdoor spaces in poor weather, which John said means such spaces can be 'under-utilised'. He cited the addition of more covered spaces as one solution.
"The rain further impacts the need for providing adequate drying and hanging space for boots, cloaks and wetsuits and this has a knock-on effect on building services to ventilate these spaces," John added.
Further challenges include the fact that certain surfacing and fixtures like timber or grass require maintenance which can deteriorate in bad weather. Also, slip risks are associated with certain types of outdoor surfaces in poor weather.
John revealed that embracing site 'constraints' can lead to imaginative solutions, for example sculpting the landscape to create features, seating and performance areas, adding a slide to the side of any embankment (or between roof terraces as is the case on Renton), or retaining trees to benefit the environment, make dens under or shelter from the sun.
Another project to benefit from outdoor learning spaces is Whatriggs Primary School in Kilmarnock, built by Morrison Construction.
The contractor utilised the natural landscape to create imaginative solutions for children.
Morrison explained that the school features 'bespoke ideas conducive to play' such as a mud kitchen and trim trail. The company added that a 'greater use' of natural landscaping was chosen to create a wider variety of play spaces, utilising contouring, walkways, and natural planting to specialised areas for learning.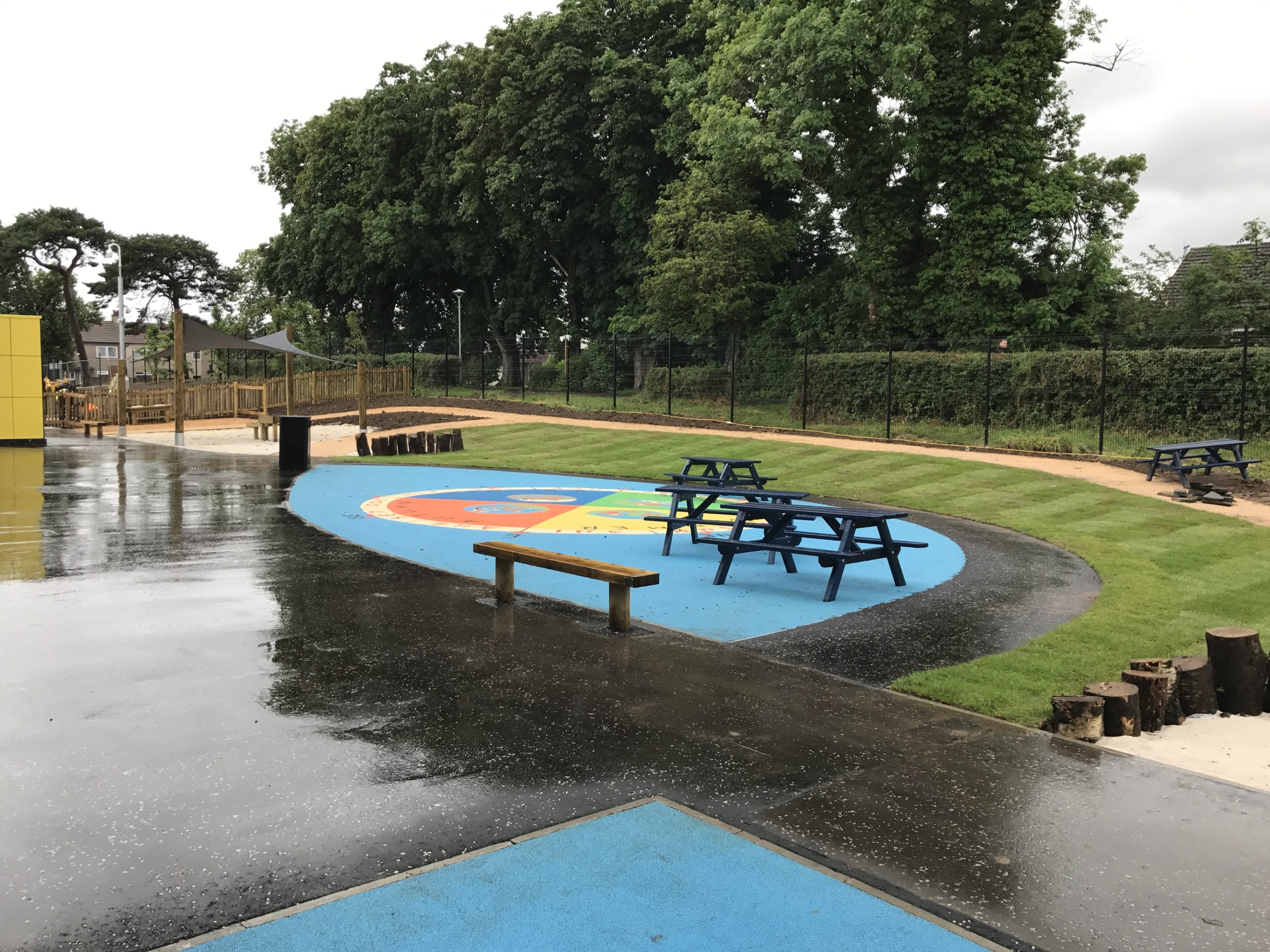 The firm describes outdoor learning as 'absolutely integral' to the design of any modern educational facility, saying that any education project it is involved in requires 'innovative' solutions to create learning spaces that utilise the local landscape.
Morrison added that there is also a 'much greater' acceptance that children should be out in 'all weathers' experiencing an outdoor education, which in turn has an impact on aspects such as the robustness of materials when play areas are subject to exposure to inclement weather, including the use of natural materials that are adapted to suit the conditions.
As a result, the firm revealed it will also incorporate the idea of weather protection using the building configuration to shield outdoor areas, or potentially through the landscaping itself with protective planting and the creation of mounds and other features that offer shelter.
In March, Aberdeen City Council's first two outdoor learning settings for pre-school children, built by Robertson, were officially opened at Duthie and Hazlehead Parks. Practitioners in Aberdeen collaborated with similar settings in Spain in preparation for the concept coming to Scotland's north east.
Meanwhile, in Edinburgh, it was announced that outdoor learning will be a core element of the new Currie Community High School in Edinburgh, which is set for completion by 2024. A second-floor terrace will provide learning zones with immediate access to external teaching spaces. The aim is for the outdoor spaces to promote sustainability and link lifelong learning to the surrounding grounds of the school and community.
Students in Glasgow were last year involved in a project to build an outdoor classroom for Parkhill Assisted Special Needs School. Those enrolled in the foundation apprenticeship course at Glasgow Kelvin College undertook a bespoke education programme created by BAM Construction, hub West Scotland, Skills Development Scotland and North East Hub. The students worked with architects, engineers and quantity surveyors to learn how to design, engineer and cost the project.
Other new or upcoming schools to feature outdoor learning spaces include St Kevin's Community Hub in Bargeddie, Cederbank in Livingston, Crosshouse Primary in Kilmarnock, the new Winchburgh campus near Edinburgh, and Castlebrae Community campus in Craigmillar.