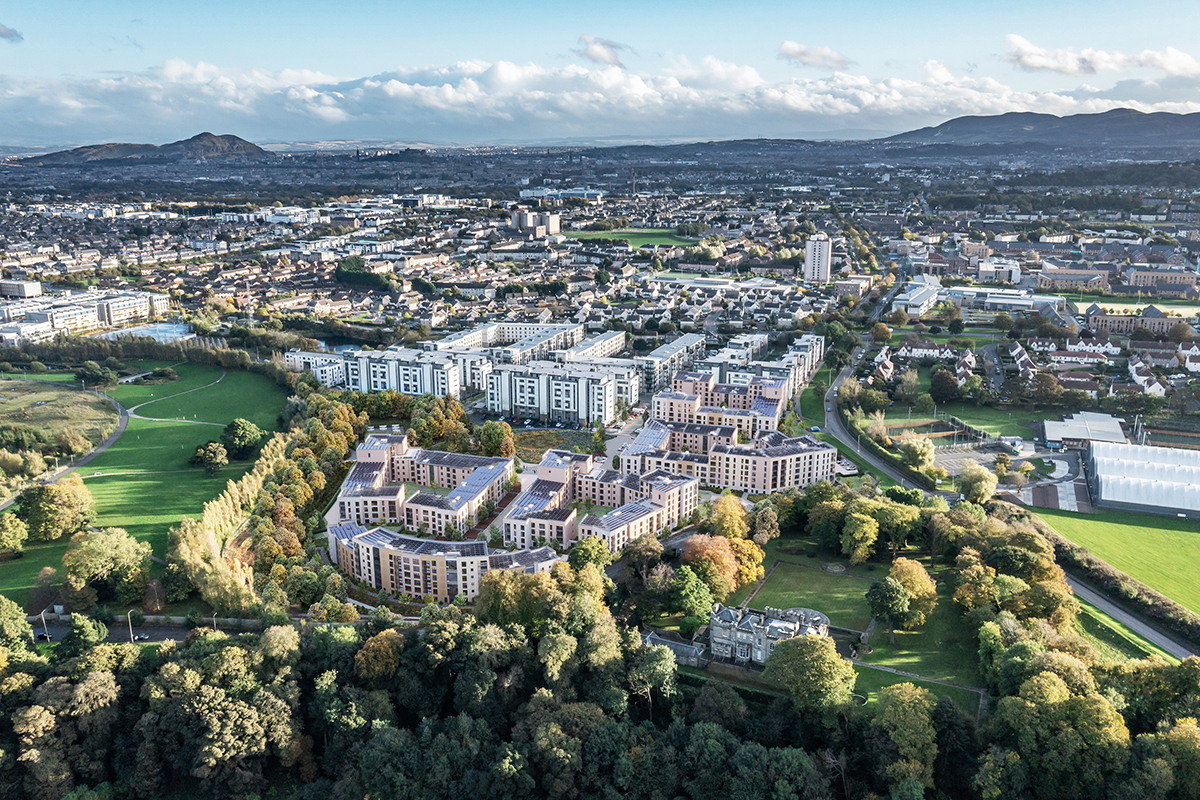 ARC-Tech (Scotland) has announced it has started work at Western Villages, the largest net zero housing development currently under construction in Scotland.
Comprising 444 homes along the waterfront of the Firth of Forth, the project forms part of the City of Edinburgh Council's £1.3 billion Granton Waterfront Regeneration, which will ultimately see 3,500 net zero homes, as well as a public park and a range of mixed-use projects, delivered over the next 10 years.
Working in partnership with Hawthorne Boyle on behalf of main contractor CCG (Scotland), Arc-Tech is responsible for the installation of a central district heating network and renewable energy systems.
Supported by £4.1 million of funding from the Scottish Government's Low Carbon Infrastructure Transition Programme, the heating network will combine with solar PV panel systems on the roof of each flatted block, enabling the development to be entirely renewable.
Operating similarly to a conventional district heating system, a bespoke-designed energy centre will be constructed within the masterplan. It will contain a series of air source and water source heat pumps that combine to heat water up to 65C before being distributed via an insulated pipe network that connects to a Heat Interface Unit (HIU) in each plot that feeds all radiators and instantaneous sources of hot water.
Arc-Tech added that it will also install sprinkler systems, integrated as part of current fire safety regulations in new build flatted developments, as well as 30 EV charging points.
John Gallacher, Arc-Tech (Scotland) MD, said, "Western Villages is a landmark development for net zero housing delivery in Edinburgh and Scotland and it is a privilege for Arc-Tech to be involved. Sustainability is engrained in every detail of this project from enhanced build standards and our bespoke-designed energy system to lower car use and a focus on active travel and ecology combining to create a new blueprint for sustainable, urban living.
"The application of building services to achieve our goal of net zero carbon at Western Villages has been undertaken on an entirely bespoke basis. We have worked diligently with our partners to optimise performance whilst achieving best value and in doing so, we have formed a greater understanding of how the technologies available to us can support the future delivery of both residential and non-residential projects across the country.
"With the fuel poverty agenda affecting all areas of the economy, we believe that Arc-Tech's market-leading experience is well-placed to support sustainable development and deliver real, long-term benefits to people and businesses alike."
Arc-Tech is also supporting the creation of a further 75 net zero homes as part of the Edinburgh Home Demonstrator (EHD) programme. Led by the City of Edinburgh Council, Granton D1 is a pilot project that will test a new model for designing, procuring and delivering homes in the Edinburgh and South East Scotland City Region Deal via offsite Modern Methods of Construction and to a net zero standard of build.
Construction commenced at Granton D1 in April 2022 and is set for completion in late-2023 whilst Western Villages is set for completion in 2024.