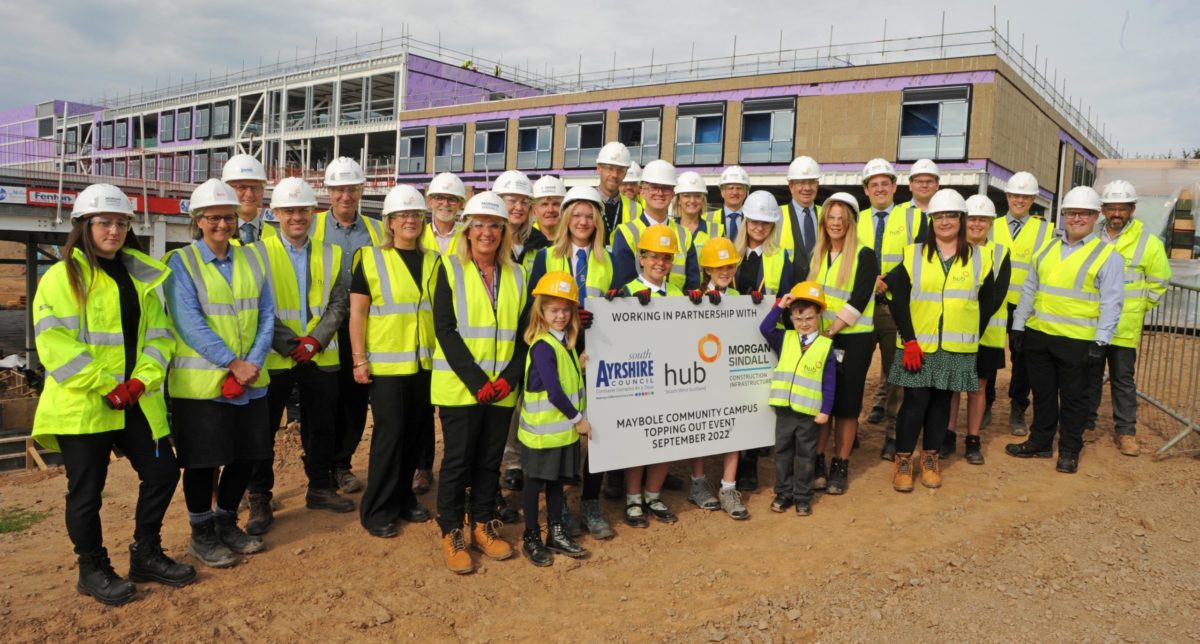 AN official topping out ceremony has marked a major milestone in the delivery of a new educational campus in Maybole.
The £59 million project is being delivered by hub South West Scotland on behalf of South Ayrshire Council. Morgan Sindall Construction is the main contractor, working alongside lead designer BDP Architects.
The facility will accommodate 1,370 pupils, from early years through to secondary school. It replaces the former Carrick Academy and will also be home to three primary schools, including the merging Cairn and Gardenrose Primaries, St. Cuthbert's, and a local nursery.
The interior has been arranged around two large atria, connected by 'spacious' corridors and balconies, with a range of spaces geared to modern teaching and learning for all ages.
Outside, pupils can enjoy a new rooftop playground, amphitheatre and games court. The campus will also host two full size sports pitches, with the first already handed over and in operation by Carrick Academy and the surrounding community.
Locals will be able to visit the campus' community leisure facility comprising a swimming pool, cafe and gym.
Michael Ross, chief executive of hub South West Scotland, said, "The topping out of our new educational campus in Maybole is a huge milestone for hub South West and our delivery partners. Throughout this build programme, we have ensured that the local community is positively impacted – creating new jobs, apprenticeships, work placements and valuable training opportunities.
"Furthermore, we've been able to involve the local supply chain throughout its delivery and support smaller businesses. This new campus won't only benefit pupils and staff, it will offer a wealth of amenities to promote active living amongst the local community."
Stuart Parker, MD at Morgan Sindall Construction, added, "We are excited to reach this important milestone at Maybole. Working collaboratively with South Ayrshire Council, hub South West and our supply chain has enabled us to take another step forward in delivering a state-of-the-art learning facility where pupils will feel inspired, whilst also helping to increase the number of early years places in Scotland with an early years centre.
"We will continue to engage with the local community throughout the project, who will also benefit from a public swimming pool on campus which we hope will make a real impact on the surrounding area too."
Lindsey Mitchell, architect director at BDP Architects, commented, "Maybole Community Campus has been an exciting and rewarding project for our team at BDP. This unique design offers a dynamic setting which has the needs of the pupils at its heart, providing refreshing open spaces which will encourage and inspire learning. From the early planning stages to now, it's been wonderful to see this building come to life."