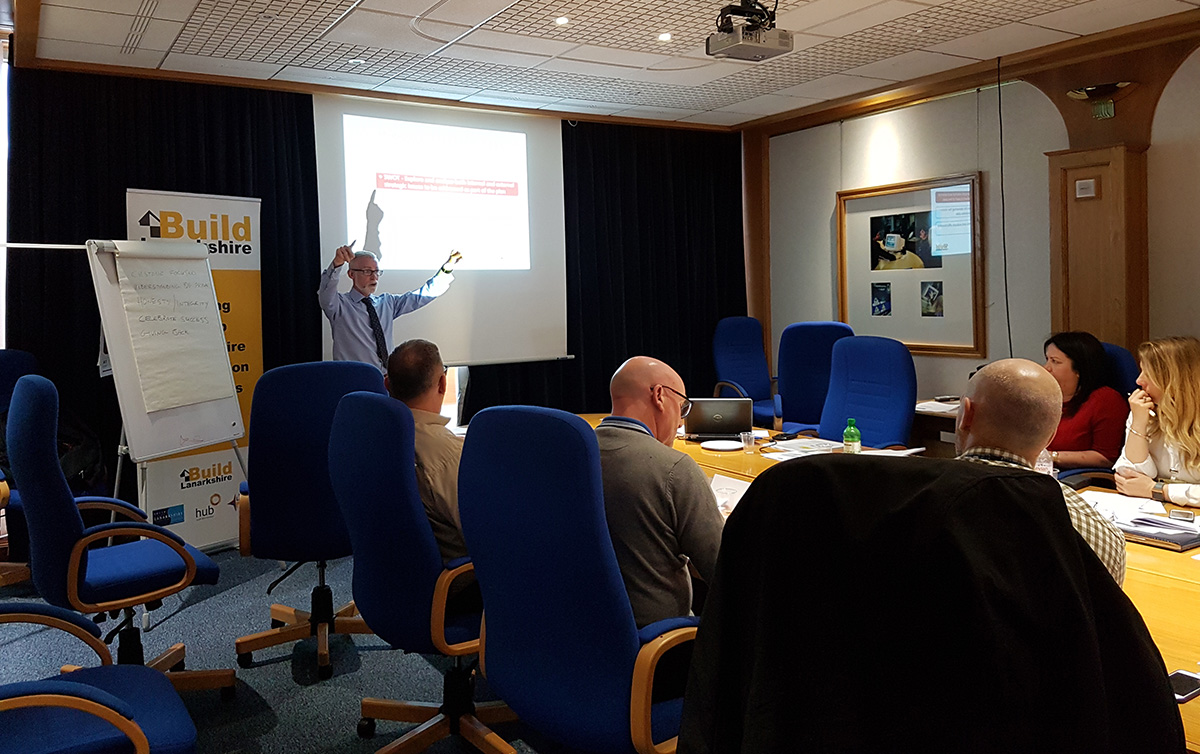 HUB South West Scotland is bringing its Build Programme to Dumfries and Galloway for the first time, offering local businesses the chance to gain advice and learning within the construction sector.
The interactive programme, which has been running successfully in Lanarkshire and Ayrshire for a number of years, is free to attend and welcomes companies specialising across all areas of construction, with previous attendees including building contractors, painting and decorating companies, flooring businesses, architecture firms, and energy experts.
Delivered over eight weeks, the programme entails one half-day session per week focusing on different themes. Attendees learn about various aspects of managing and running a business, from developing a strategy and navigating procurement and finance, to creating a marketing and social media plan. At the end of the eight weeks, each participant presents back to the group about what they've learned and how it will help their business grow. A winner is then chosen.
As well as business learning opportunities, companies participating in the programme will gain insight into tendering and receive introductions to hub South West Scotland's Tier One contractors.
Paul Shearin, MD of ProCast Energy Services, participated in this year's Build Lanarkshire Programme. He said, "While our company was growing quickly, hub South West Scotland's Build programme seemed like a perfect opportunity to take stock and re-evaluate where we were at. As weeks progressed, all the participants enjoyed each other's company.
"Each session was invaluable and after each one all the delegates were absolutely buzzing with ideas on how we could change our business and move forward. I would absolutely recommend the Build Programme to any business which is planning for the future. It can really open your mind to what your business can achieve."
Mark Houston, supply chain development manager at hub South West Scotland, added, "Our free Build Programme is a collaborative way for local businesses to develop an achievable plan for the future and get to where they want to be in the wider market. Our sessions offer growing businesses the chance to be introduced to our Tier One contractors, industry experts and like-minded companies.
"Each day is different and the topics are designed to really get these businesses thinking whilst strengthening their skills across a variety of business areas which are integral to running a successful company. We've had a huge variation of businesses join in the past, from data analysing drone companies to award-winning roofing businesses, so anyone with a focus on construction is welcome to apply.
"As we prepare to kick off our first Build Programme in Dumfries & Galloway on September 21st, I'm looking forward to bringing this opportunity to the area and helping local companies reach their full potential. This course will allow them to gain expert knowledge and skills, build their confidence in the market and meet new people who they will find themselves working with for years to come."
Any businesses who are interested in signing up for Build Dumfries & Galloway should email Mark Houston at mhouston@hubsouthwest.co.uk.