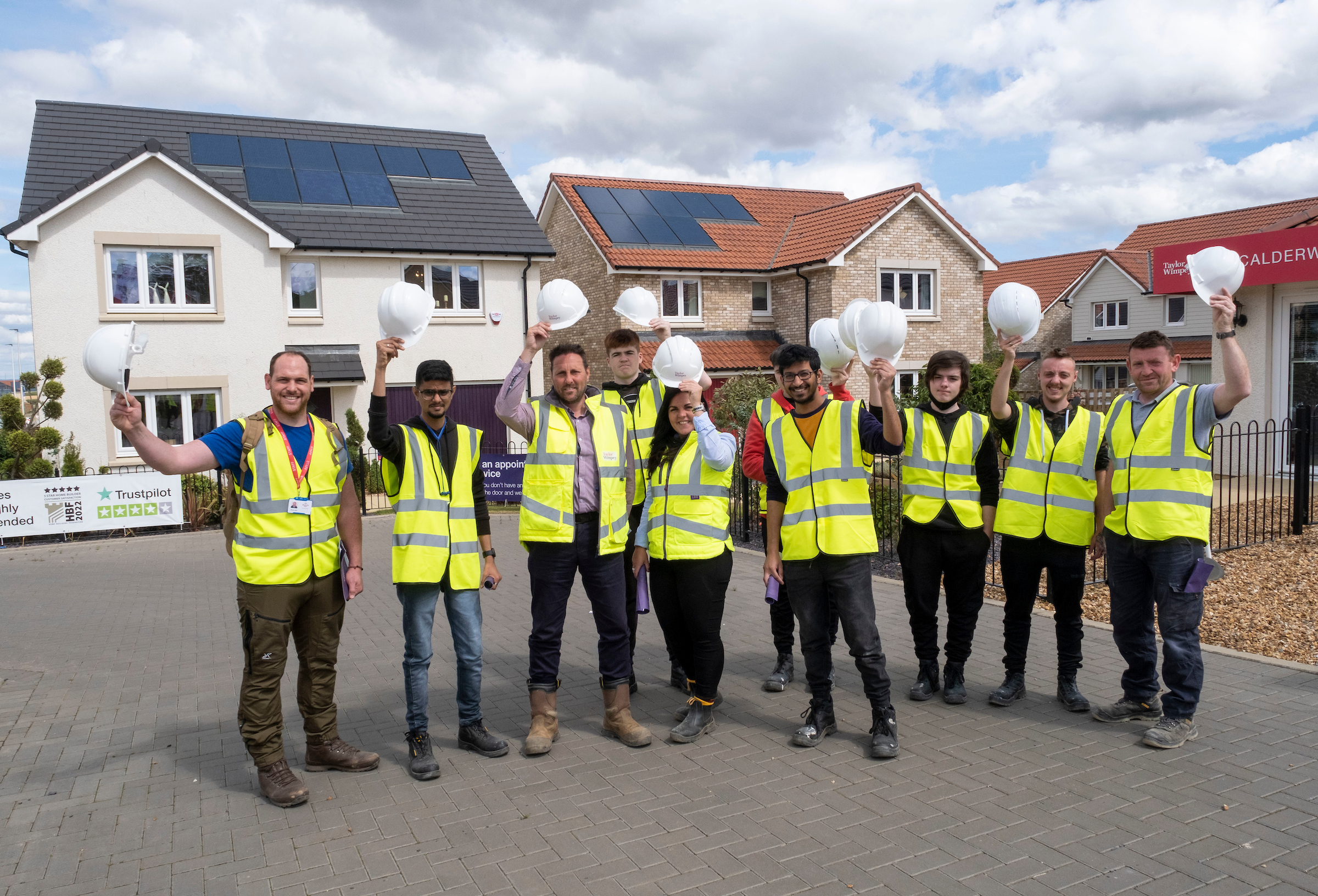 SIX students have visited Taylor Wimpey East Scotland's Calderwood development in East Calder as part of the Prince's Trust Get into Construction programme facilitated by West Lothian College.
Forming part of a five-week, hands-on course for young people aged 16-30 interested in getting into the construction industry, the visit allowed the students to see age of the key stages of construction of a new home.
Led by Taylor Wimpey East Scotland's production manager, Tommy Stirling, and supported by Emmy Martin, production manager for the Calderwood site, the students were also given an in-depth tour of the development and the opportunity to explore more about the range of career opportunities available within the sector.
Tommy Stirling said, "Future-proofing our talent pool is very important if we are to continue to deliver the high-quality homes that our customers expect. Working closely with West Lothian College and its partners like The Prince's Trust means that we can inspire students to consider learning the skills that we need to drive our business and the industry forward.
"The diversity of opportunity that housebuilding offers attracts talent into our industry which is something that we are fully committed to providing through a variety of pathways. Each student was interested in a different career within construction, and we were happy to be able to explore that with them during their time on-site and answer their questions." 
Stevie Allan, youth development lead at The Prince's Trust, added, "The young people on the course have learnt new skills and learned the basics of construction within the college's impressive training environment. For the participants to have the opportunity to work with Taylor Wimpey has been inspiring.
"It is crucial for young people to have opportunities to learn something they are passionate about that can help them develop brighter futures." 
Steven Morrison, learning and skills manager at West Lothian College, commented, "It was great to work in partnership with the Prince's Trust to deliver their Get into Construction. The students completed a multi-trade programme that gave them a taster of different trades including, plumbing, tiling, electrical installation, painting and joinery. The group also got to visit industry which included a fantastic site visit to Taylor Wimpey's Calderwood site.
"This let the group see the full process of house building from start to finish and get a better understanding of all the careers within the construction industry. We look forward to developing our partnership with Taylor Wimpey in the future and being able to provide more opportunities to more of our students.''