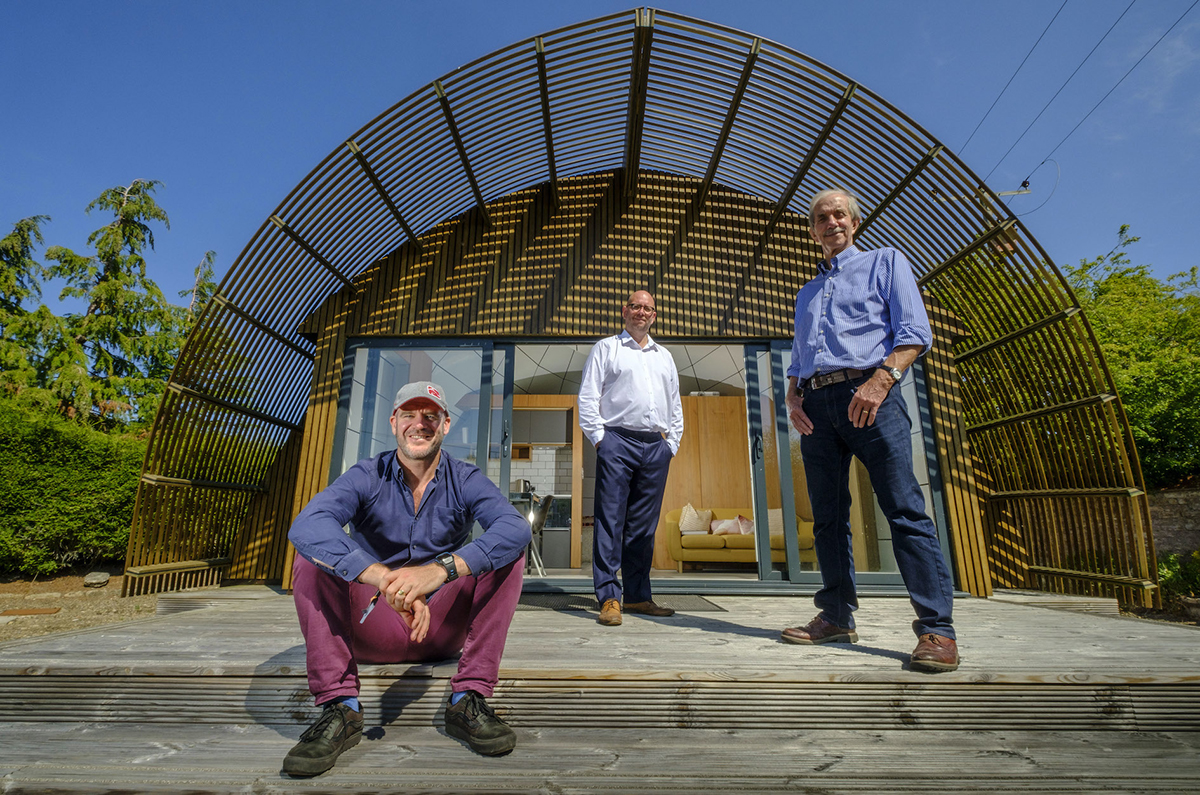 ARMADILLA, a producer of eco-friendly, outdoor living and working spaces, is supplying luxury accommodation units to Wavegarden Scotland, the country's first inland surfing destination, in a deal worth around £1.75 million.
The firm is manufacturing two types of self-catering units for Wavegarden Scotland from its hospitality range – 11 'Pods' and eight 'Waves'. This comes as Armadilla targets annual turnover of around £5 million over the next two to three years from the pre-pandemic level of £2 million.
The family-owned firm Armadilla, based in Midlothian, started building and supplying luxury pods to hotels and hospitality groups more than 10 years ago. The company won a 2020 Queen's Award for Enterprise in recognition of its innovation. The firm officially received the award when Her Majesty's Lord Lieutenant of Midlothian, Richard Callander, visited its manufacturing site last month.
Construction work on Wavegarden Scotland's £55 million leisure and staycation facility in Ratho on the outskirts of Edinburgh is underway. The project is due to open in summer 2024 and is expected to create 130 jobs and attract more than 180,00 visitors annually. It will be set within a 60-acre country park.
Archie Hunter, Armadilla MD, said, "A number of factors attracted Wavegarden Scotland to working with us to provide luxury self-catering accommodation at its unique facility in Ratho which is sure to attract visitors from far and wide. We're a local business and they were keen to support local suppliers.
"We're flexible and happy to personalise our pods for clients. For example, we're adapting our pods for this unique destination to include such features as secure areas for holidaymakers to store surfboards, along with outdoor showers.
"Our offering is on a par with what guests would expect at a four- or five-star hotel. And we have always put sustainability at the heart of our design and manufacturing processes, which was another important consideration for the team."
Armadilla's units have natural timber cladding with a 50-year warranty. They are constructed using the principles of Passivhaus buildings. Smart technology including Heating, Ventilation and Air Conditioning (HVAC) is used to maintain temperature, humidity and CO2 at 'optimum' levels.
Mr Hunter added, "Another advantage of our accommodation units that helped seal the deal with Wavegarden Scotland is their low power demand. This feature means that they can focus the power on the site to its wave machine. This isn't the first time that our low power use has proved to be a winner with customers."
Andy Hadden, founder of Tartan Leisure Ltd, which is developing Wavegarden Scotland, commented, "Armadilla is a market leading brand, offering world class, environmentally friendly luxury accommodation. As we create Scotland's newest leisure and staycation facility, it's important that we work with dynamic local businesses, so we are thrilled to be Armadilla's flagship project for Scotland."