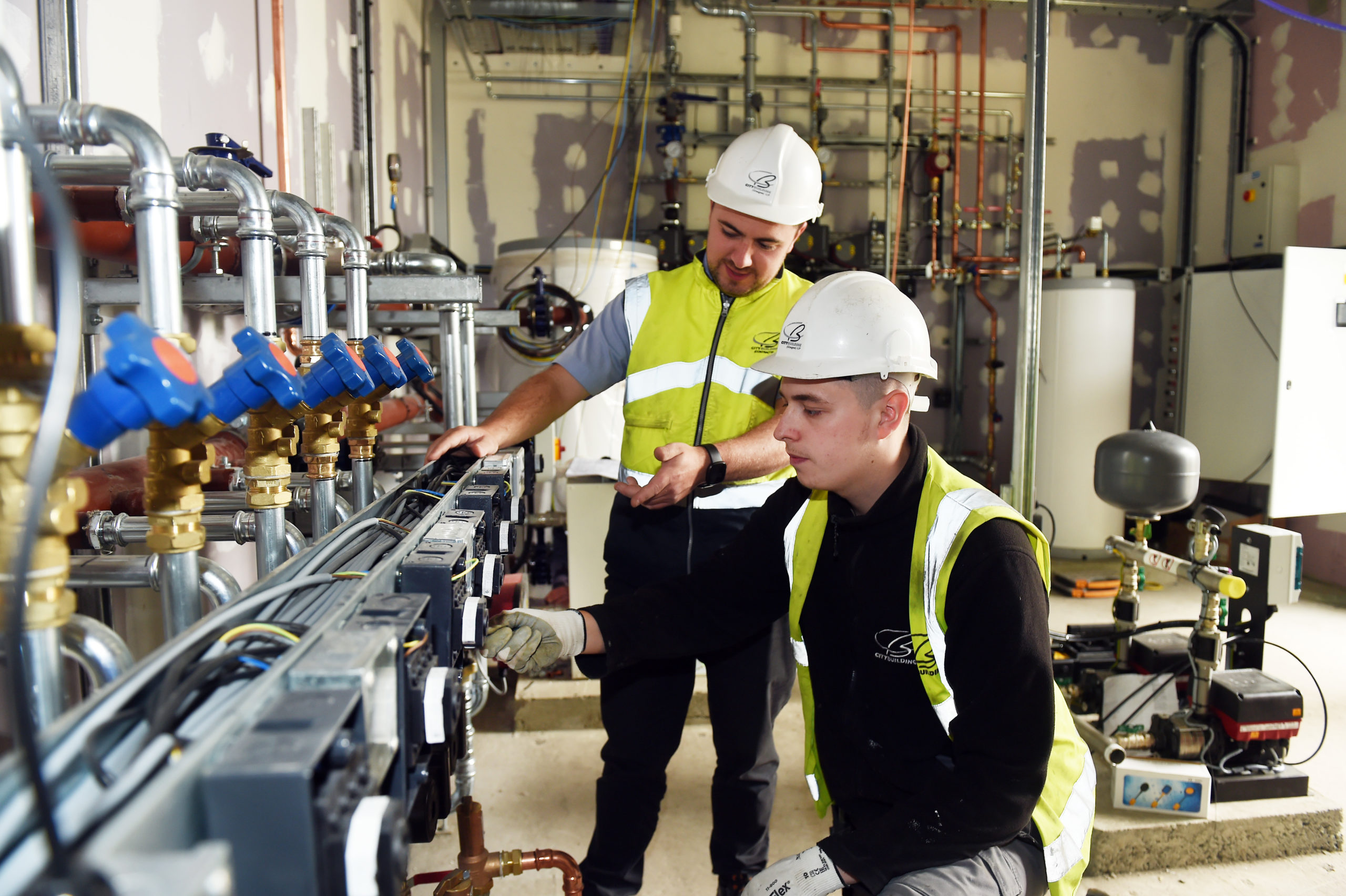 CITY Building has revealed it is upskilling its workforce on renewable and sustainable building technologies in a bid to help reduce the construction sector's carbon emissions.
The firm has been supported by the Zero-Energy teaching block at South Lanarkshire College to upskill its mechanical and electronics team on emerging sustainable construction technologies.
Within the course, tradespeople have been trained on air source heat pump technology which will be used to heat the firm's new, custom-built construction training college in Springburn.
Air source heat pumps turn outside air into a heat source, utilising technology that is also used to cool down a refrigerator. By reusing air to provide a heating system, air source heat pumps can cut down on carbon dioxide emissions by up to 20% – saving more than two tonnes of carbon per year, per pump.
Following the upskilling course, trades people will become registered installers of NIBE systems, allowing them to implement sustainable technologies in future City Building sites.
Derek Watret, of City Building's mechanical and electrical team, said, "City Building is always invested in ensuring their workforce is at the forefront of emerging techniques within the construction industry. With sustainability set to be construction's main focus over the coming years, it is amazing to be part of the team who are pioneering these practices.
"Being able to learn about these new emerging technologies is really important because more sites are requiring a bigger focus on sustainable practices and future proofing its ability to transition to net zero.
"It is quite incredible to be at the forefront of this development and I am really thankful that City Building is leading the way in this type of training."
Worldwide, the building and construction industry contributes to 40% of carbon dioxide emissions. With construction firms making up 10% of all Scottish businesses, City Building said it is 'imperative' that the industry strives to adapt to new innovations in sustainability and renewable practices for Scotland to meet its target of becoming net zero by 2045.
Alan Burns, executive director of City Building, said, "Leading the movement towards sustainability within construction practices is one of City Building's top priorities. We are proud to set the example by implementing and developing practices within our own training college site, upskilling our tradespeople on emerging techniques and creating awareness of green construction methods.
"There is not yet a standard renewables qualification for trades people in Scotland so we have decided to create our own so that our workforce is future-proofed for the next wave of construction development. Just like how we pioneered health and safety practices within our working before they became standard practice, we believe investing in our staff and building a workforce ready for the future will ensure we continue on our path as one of the countries most sustainable construction firms."