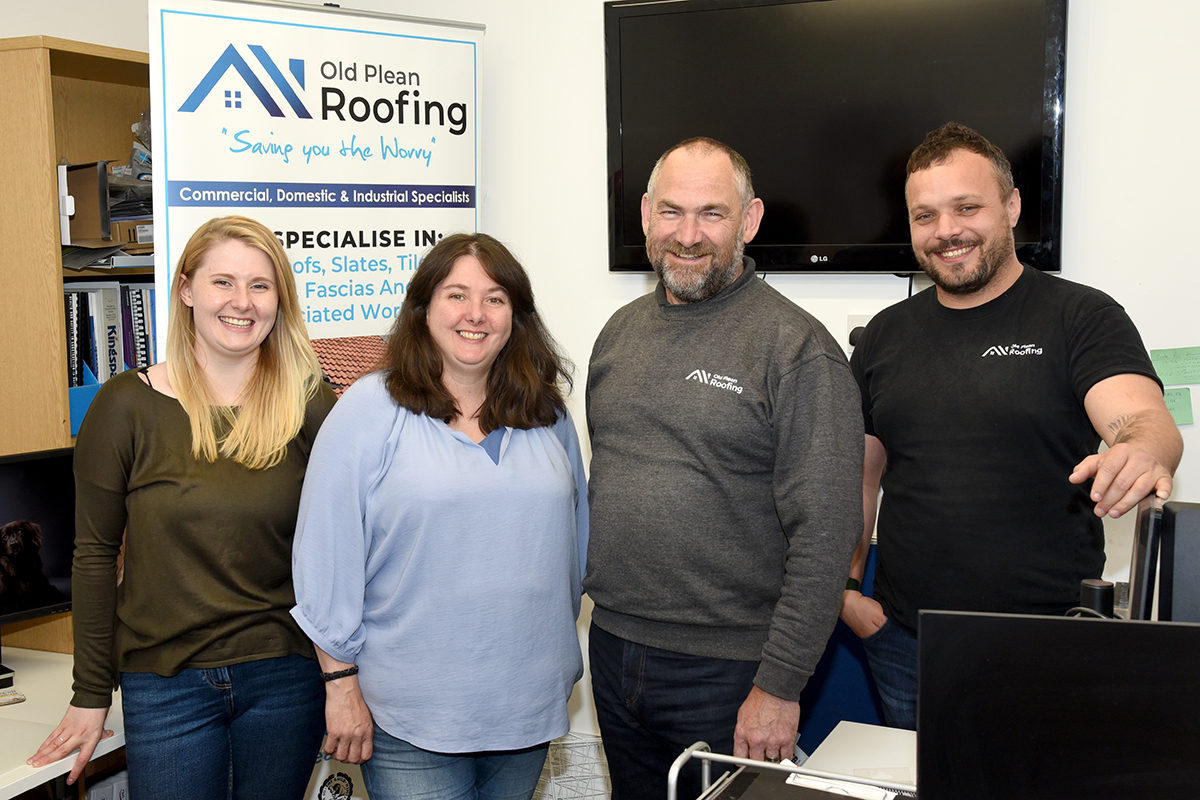 STIRLING-based contractor Old Plean Roofing has already started expanding its new premises – just six months after moving in!
The family-run business, founded in 2019 by husband-and-wife Mark and Fiona Thornton, originally operated out of the couple's home in Plean before rapid growth led to the relocation to a large unit at Stirling's Springkerse Business Park.
Currently, the firm employs ten roofing professionals, has five vans on the road, and a cohort of new admin staff is set to lead the expansion of its office-based team this June.
Old Plean Roofing is a CHAS-accredited contractor and a member of The Guild of Master Craftsmen, Trustys, NFRC, CITB, and FSB. The business is also Trading Standards Approved via its Buy with Confidence scheme.
Since launching, the company has carried out a wide range of roofing projects in Stirling and the surrounding areas, including the city's Thistle Shopping Centre, as well as Glasgow, Dundee, and Edinburgh. The firm has also completed works in Largs and Dumfries and is currently preparing for jobs in Inverness. It undertakes tasks as varied as repairs and re-tiling projects through to roofing surveys and conservation work for clients including factors, housing associations, and individuals.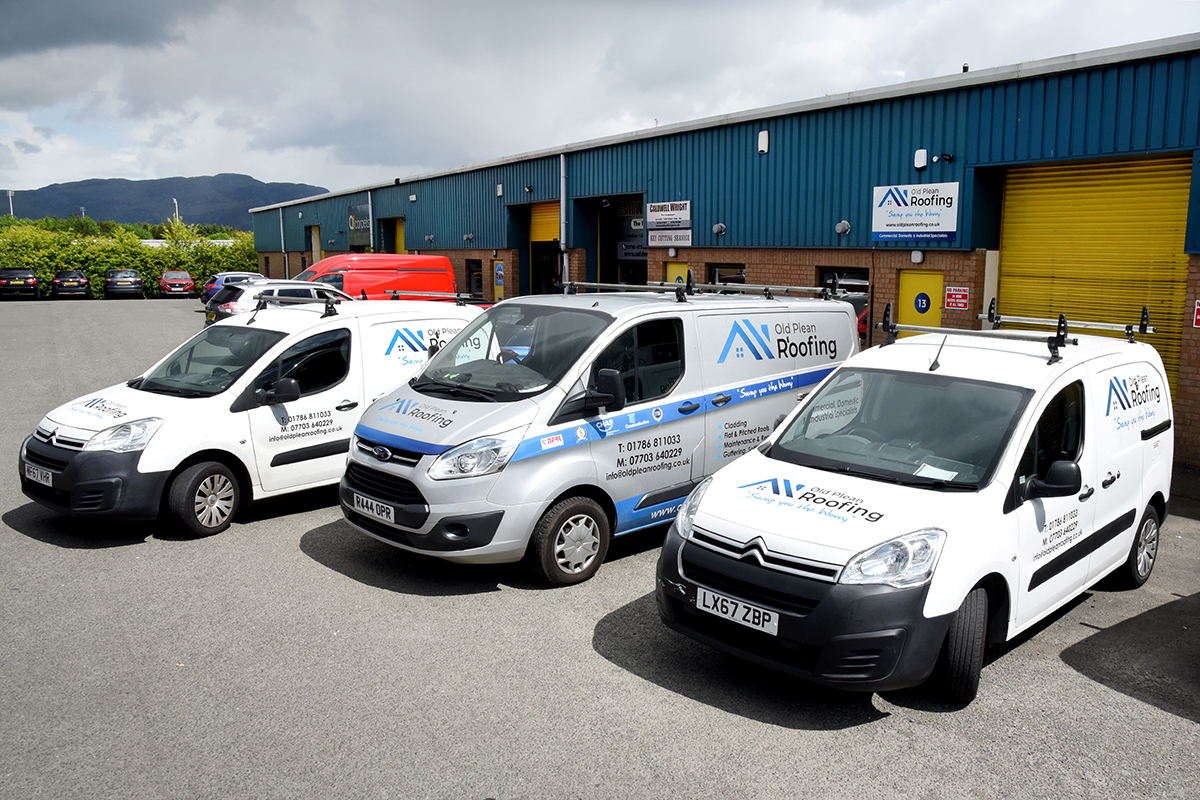 Admitting that the rapid rise sometimes leaves her questioning how it happened so quickly, Fiona said she believes it is down to the firm doing things the 'right way', with Mark having been in roofing since he was 11, after spending his childhood weekends and school holidays helping out at his father's firm.
"I have come through from making tea to directing," Mark told Project Scotland. "I worked for building companies as their envelope manager, and as procurement manager for roofing and cladding, but I've always come back to wanting to run my own roofing firm."
Mark and Fiona previously ran a building envelope consultancy before realising they could provide a quality roofing solution after noticing a shortage of high-quality tradespeople.
Mark explained that every job carried out by Old Plean Roofing is treated with the same attitude.
"Never in my life have I thought about cutting corners; the phrase 'that'll do' doesn't cut it," he said, before recalling an incident he witnessed as a child on site where an apprentice got a 'rap round the ear' for winging a measurement.
Despite his old school upbringing in the industry, Mark doesn't believe in sticking to cultures that were prevalent during his younger years simply because that was the way it was in the past. He is a stern advocate of the highest levels of health and safety, backed up by the firm's accreditations, and has also undergone extensive mental health training so that he, alongside Fiona – whose background is in counselling and therapy – can provide assistance to the workforce if need be.
"The training on mental health I've had really did open my eyes and (help me) realise that you don't have to go very far to find people who have been badly affected by mental health," Mark said. "A lot of our guys have said it's a breath of fresh air being thought of, looked after, and treated as a person, not a number – that's how we treat our guys; everyone who comes in is part of the family."
The family includes Mark and Fiona's two dogs, who provide a friendly welcome to staff and clients.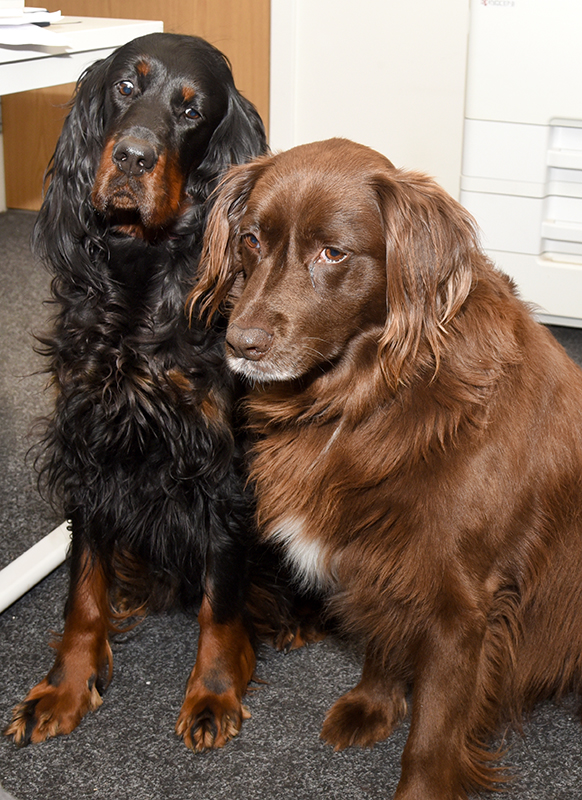 Mark is currently spending his weekends building a second floor to the firm's premises. He and Fiona designed the interior to eventually accommodate a further level, but admits they never anticipated it to be required so soon – revealing that they 'could be doing' with an additional ten members of staff, which currently can't be accommodated in the existing space.
The new level will house office space for Mark and Fiona to free up room downstairs, and will also feature a breakout area for staff, which they will be encouraged to use for 10-15 minutes five times a day to take a break from their duties.
Dan Scott, quantity surveyor at the firm, told Project Scotland that such an understanding and accommodating environment is 'refreshing' to work in, and has not only aided his own professional development in the eight months he has been at the firm, but is also visible in the performance of the business out on site.
"There's places I've worked where you are just a number – you come in, do your job, and leave," he said. "Whereas here, you're asked how you would do something. Mark is never one to say: 'It's my way or the highway'. If you have a better way of doing things then he's happy to listen, and that's a good environment to be in."
Moving forward, Fiona revealed that the firm has ambitions of launching new divisions within the next five years and opening an additional premises elsewhere. It is currently tapping into the local talent pool via the area's various learning institutes.
Old Plean Roofing recently took on two youngsters through the UK Government's Kickstart Scheme, with Mark revealing he is ready to put them through further training after being impressed with their attitude and appetite to learn.
"We have ideas to help the business grow. Those ideas are there and are real, and are part of the five-year plan," he added.