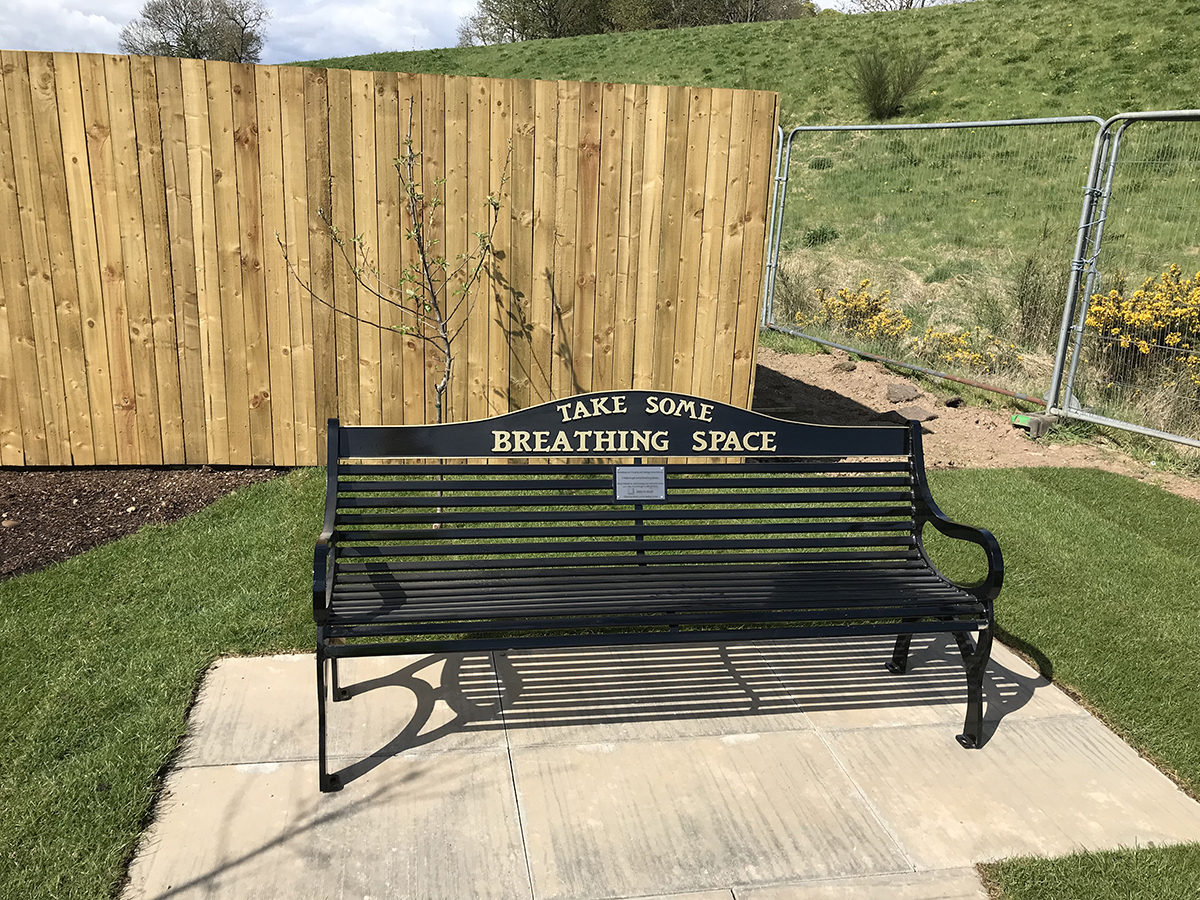 SPRINGFIELD has announced it has installed another Breathing Space bench at the Kinloch Gardens development in Blairgowrie.
In partnership with Kingdom Housing Association, the housebuilders have created a welcoming space within the site, complete with soft landscaping and green areas, to highlight the Breathing Space service offered by NHS 24.
Breathing Space aims to address the stigma around wellbeing and mental health, offering support to those who need it. With a free helpline, the details of which are displayed on each Breathing Space bench, those who need support can call the number and speak to advisors with backgrounds in mental health, counselling and social care.
Unveiling the bench to mark Mental Health Awareness Week, Springfield Partnerships MD, Tom Leggeat, said, "We're proud to support NHS 24's fantastic breathing space initiative and install another attractive bench in a peaceful spot within Kinloch Gardens to offer our customers and passers-by a place to take some breathing space.
"Male suicide rates within the construction industry in Scotland are alarmingly high. At Springfield, we have partnered with a number of organisations to show our staff and subcontractors there is support available for those who need it and ensure there are tools readily available.
"It's great we can work with services like Breathing Space to extend this support and raise awareness into the communities in which we build. Now with two benches in our developments and several more in the pipeline, we're continuing to work with Breathing Space to identify other locations to install more benches and add to the growing network of Breathing Space benches across Scotland."
Lisa-Jane Dock, Breathing Space/Living Life national development officer, added, "The Breathing Space Bench Project is all about creating welcoming spaces. These benches provide a space to sit and take some breathing space, taking a wee bit of time out for yourself and listening and talking together, by reaching out and showing kindness and compassion.
"Springfield Partnerships is doing a doing a tremendous job, offering a place to connect and reflect in these new communities, and showing that we shouldn't be afraid to talk about how we are feeling. If anyone needs to take a chat beyond the bench, our advisors at Breathing Space are available in the evenings and at the weekends to listen and offer information and advice."
The Breathing Space helpline can be contacted on 0800 83 85 87.